You do not have to be a marketing expert to understand the importance of having a classy and catchy logo for your business. Nor do you need a degree in digital marketing. Unfortunately, even though most people know this, many still settle for a subpar logo due to a couple of reasons. First, there is the fact that designing a fully-fledged logo can be expensive. Second, the primarily valid point is that free logo design tools are not suitable for professional needs.
FreeLogoDesign, a brand-new logo designing tool that we came across recently, is an exception, though. It is unlike most of the free logo design websites we have tested so far, and we wanted to do a detailed review of FreeLogoDesign. In the following FreeLogoDesign review, we shall explore the experience of designing a logo with the help of the tool and whether you should check out what the platform offers.
Making a Logo with FreeLogoDesign
Probably the best thing about FreeLogoDesign is that you need no prior experience to use the platform. You can start the process by opening the FreeLogoDesign website on your PC or a mobile device.
We should keep in mind that FreeLogoDesign is a complete solution for creating a professional-quality logo for your business. It offers a few more things in addition to the logo maker. For the time being, though, we will focus on its logo maker function.
To make a logo using FreeLogoDesign, you have to enter the name of your business. Then, you can tap the 'Make a logo' button after entering the name.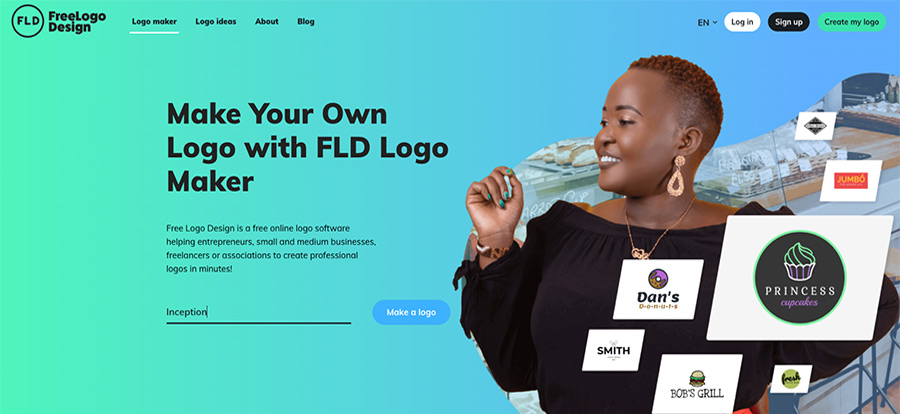 On the next page, you can see a vast number of business logo templates. As you can guess, FreeLogoDesign offers an impressive collection of logo templates. You can explore all categories, including Abstract, Animals & Pets, Architectural, Communications, Computer, Community, Fashion, Games, Industrial, Food, Retail, and Travel.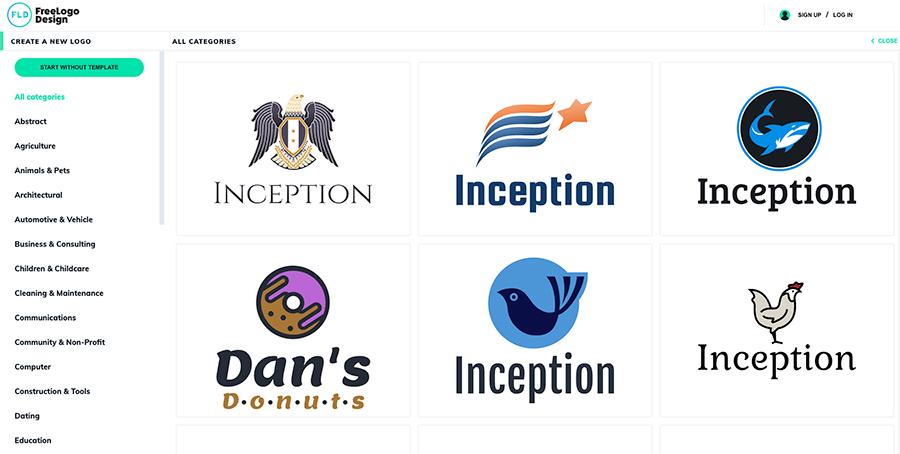 Depending on the category, you can filter out the sample logos.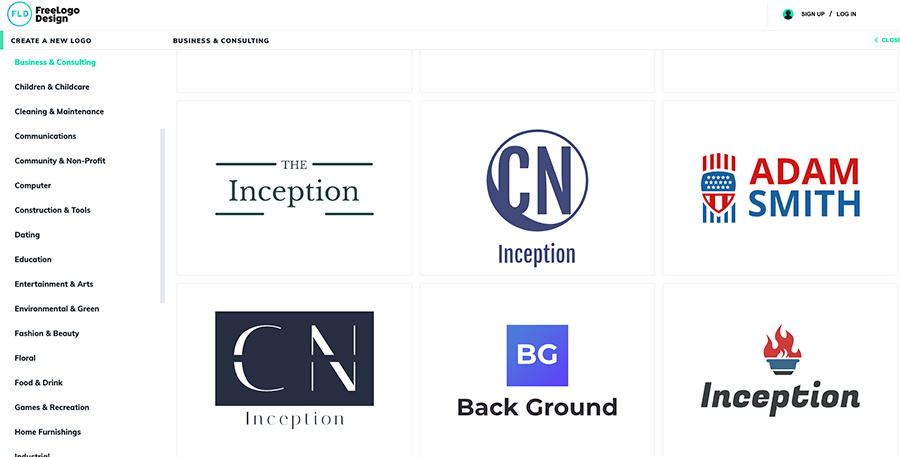 FreeLogoDesign also gives you an option to create a logo without a template. If you need to build your logo from scratch but want to use the intuitive design tools from the platform, you can choose this option. In this case, you have to click on the 'Start without Template' button that you can find on the top left side.
On the next page, you can see the fully-fledged logo editor from FreeLogoDesign. As we said, it is entirely intuitive and requires no prior experience. You can make changes to your logo like you would draft one of those Instagram posts.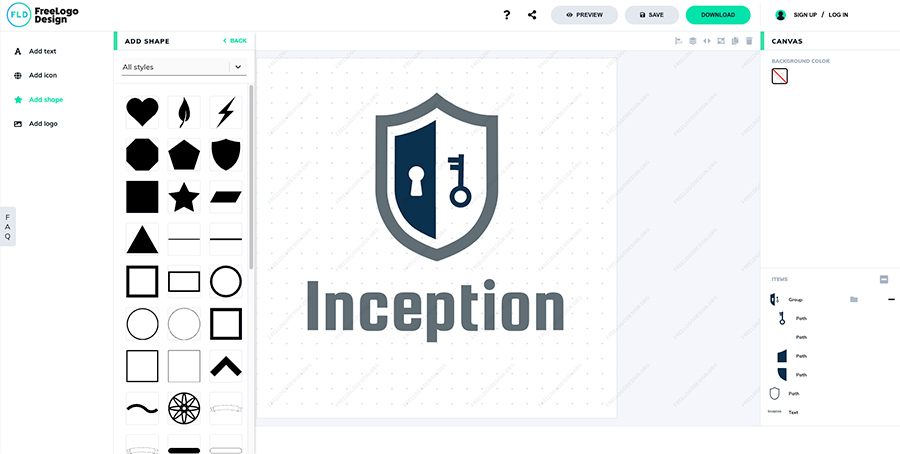 On the left side of the editor, you can see options to add text, icon, shape, or a logo. Once again, despite being free, FreeLogoDesign has an incredible collection of shapes and logos. Regardless of what you want to convey through the logo, you will find at least a few suitable graphical elements from the collection.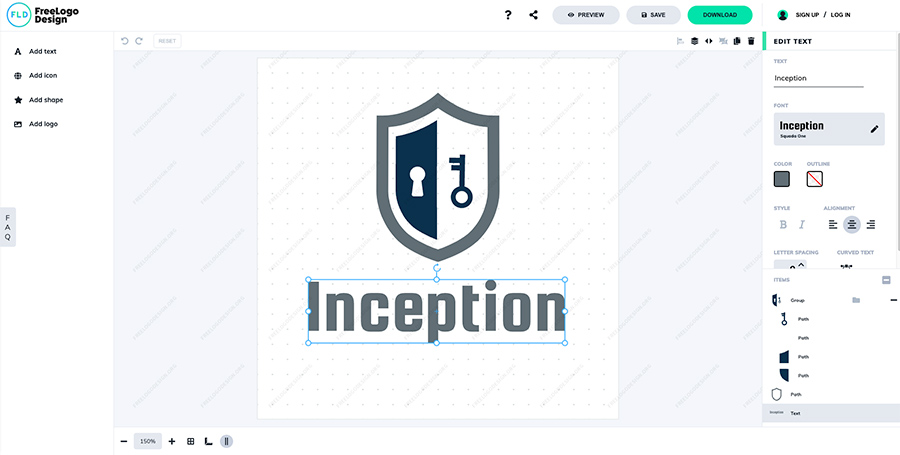 You can also edit the existing elements in your logo. For instance, when you select a piece of text, you have an option to change its font, color, outline, style, alignment, letter spacing, curvature, etc. On the other hand, if you select a vector shape, you can change its path and visibility. The FreeLogoDesign editor makes it easy to take care of multiple layers in your logo.
Last but not least, FreeLogoDesign also offers options to control your workflow. For example, using the built-in buttons, it is possible to duplicate and copy multiple elements. These features may not seem important at first, but they make a significant difference when you need a unique logo for your business.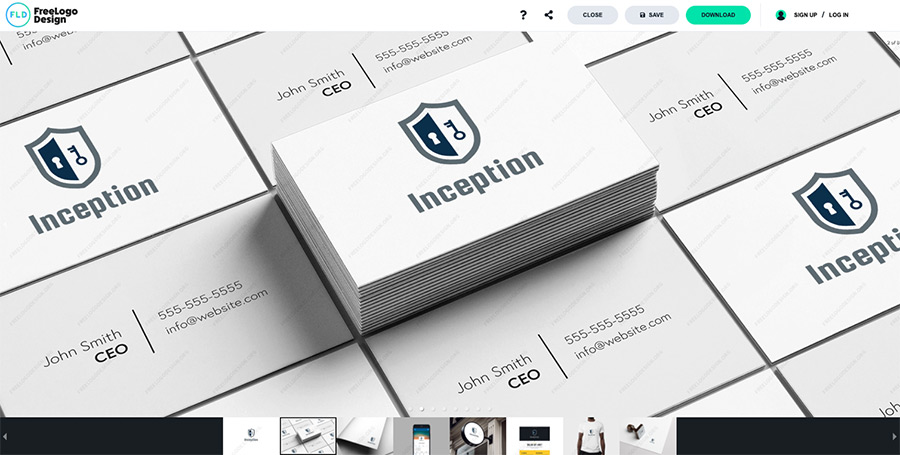 Once you have finished all your edits, you can Preview, Save, or Download your logo with a single click. It will be a good idea to preview the logo before downloading it. FreeLogoDesign will tell you how your logo looks on different objects like a business card, t-shirt, or a physical signboard. You do not need an additional mock-up tool for this.
If you are happy with the logo design, you can proceed with the 'Download' button. We are sure the process will not take more than a few minutes, even if you are highly selective about fonts, shapes, and the overall design aesthetics.
Downloading Options
FreeLogoDesign is a little restrictive in this aspect. After all, it is a freemium logo design tool.
With the free version, you can download the low-resolution version of your logo. It will be in the PNG media format and will have a fixed resolution of 200 x 200 pixels. This option is great if you want to use the logo on your website. However, we cannot recommend it for advanced graphics needs.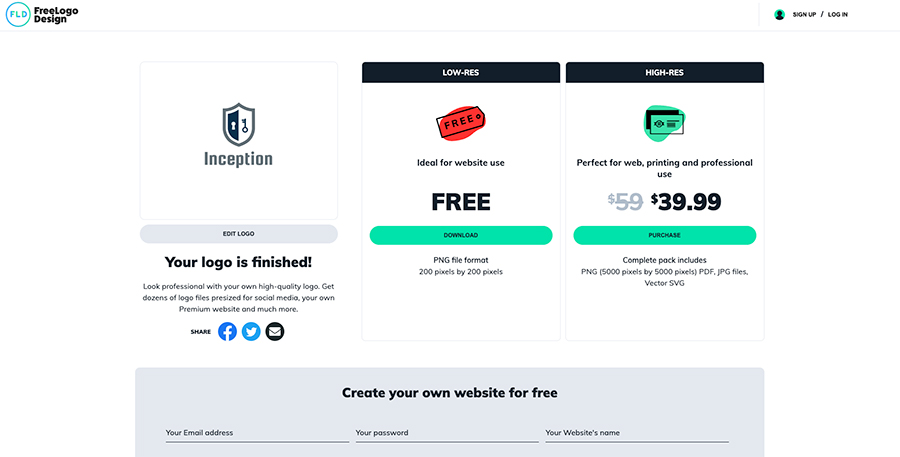 You can get a complete package for web, printing, and professional use with the paid version. A single logo will cost $39.99, but you can get the PNG, PDF, and JPG files. You can also grab the Vector SVG if you like to make further changes without affecting the graphics quality.
By the way, if you want to save your logos on the cloud, you have to sign up for an account on the website. You can also get additional customization features. You do not have to pay any account maintenance fees.
How It Compares
As we mentioned earlier, FreeLogoDesign is better than most free logo makers that we have seen on the internet.
It is always better than generic design platforms like Canva, which offers a limited number of professional shapes. Sure, FreeLogoDesign wants you to pay for a full-resolution logo. However, if you cannot do that, you can still use the basic version for a starter website.
Therefore, if you want a quick start with your business and need a decent logo, you can count on what this logo design platform has to offer. Then, once you have the time and money to upgrade, you can get the full logo package from FreeLogoDesign.
Additional Resources
As we said earlier, you can use FreeLogoDesign for additional resources as well.
Something impressive is that FreeLogoDesign offers a number of logo ideas. You can explore hundreds of logo ideas from all the categories we mentioned earlier. If you want some inspiration for building a logo from scratch, you should check this option.
The Bottom Line
In the end, we believe FreeLogoDesign is a logo maker that every business owner should take a look at. Even though it may not be the most affordable option, you will have some good design ideas. It makes a lot of sense that you can always save your logos and purchase them later.