One of the most vital tools in a salesperson's wheelhouse is being able to cold email. This process is an absolute must but is quite often seen as daunting to those in sales. 
There are two reasons for this intimidation: firstly, not having any kind of rapport with someone before reaching out to pitch a sale is literally like flying blind through rocky terrain. You don't know what the person's response will be and they could shut you down faster than asking the popular kid to prom. But this can be overcome with a steady heart and a strong resolve. 
The second issue, however, is a bit more of a technical problem; how do you get the emails of the people you want to pitch to? You could, in theory, find the person on social media and reach out there (assuming the person you want to find has social media) but this informal approach lacks professionalism. A well-worded business email is the best way to make a strong impression.
With that in mind, here is a list of 10 free ways to get someone's email:
Google it
To start our list we're going to start with the most obvious answer. It's. Truly surprising how much information can be gathered by simply typing in what we need into a Google search bar. 
Simply write the person's name you are trying to contact and the word "email" or "contact" and see what comes up. You may find exactly what you need right from the get-go.
Go to the Source
Get a bit more specific and head to the company website of the contact you're looking for. Many company websites will feature a "contact us" or a directory you can look through. See if your person is somewhere on the website itself. 
Some Educated Guessing
You go to the company website and your person isn't there; unfortunate, but a very real possibility. However, on the website, there is a contact email for someone else in the company very clearly following a simple format: first name, period, last name @companyname.com. 
This is the information we can work with. 
If we have the name of the person we are looking for, we can apply that information to this standard company email formula and (hopefully) get to whom we're looking for. Keep in mind the information you are sharing over your introductory email, as your guess is still just a guess at this point. 
If the contact has a common first or last name, there is a chance you may be sending your email to the first John Smith at the company, rather than the one you are looking for. There is a chance the accidental recipient may forward your email along to where it should be going, so be sure to always be courteous and kind in your email interactions. 
Use an Email Finding Tool
This choice toes the line with "free" as it usually involves a free trial for software that like should cost money. This is very much the case with the tool we use called Closely. Closely is a comprehensive software that covers much more than just email searching: linkedin email extractor, automate LinkedIn connections, data export tool, and others. It can generate leads and serves as an entire sales automation platform. 
Even in its free trial, Closely can use one of its 50 free searches to find your person by simply typing the name of whom you wish to find.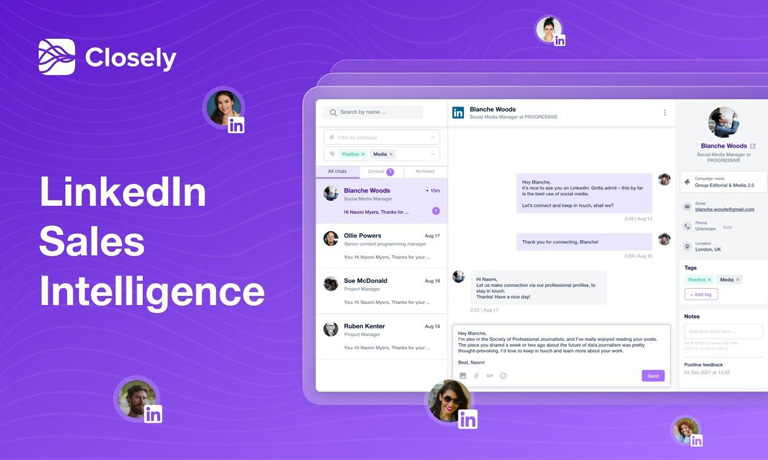 Closely is simply perfect for completing the everyday mundane tasks of salespeople. It turns your workflow into a breeze! Check out how you can easily generate hundreds of leads from LinkedIn completely on autopilot. 
They also have useful sales tips and hacks here.
Find an Admin on the Inside
This approach will require some finesse but can be a solid route if you know how to talk your way in and out of places. Give the company a call and get transferred to the department your person works in. Once you're speaking to an admin, you're now just one step away from the information you want access to.
When the administrator answers the phone, be polite and welcoming (make the human connection) and ask if they could help you with something. By asking for help you are priming the person on the other end with the human instinct to help another person. 
Ask if you can confirm the person's email with them, as this is the one you were given before, and then begin to rattle off what you think would be their actual email. If it's correct, then congratulations, you're a psychic. But if it isn't right, the admin will likely. Stop you when you deviate from the correct email and give you the information you need. This approach isn't 100% effective but the odds go up the more charismatic you can be on the phone. 
Advanced Google Tactics 
This approach blends a few of the previous tactics together. If you're feeling confident about a guess you've made about someone's email, try putting it in an advanced google search. There are ways of further refining your google search results, and the "must include" option is the chief among them. 
To use the "must include" feature, simply put quotations around the words (or in this case, the email address) like so: "[email protected]" and see what your results yield. If your guess was correct, you just might see the email address on the results page. If not, you're probably not quite there yet. 
People Searchers
Although they are becoming less common, free people search sites are still available for use. These self-explanatory tools use basic information on a person to pull additional, relatively basic, information to make a fuller portfolio to work with. 
While the vast majority of these sites are now subscription-based, sites like TruthFinder, InfoTracer, and Intelius, do offer free versions with very basic information that can help you find what you are looking for. It may not be exactly the information you need necessarily, but it's free so it won't hurt to try.  
Do They Have a Blog?
The need for a personal digital footprint and brand has dramatically gone up in popularity in the last few years. Because of this, personal websites and blogs have shot up in numbers massively. Usually, on these sites, there is a way to contact the owner of the brand to, in theory, help continues building their brand with a product or service they provide. This is where you come in.
Probably spurred by a Google search, you can see if the person you are looking for runs (or used to run) a personal site or a blog in the past and use that website to contact the owner. If they have an email attached, fantastic. If not, it's one more piece of information that can be used later in your pitch.  
Social Media
Sometimes it is literally as simple as checking someone's profile page on social media. There are people who list it on their LinkedIn, their Instagram bio, or linktree URL on the same bio page, or if you're on Facebook you might even find it there. Obviously, not everyone has the same transparency (especially people higher up the company ladder you're looking to speak to) but you never know what you might find. 
It would be ideal if new could find all the information we wanted for free, but it isn't always the case. These options should prove helpful for anyone on the hunt but if none of these were able to find your person, there are also many paid options (for relatively cheap, too) that should yield better results.