Have you ever seen something like this while surfing on the internet and wondered what it is?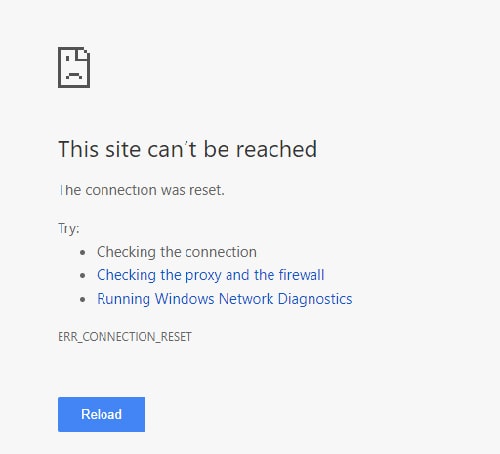 A majority of you must have encountered this, as err_connection_reset is one of the most common errors associated with Google Chrome. This error is quite annoying and occurs frequently, hurting the browsing experience.
A lot of times, the net::err_connection_reset is a network related error caused by any unexpected changes in your network settings or a problematic web server. In such cases, there is nothing much you can do to fix this error.
However, when the source of this problem is from the user end such as the antivirus or firewall installed on your computer, third-party VPN clients or using the proxy and third-party extensions or service, you can solve it very easily. Try these easy methods to fix the err_connection_reset Chrome error.
Note: One fairly common error on chrome is the err_spdy_protocol_error message. There is not any specific reason for the error. You don't need to understand the technology involved – simply follow the instructions and you can solve the error.
Fixing the ERR_CONNECTION_RESET Error
Table of Contents
Method 1: Check your Proxy Settings
By default, Google Chrome uses the proxy settings of your computer as its own settings. It does not have any built-in proxy settings. So, if you had used any proxy previously and forgot to turn it off in the LAN configuration of your computer, it may be the reason for you getting a net::err_connection_reset error.
To fix this issue, go to Control Panel > Network and Internet, and click on the Internet Options.

Next, click on the Connections tab and select the LAN settings option.
In the new window, uncheck 'Use a Proxy Server for Your LAN' if it is checked and check 'Automatically detect settings'.
Click on 'OK', and again visit the page to see if the error is fixed.
Method 2: Renew your IP address
If you are having difficulty in connecting to the network, you may not be getting a valid IP Address from your router. Renewing the IP Address will allow your computer to request a new IP Address from a DHCP server such as a router.  You have to release your current IP Address so you will be able to get a new one. However, before renewing your IP Address, make sure that your computer is connected to the router either wired or wirelessly.
Click on Start > type cmd.exe > and then press Enter to open the Command Prompt. If the current user is not an Administrator user, you must open the Command Prompt program as an Administrator user.
Now, in the command prompt window type in "ipconfig/release" and press [Enter] to release your computer's current IP Address.
Now type "ipconfig/renew" and press [Enter] to renew your computer's IP Address.
Restart your computer and check if you are still getting the err_connection_reset error.
Method 3: Disable your Anti-virus Program or Firewall
Sometimes, your built-in Windows firewall or antivirus program blocks your internet connection and causes the err_connection_reset error. You can temporarily disable your Windows firewall or antivirus program to test whether it is the cause. Also, check your firewall settings to make sure you are not blocking the website or the browser that you are using.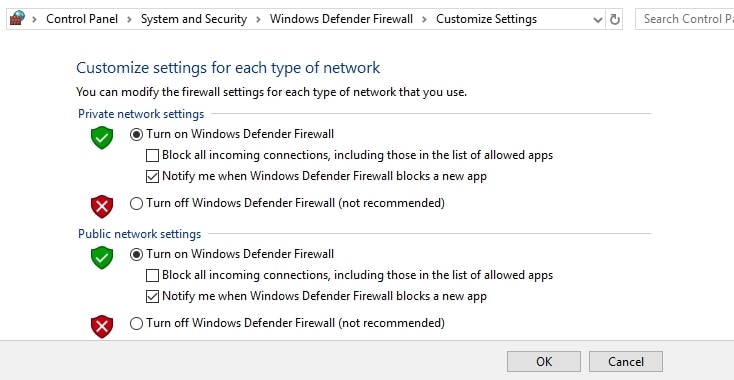 Now, this is a method you should try at your own risk because when you disable your Antivirus or Firewall software your computer becomes vulnerable.
Method 4: Setup the Maximum Transmission Unit (MTU)
This is the one thing we usually do not check, but if the MTU setup is incorrect, this could also perhaps lead to the net::err_connection_reset error. To set this value, you first need to get the name of your network adapter.
Hold the Windows key and Press R and type ncpa.cp.
You will see all the network connections listed. Copy the name of the active adapter, exactly as it is.
In the image above, the active network adapter is highlighted.
Hold the windows key and press R. Type cmd to open the command
In the command prompt, type the following command:
For an Ethernet Connection Use:
netsh interface ipv4 set subinterface "Local Area Connection" mtu=1472 store=persistent
For a Wireless Connection Use:
netsh interface ipv4 set subinterface "Wireless Network Connection" mtu=1472 store=persistent
Replace Local Area Connection/Wireless Network Connection with the name of your network adapter and hit Enter.
In this case, the name of the active network adapter is Wi-Fi.
Now, open Google Chrome and visit websites. You should no longer encounter err_connection_reset.
Method 5: Repair/Clean Old Junk Registry
Sometimes broken registry entries cause the net::err_connection_reset error while browsing on Google Chrome. We suggest using trusted third-party tools to repair broken registry entries.
Scan your registry for errors and repair if any found using any of the Windows registry files cleaning utilities. After that restart your computer and visit the website to check if the err_connection_reset error is resolved.
Method 6: Reset Google Chrome
In case, the err_connection_reset error is not solved by the methods above and you are only getting this error in Chrome browser, try resetting Chrome. This should fix configuration issues, if any, in Chrome and you may not encounter the error` anymore.
To reset:
Type chrome://settings/resetProfileSettings in address bar and press enter.
Now, Click on Reset.
Conclusion
We hope the methods mentioned above will help you resolve the err_connection_reset error in Google Chrome browser. We recommend you check your internet connection before following this guide. Sometimes, your internet provider (ISP) stops your internet connection due to other errors or an overdue payment.
Let us know which of these methods works for you or if you have a better method to solve the err_connection_reset error. Also, if you are stuck at any point feel free to mention in the comments below and we will try to help you.