For a long time-period, Microsoft wanted us to use the messy, useless and quite an unproductive Internet Explorer. As some troll-images say, some people used Internet Explorer only for downloading Google Chrome for the first time. Speaking personally, I've not used Internet Explorer in my new PC, since it had Chrome pre-installed. In other words, Microsoft stayed out from the web browser competition game. Now, however, as there is the launch of Microsoft Edge, it's a game changer, we can assure!
Microsoft Edge is a fully-fledged, natively-integrated and a very productive web browser that comes by default in the package of Microsoft Windows 10. Packed with several stunning features, the browser is quite powerful to compete with Google Chrome, Mozilla Firefox and other top web browsers out there. And, when we count in its native power, features of Microsoft Edge are on steroids.
In this article, we shall have a look on the top 10 features of the new Microsoft Edge browser. It's a matter of fact that Edge has better performance in Windows when compared to other browsers. But, we're focusing on the non-basic features that can be useful for an active internet user. Shall we start, then?
Distraction-Free Reading Experience
If you use your web browser reading a lot of articles or so, it is going to be the most useful feature of Microsoft Edge! It is natural to find that advertisements, comments, banners, etc. can be quite distracting for your reading experience. With the Reading View of Microsoft Edge, however, things have been simplified in an impressive manner. If you click on the Reading View button, the entire web page will be transformed into a minimalist design, just showing basic content and title.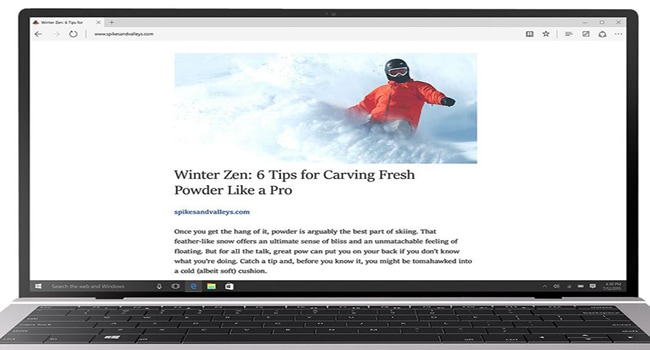 The interface is quite impressive that you can scroll down — just as you were turning the pages of a book. It needs to be noted that images are also avoided in the Reading View, which may be a problem. But, when it is time to read long enough articles, Reading View of Microsoft Edge is worthy.
Reading Lists
You also have an option to create a Reading List, which is accessible from different Windows 10 devices, given that you use the same Microsoft account there. When you find that there's an article you should read, but you don't have time, you can add that article into your Reading List. If you have used Pocket — which is one of the most productive Google Chrome extensions —, you will know how useful a reading list can be. Inside Edge, however, you cannot have the tagging or categorization feature, but the Reading Lists section is still worth it. It will not take more than a second for Microsoft Edge to add a particular article into the Reading List. Once added, the list is readily accessible, whenever you have opened the browser.
Cortana is Here
As you will have heard of, Cortana — the brand-new AI-based digital assistant — is one of the most-noted features of Microsoft 10 itself. This digital assistant is available for help in Microsoft Edge as well. For instance, if you do come across a doubt while browsing, you can call out Cortana for help. In seconds, she (we can call her so) would show you the most appropriate results. The help of Cortana is almost everywhere, ranging from the search bar to the websites you need. To enable Cortana in Edge, you have to go to Settings and turn on "Get Cortana to assist me in Microsoft Edge".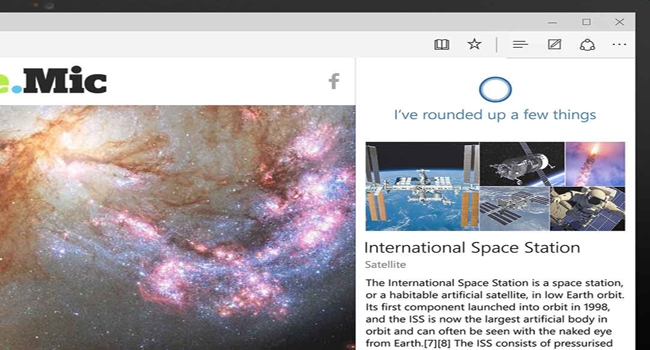 Talking about her features, Cortana actually simplifies your searches and needs. For example, when you type "weather" in the search bar, Cortana will show you the current weather status by analyzing your location. Similarly, if you want to do a few currency conversions or find the meaning of some words, Cortana will not take more than a few seconds.  Altogether, the power of Cortana will be always with you when you are browsing through the web.
Different Needs, Different Themes
Microsoft finally understands that people need different environments for different needs. You cannot have the full-white interface when you're reading during the night. Despite the fact that Microsoft Edge does not have a collection of themes or variants, there are two sense-making themes available — Light and Dark.
When you are into night-reading experience, you can choose the Dark Theme, and otherwise, the Light one. You can change the current visual theme in the Settings section of Microsoft Edge. As we said, the availability of dual themes is useful in several instances, thus letting you have a convenient browsing experience in the course of time.
Ultra-Secure & Safety from Attacks
As you know, most web browsers are vulnerable to different kinds of attacks and exploits. And, extensions like VML, VB and ActiveX scripts are some reasons why people target web browsers. In this brand new Microsoft Edge, you've no tension about these scripts causing you trouble. It is so because only JavaScript is the allowed scripting language in Microsoft Edge. In addition, some other security options are also there, such as Smart Screen Filtering and cookie management. Also, you have better options for Sandboxing and Login Process security. All in all, you don't have to be that conscious about security and privacy when you are using Microsoft Edge.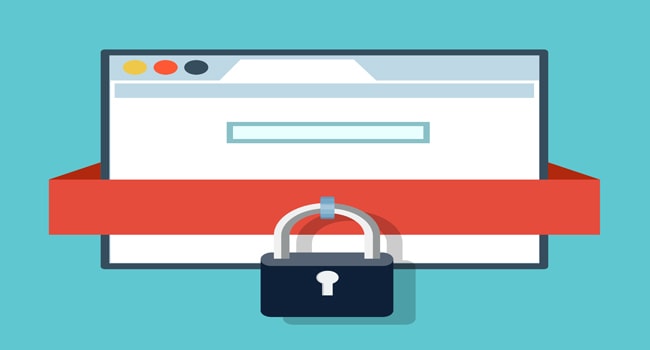 While discussing this as a Microsoft Edge feature, there's something developers should keep in mind. If your site/app is using ActiveX scripts, it's high-time that you should move into HTML5 given that you want the page to render fine in Microsoft Edge. To make all the security way too better, Microsoft uses an all-new rendering engine that is known as EdgeHTML, which gives priority to comply with web standards and security protocols.
Hola, Developers
In case if the developer in you was disappointed in Internet Explorer, Microsoft has you covered in Microsoft Edge. It offers an impressive set of development options, including the standard options and additional ones. When you are one aspiring developer, this is going to be an amazing feature of Microsoft Edge. Combined with an awesome UI, you will be able to analyze performance of an individual site. Apart from these, in the developer panel, there are different sections such as DOM Explorer, Debugger, Network, Memory and Emulator. You have enough to explore and all the staff is arranged in the simplest form.
Create Web Notes
This section of Microsoft Edge allows you to create web notes when you are visiting a web page. There's a "Make a Web Note" button on the top part of your web browser interface, clicking on which will bring you a lot of options for annotating and more. The different tools include a highlighter, typed note, clipper tool and eraser. By selecting the one you want, you can create extra stuff in web pages and get them ready for later use.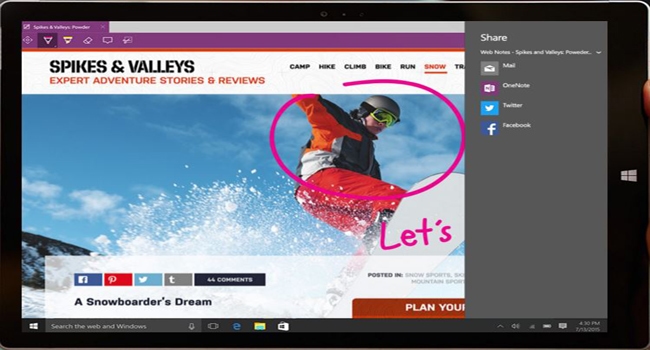 Once the note creation has been done, you have several further options. First, you can save all the notes to the OneNote while the second one lets you add them to your Favorites. Alternatively, you can stick all those notes to the "Reading List" folder, which is available in multiple platforms. When you're up for some research or long-term preparation, web note creation is an awesome part of Microsoft Edge browser.
Integrated Sharing Options
Thanks to the sharing panel, sharing a webpage or website is a single click away from Microsoft Edge. On the right part of Edge, there's a button for sharing. Clicking on the button will show you the available options of sharing, like Mail, Facebook, OneNote and everything else that's available. When you want a centralized sharing environment, this is a worth-going-for feature, we suppose. Quite surprisingly, the Windows version of Chrome or Mozilla does not come with such a feature — so, here's the exclusive for you.
Extensions, Coming Soon
As of now, there are no extensions you can install on your Microsoft Edge browser. Some might think that there's a bottleneck for productivity. However, Microsoft Corporation has ensured that Microsoft Edge will soon have a quite-promising collection of extensions, which can be used for enhancing productivity. And, the company also adds that all extensions would be checked thoroughly to confirm the safety and productivity. So, in the end, you can have a set of worth-using browser extensions than a huge collection of useless ones. We think we should consider this as one of the noted features you can see soon in Microsoft Edge scenario.
The Uncompromised, Unprecedented Performance
Regardless what you're using Microsoft Edge for, this enhancement of performance is a Microsoft Edge feature that you'd definitely love. Even in the various tests that have been done, it's been proven that Microsoft Edge loads sites in a quicker manner. It's so because Edge comes from the same developers of Microsoft Windows, and both have the basics on the same. So, don't be surprised if the same website loads quickly on Edge.
Features of Microsoft Edge – Conclusion
So, we have covered the top ten Microsoft Edge features you can count in. if you're a person who uses web browser for almost all purposes – from document creation to development, Microsoft Edge will be suitable for you. Not only that, after the arrival of extensions, you can have Edge on steroids, which is a good thing. Well, which are the Edge features you love? We would love to hear from you.