Android is the king of the mobile domain in all fields imaginable. It's the most flexible operating system when it comes to emulating various legacy hardware and software. All this is made possible due to the fully open ecosystem making it a treat for developers to work on, and for users to enjoy.
In computing, emulation is a process by which the hardware and software are duplicated / imitated in another system, which is running a different hardware and software, and which is natively unable to run the targeted software. Emulator is a piece of software which enables a host system to emulate other type of hardware, and run their software.
Today, we are going discuss about a few famous methods of emulating legacy devices in Android, and end with a small and easy tutorial to actually run Windows 95 / 98 / XP Operating System on your Android device.
The pre-requisites for this guide are:
Android Device (preferably with decent hardware specifications)
Preferably Rooted
Let's now get into the topic of hardware emulators for Android.
1. PlayStation One (PSX) Emulator
Who doesn't know the PlayStation One? Released in 1994, PlayStation One was one of Sony's biggest hits of all times, growing a huge fan following which continues to this day.
There are several apps which can emulate a PlayStation One hardware, and hence allow you to play PSX games on your Android device.
Pre-Requisites – You need a copy of the PSOne BIOS and games.
The app most widely used for PlayStation One emulation on Android is FPse. It's a paid app, but worth ten times the asking price. It can run PSX games full speed, without frame skips or drops in majority of Android devices. The developer has also added a feature which allows the app to upscale and render the PSX game by using OpenGL, hence improving the graphics too. The app also supports gamepad input by any gamepad supported by Android. Tested models include Xbox 360 Controller for Windows, PS3 SixAxis Controller, Logitech F710 and Moga Controller.
With FPse, you can play old classics like Crash Bandicoot, Road Rash, NFS Hot Pursuit and many more.
Price -> Rs 196.77
Developer -> Schtruck&LDchen
Average Rating -> 4.3 / 5, by over 15,000 users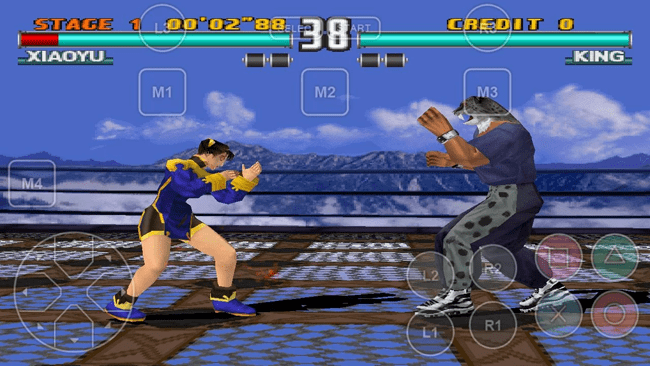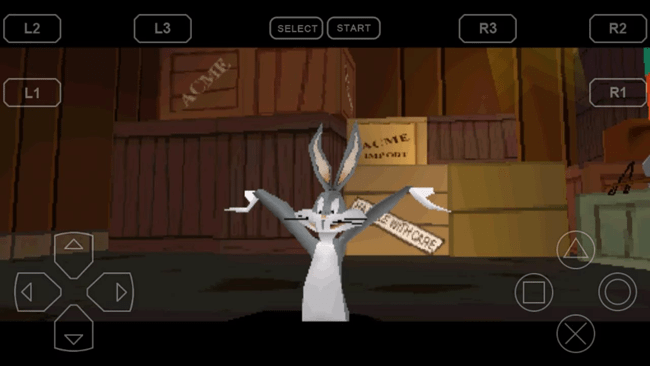 2. Gameboy Advance Emulator
Nintendo Gameboy Advance, released in 2001 is a 32 bit Handheld video game console, and a successor to the Gameboy Color. It was one of the first, and certainly a famous handheld console. Gameboy Advance, often shortened to GBA is one of the most emulated hardware around.
On Android, the best Gameboy Advance Emulator is My Boy!. Available in paid and free versions, My Boy! is capable of super fast emulation, easily reaching the lofty 60fps, without frame dropping or skipping on lower end devices too. It has a wide array of GBA game support, and can emulate the GBA BIOS too. Like FPse , My Boy! also uses OpenGL to render and upscale the graphics, so they look vibrant and beautiful. It also supports mapping sensor input (like Accelerometer, Gyroscope etc) to in game controls. You can use gamepad to play games too.
With My Boy!, you can relive old classics like Final Fantasy VI, Grand Theft Auto Advance, Super Mario Advance, Sonic Advance and many more.
Price -> Free (Paid version available for Rs309.01 )
Developer -> Fast Emulator
Average Rating -> 4.4 / 5, by over 45,000 users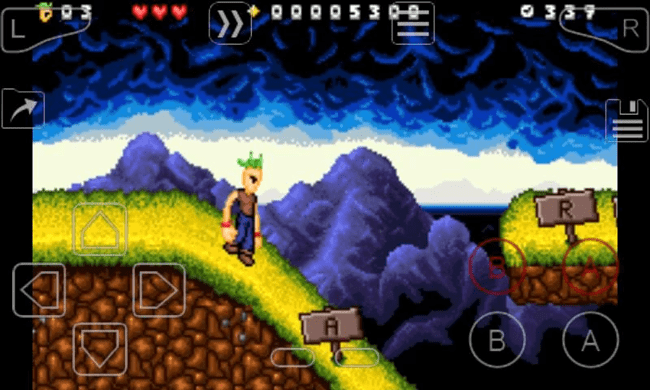 See Also: How to Run Android PC the Right Way
3. Nintendo 64 Emulator
Nintendo 64, codenamed Project Reality, launched in June 1996 was the third Nintendo home video game console. Featuring high quality 3D graphics, real-time transitions and other graphical goodness, it was a very popular console back then, and it is a widely emulated piece of hardware now.
For Android, SuperN64 provides the best emulation capabilities for Nintendo 64. It is based off the Open source project Mupen64+, and includes modifications for better performance and enhancements to the UI and control layout. It's a simplistic app, and provides amazing emulation for this brilliant console.
With SuperN64, you can relish titles like Super Mario 64, Donkey Kong 64 and many others.
Price -> Free
Developer -> Marcos Santiago
Average Rating -> 4.5 / 5, by over 94,000 users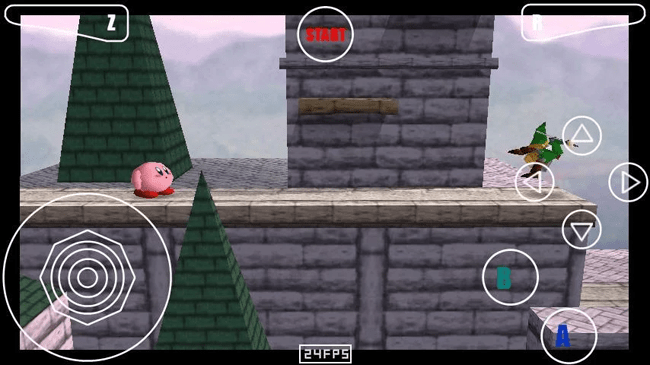 4. Super Nintendo Entertainment System Emulator
Super Nintendo Entertainment System, or SNES in short was a 16 bit video game console released in 1990 by Nintendo. Super NES was one of the first home video game consoles to implement a graphics rendering chip in form of a SuperFX chip, allowing for high quality 3D rendering. It was a best-selling console of the 16 bit era, and quite popular even in the 32 bit era.
For Android, SuperGNES is the best emulator. Available in paid and free versions, it has a wide array of game compatibility and capable of fast, lagfree emulation on all sorts of Android hardware. Another bonus of the app is Dropbox sync of saved games, so you can play a game on your tablet, and continue on your mobile for example. It can use external gamepads like Logitech F710 ,Moga Pro etc to control the game. It also has support for shading and upscaling the graphics upto 3x the native resolution. The paid version also allows for Network Multiplayer over WiFi or Bluetooth.
With SuperGNES, you can enjoy games like Super Mario World , Donkey Kong Country, Street Fighter II and many more.
Price -> Free (Paid version available for Rs 99.99)
Developer -> Bubble Zap Games
Average Rating -> 4.1 / 5, by over 51,000 users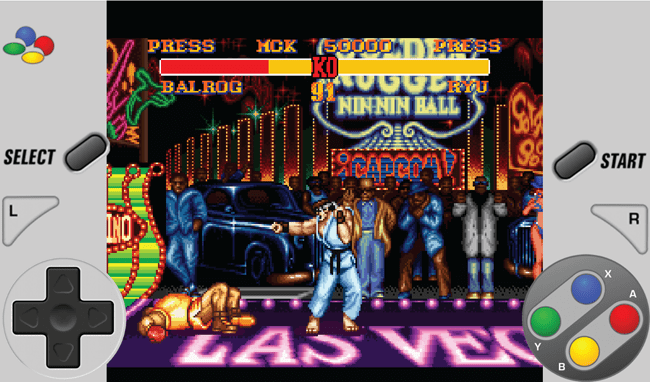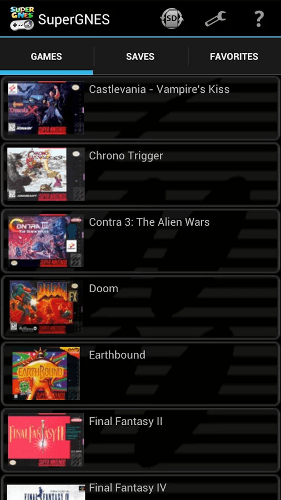 5. DOS Emulator
DOS, short form for Disk Operating System was first seen in 1981 on IBM PC as IBM PC DOS. DOS can be of various forms , including, but not limited too MS-DOS, PC DOS, FreeDOS, ROM-DOS, Apple DOS and many more.
We can emulate DOS software by using a nifty little app called aDosBox. It is based on a SDL Port for android, and can run most DOS applications and games on all sorts of Android devices.
With a DosBox, you can relive classic childhood games like Pacman, Aladdin and Prince of Persia.
Price -> Free
Developer -> HYStudio
Average Rating -> 4.0 / 5, by over 1,200 users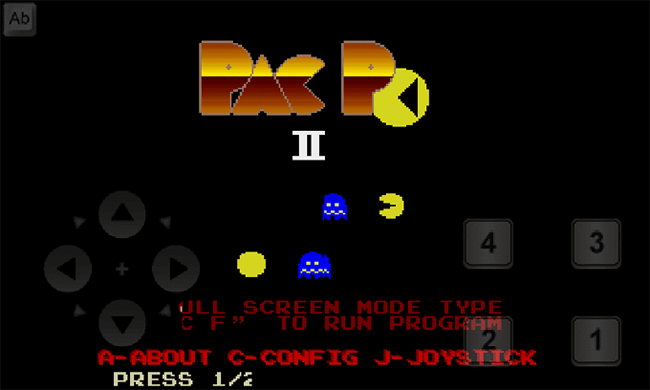 6. PlayStation Portable Emulator
PlayStation Portable is by far the most popular and highest selling portable video game console out there. Released in 2004, Sony PlayStation Portable is still being sold, clearly depicting its popularity. PlayStation Portable boasts of high quality, graphics intensive games, which are a treat to play on its vibrant 4.3 inch LCD panel.
On Android, currently, there is only one PSP Emulator available, and its still under development. We use PPSSPP on android to run PSP Games. PSP Emulation is very heavy on the hardware, hence even high end devices tend to lag and stutter in PSP Games. The developer has added various improvements to the software to make games smoother, and for the most part, higher end devices run lighter games fine, but heavy games lag. There is a paid version of the app available for supporting development.
With PPSSPP , we can enjoy playing PSP games like Burnout Dominator , God of War Ghost of Sparta, Final Fantasy Crisis Core, Little Big Planet, Grand Theft Auto Chinatown Wars, Patapon 3 and many more.
Price -> Free (Paid version available for Rs 349.00)
Developer -> HenrikRydgård
Average Rating -> 4.3 / 5, by over 32,000 users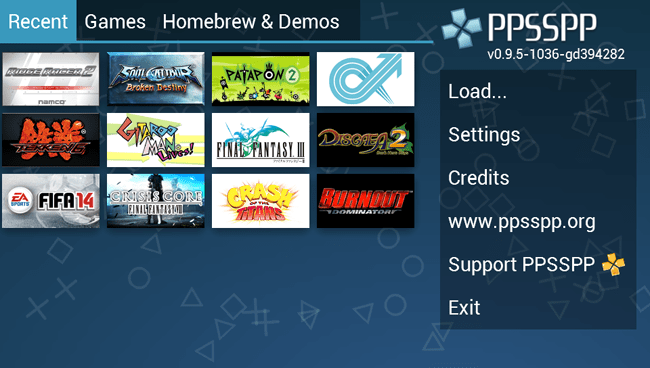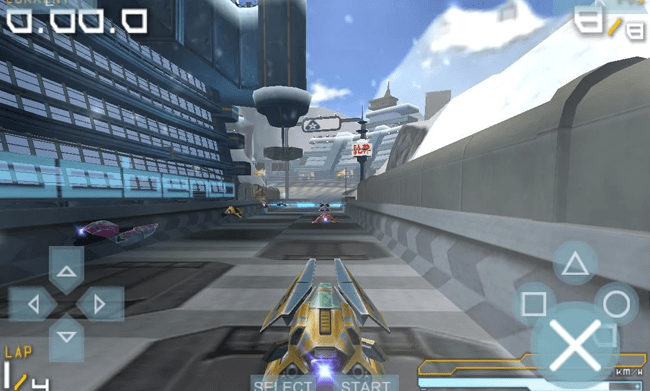 In the second part of the article, we will give you a quick and easy tutorial to run Windows 95/98 or XP in your Android Device.
Bear in mind that this could be laggy and not a good experience on lower end devices, but it's still good as an experiment.
Pre-Requisites
Download the following packages
SDL Files for BOCHS Emulator
http://forum.xda-developers.com/attachment.php?attachmentid=923267&d=1330415309
Operating System Image
You need to source this image yourself, as sharing Windows copies isn't allowed and considered piracy. Any Windows 95 / 98 or XP .img file should work. You must install Windows to a virtual machine on your PC, and convert the VHD (Virtual Hard Disk) to an image file, which then must be used in your Android phone.
Instructions
Connect your phone to your PC.
Extract the SDL Files in the root of your internal storage (i.esdcard/SDL/…..)
Copy the BOCHS Emulator to your phone storage.
Rename the Windows image file to c.img and put inside the SDL Folder.
Create a folder named HDD in the root of your internal storage (i.esdcard/HDD/…). You can put apps for Windows and stuff you want to access from Windows here.
Disconnect your phone, and install the BOCHS Emulator apk.
Now, run the BOCHS Emulator from your app menu.
Let it boot up.
The touchscreen is a trackpad, and tapping is a click. Menu button is Enter, and back button is backspace. Left upper cornet tap generates TAB, left lower corner opens keyboard.
With this, we come to the end of this article. You can clearly see the potential of an open operating system like Android when you use these emulators on your own Android device. Just in case you need to play the games on iOS using emulators, we have an article on the best iOS emulators.  There are loads of other emulators out there, for other hardware like Sega Genesis, Atari 2600, Nintendo DS, TurboGrafx-16, Neo Geo Pocket Colour, PCEngine, Amiga 500, BBC Micro and many more. There is simply no end to any application genre in Android. One app or the other is sure to match your taste.