Here's how to save $54/year using our Squirrly coupon code. Squirrly is an SEO plugin for WordPress. It enables you to check the SEO of your content and posts as you write, and also offer useful research tools. One if its main tools enable you to do keyword research inside the WordPress dashboard.
This plugin will help you maximize SEO potential of your content and help get your pages and posts their highest possible search engine ranking.

When you write your own posts (strongly advised) Squirrly checks out the level of optimization of your text, and if it is good then the text turns green. If it does not, then you must find out why and then edit it. You can write an entire blog this way, knowing that when you have finished, your content will have its best chance of being indexed and ranked.
Squirrly SEO Analysis
Squirrly does more than just this of course, and among its many functions is its analysis of your blog. It will carry out an SEO audit and inform you which areas need your attention, such as: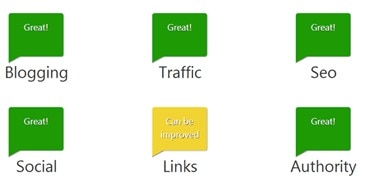 This result indicates that all your SEO is great apart from your links, which need some attention. So Squirrly helps you to edit your blog and tackle those aspects of it which are preventing you from achieving a high ranking in Google. You can use these and other useful aspects of Squirrly at 15% less than the normal price using our Squirrly Coupon Code.
Squirrly Coupon Code
Many people find Squirrly to be ideal for them, particularly if they are unsure about SEO and how to optimize their site. It's worthwhile trying: you pay nothing if you only write three posts each month, but anything more than that then it costs you $30 each month ($29.99 to be precise.)
You can save $54/year by reducing that to $25.49 by using the Squirrly Coupon Code above or click on this link. YES. We give you Lifetime 15% OFF the real price using our coupon code.
Simply use that code when placing your order for the reduced price. This gives you the full version of Squirrly for just $25.49 every month, saving you $4.5 of the regular monthly price: this amounts to a saving of $54/year.