Hello internet dwellers, I hope that all of you had a great month. Continuing our monthly tradition, we're back again with a new list of 10 products launched this past month that you should absolutely give a shot. Some of the products are new launches, others are updates to existing ones but all of them offer something new and unique. As always we're nothing focusing on a specific category of products, the list includes everything from apps, games and productivity tools. The list is pretty extensive so without further ado let's get started.
Cool New Products and Apps – October 2017 List
Station
We all use browsers on a daily basis to get things done, be it catching up on some emails or drafting a paper that we have to turn in as assignments or for that matter binging on Netflix. But turns out, browsers aren't the best at bringing out the most productive sides of us. Most of the times we find ourselves wasting time, trying to find that one tab among a huge pile of unnecessary tabs open.
This is where Station comes in play, Station is a new app that is geared towards helping you be more productive and keeping things organized in the best way possible. Station has a couple of things that help it do that.
First, it keeps all your most used apps like Dropbox, Invision and Google Drive in one place for easy access. It makes use of a Smart Dock which helps it keep all tabs from one app in one single location.
Station also features Universal Search so you can search for stuff across apps and across tabs, this is by far the most useful feature I have come across. As far as staying on top of communications is concerned, Station features a new notification center which groups all notifications into one handy layout.
And when you want some distraction-free time to get work done you can turn on Focus Mode where you will not be distracted by any notifications from any app. What makes Station great is the availability of integrations. The app has just launched but it already had over 300 integrations in its marketplace, all curated under different categories. Overall in my personal opinion, after using it for a week I did notice a huge boost in productivity.
Station really does a great job at organizing everything under one hood for easy access. Click on the button below to check it out for yourself.
Coda
Spreadsheets were created in the 70s to help accountants. Unfortunately not much has changed since then. We've just been piling the spreadsheets with features while their UI essentially remained the same over the years. Also, they're not really integrated with word processors, it's always been a window switching game trying to get things done between these two applications.
Fortunately, someone is trying to change that. Introducing Coda. Coda is basically the document for the 2017 era. It blends the flexibility or documents, the power of spreadsheets and the utility of apps into a single program. It's basically a cross between 2 of the most popular application people use on a daily basis force work. Once you launch Coda you'll be delighted to see that there's barely any clutter on the app. You have a toolbar on top and everything else is used by the editor.
You can really take your document to a new level by adding tables, checklist and more. Love Trello? You can create a scrum board on Coda as well. The document will start off simple but has the ability to grow according to your needs. It's an invite-only offering right now so if you are absolutely sold on the idea, you can request early access using the button below.
Google Calendar
Google announced Material Design in 2014 and laid the foundation for the future of design for the company vast catalog of products. In the years that came by, many apps both offered by Google and the ones created by other developers started adopting the new design system to provide meaning and beautiful experiences.
Unfortunately, though, it took a while for the web to catch up with Material Design. This included most of Google's own apps as well. It's only fairly recently when they started adopting the modern look.
One of the most popular Google apps which didn't receive a much-needed update was Google Calendar, while the apps did adopt the new design language the desktop version lagged behind. This changed in October 2017 when Google finally introduced a new update to Calendar. The new look adopts material design and brings some really helpful features to the table. The new update will allow users to see event details at a glance, this would include guest lists for events along with their RSVPs.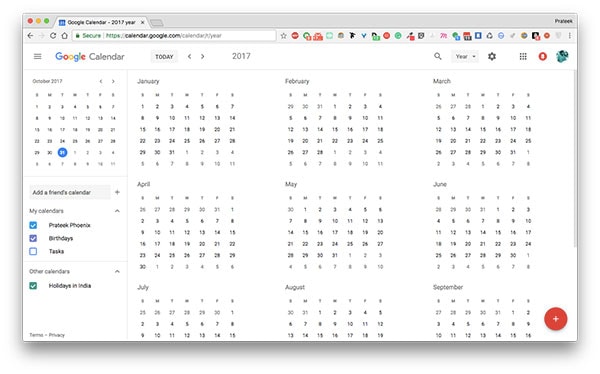 It's pretty detailed actually. If you use Calendar for scheduling meetings, you'll also be able to assign rooms and locations and will also be notified if a room is vacant or not while creating the meeting. The new update also brings new view options which include invitation status and also lets you choose how little or how much you want to see.
Calendar will remember these settings until you change them again. The update also brings a new Settings screen where you can control notifications, change permissions and get access to deleted events in one place. To get the new Google Calendar click on the button below and click on Use new calendar on the top right corner of your screen.
InVision Studio
Sketch has been ruling the screen design segment for years now. The kind of simplicity Sketch offers while still being absolutely powerful is second to none. Adobe released Xperience Design (Adobe XD) about a year ago to rival tech but it would take more than what they offered to lure existing Sketch users into trying anything new.
Plus, Sketch offers a way better pricing model than Adobe. This month though, a new competitor has revealed itself to Sketch. It's from Invision, the popular web-based prototyping tool. It's called InVision Studio and if the promo video is to be believed it's nothing short of amazing. For starters, Studio offers responsive design support from the get-go, if you are a designer you know how crucial this is. Studio also features Shared Design system which is almost similar to what Sketch did with Symbols and Libraries in their latest release.
But where InVision Studio beats Sketch is in support for rapid prototyping and advanced animations. Not only can you create amazing screen designs using Studio, you can also create and choreograph interactions between those screen without leaving the app. This changes everything. For Sketch users, the only option to do so was by exporting their designs to something like Flinto or Principle but Studio will do it natively. Studio will also allow for collaboration just like they do on their web app. Overall it's turning out to be a killer product and it will definitely give Sketch a run for its money. Check it out using the link below.
Magic Sudoku
AR is probably going to be on top of the list of technologies that really caught up this year. With Apple's announcement of ARKit and their attempt at making it more mainstream with their entire iPhone lineup, and Android catching up to the game as well with ARCore, we're on track to seeing some great solutions built on top of this new technology.
The product I'm talking about next comes under this very category. It's a game called Magic Sudoku. If you ever were a fan of this game, you are no stranger to spending countless hours with your newspaper trying to solve the puzzle daily. Thanks to AI and Computer Vision, the solving ability can now stay right in your pocket.
The game uses ARKit to overlay the solution of the game right on top of your real world. The flow is fairly simple, you place an unsolved puzzle in a well-lit place, you then look at it through the Magic Sudoku app and voila! the puzzle is solved in place. It's more exciting than I can make it look on a blog post. Check it out using the link below.
Devhints
A product list is always incomplete if we don't include a tool or two for developers, after all, diversity is important, right? This product is pretty nifty if you keep referring to sticky notes or stack overflow for syntax every now and then. It's called Devhints and it's a fairly basic product which comes in handy right when you need it.
The website maintains a curated list of all the languages it currently has content on and if the language you need help with happens to be supported by them, you can select it and you'll be redirected to a page with a well laid out cheat sheet for the language which covers everything from the basics of the language right till the advanced stuff.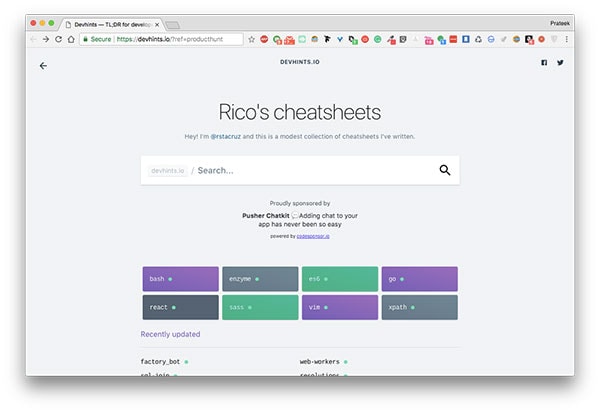 Being a developer myself, I cannot stress how handy such services come in when all you need is just a quick reference to the syntax of a language. Head over to their website using the button below.
Responsive Screenshots
If you have experience launching an app or a website you would know that most of the early leads come in from social media. This fact makes it extremely important to have a strong presence on social media while at the same time making sure that high-quality promotional material. One of the key elements of promotion a digital product is screenshots.
We need to have high-quality screenshots that are cross-device and that don't suck, unfortunately till now the only way to do so was to manually take screenshots on different devices and then edit them accordingly. Luckily, someone has built a tool for automating this for you. Responsive Screenshots is a brand new product that takes away the hassle of taking multiple screenshots of your website at different resolutions and screen sizes.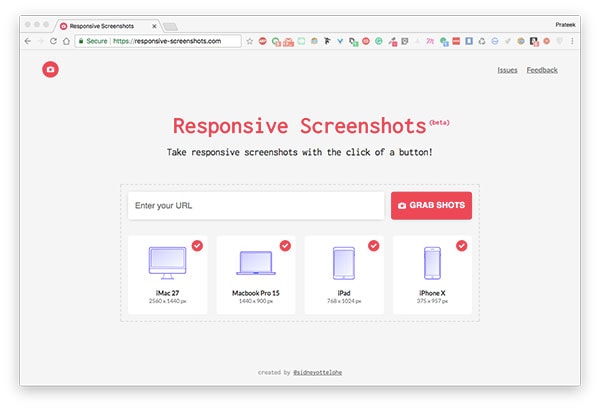 The service is currently in beta but it works pretty dan well. All you have to do is paste your URL and wait for 5 to 10 seconds and the website will take the screenshots for you. It's pretty neat actually. Give it a try using the link below.
InterviewBuddy
Let's face it, job hunting is hard and scary and what's even scarier is the interviews process to get a job. You're at your most vulnerable when you are being interviewed. Especially for students, fresh out of college, looking to get hired, they have the worst time of their life trying to look for their job as they have no practical experience whatsoever as to what to expect during interviews.
No one wants to be caught off guard. If you happen to be one of those people who's going to be applying for jobs soon or is already in the lookout for one, InterviewBuddy is for you. InterviewBuddy takes away some of the fear off of interviews and makes sure you are well prepared for it. The company offers virtual mock interviews with industry veterans so that job seekers are prepared for their next interview.
It helps you prepare in an environment that stimulates a real job interview where you don't have the added pressure of a job being at stake. The company provides a scorecard based on how you performed. In today's world, where competition is high, you want to show your very best to score that dream job, InterviewBuddy helps you with just that. Check it out at the link below.
Search Funnel
It's 2017 and apps have literally taken over the world. Don't believe me? Check your phone, you'll definitely find some apps that you had downloaded because you thought of using them but you actually never did. We need to accept that we are unnecessarily cluttering our phones by going after the "there's an app for everything" mindset.
This problem needs to be addressed and it needs to be addressed in a manner where it doesn't feel like we've just been stripped off information. Introducing Search Funnel, an app that takes away the clutter from your phone and replaces multiple apps to get the job done in just one. Search Funnel is basically an app which will allow you to search for things across multiple services, the list includes Google, Wikipedia, YouTube, eBay, Spotify and more.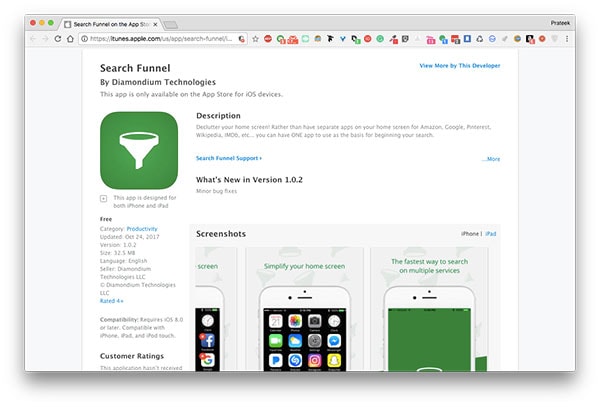 By bringing these services under one roof, Search Funnel takes away the need of having these apps installed separately to take up space. If you constantly keep running low on storage and you have a bunch of apps which you don't really use, give Search Filter a shot by checking out the link below.
Textmark
The internet is probably the best source of consuming information and staying on top things just because there are multiple reliable sources for getting that information. There are blogs and newsletters which keep you updated on what's happening. Former people who are behind these blogs and newsletters, know the pain and effort required to organically grow their audience and reach more people.
You need to stand out uniquely in the space and offer something different to acquire the attention of the masses. Being a tech blog ourselves we are no strangers to the problem of plagiarism. People simply rip off your content and repost it just to boost their online presence. It's absolutely important to have ownership of your content and your intellectual property. One company is making it easy and more secure by using invisible watermarks.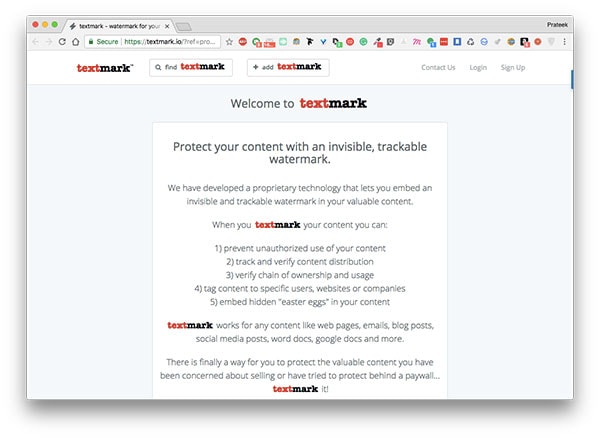 The product is called Textmark and what it does is pretty amazing. Once you Textmark your content, you basically prevent unauthorized use of that content, get the ability to track and verify that content's distribution, verify the chain of ownership and usage, tag content to specific users and even embed easter eggs into your content. This service works for a host of content like web pages, emails, blog posts, social media posts, word documents and more. If you think this is something you may actually end up using, give it a go by visiting the link below.
Conclusion
That's all we have for you this month. Let us know if you end up using these products or even checking them out. Also, let us know what you think about this series and of our new direction on the comments section or by sending a tweet our way. Until next month, this is me Prateek, signing off!