Choosing a Linux distro is not always easy. There are several Linux distros that may be best for you, and very often the choice is a matter of personal preference rather than any technical advantages of one over the others. Linux is available in many different flavors, so here is a guide as to which might be best for your particular needs.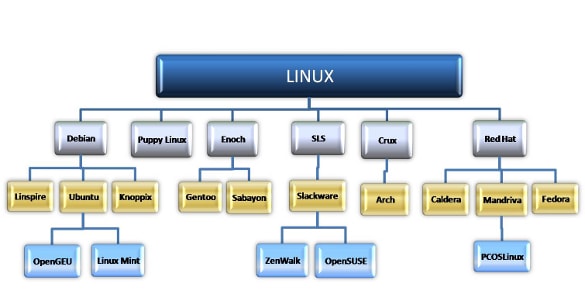 First, consider your own position with Linux. Are you a new user who has to learn from scratch, or are you simply wanting to try it out and find out if it would be useful to you? Perhaps you are an expert and require a high level of control over your OS. Perhaps you have an old 64 MB RAM computer you want to play about with using Linux – there are several reasons for wanting to use this operating system, and it helps if you understand your own reason. Here are some of these:
Testing Linux
If you just want to test Linux, and try it out on your desktop, you have a large number of distros to choose from. However, you can run Linux without interfering with existing software and operating systems on your computer by using Knoppix. This distro boots from a CD-ROM, so you have no need to install the OS on your computer.
Knoppix is a Live CD distribution of Linux that enables you to run lots of different applications, and you can save your documents to a remote location such as USB stick or a hard drive. You can use this distro to check it out and if you like the way it works, you can go for an installed version that will run faster than a Live CD session. If your computer OS has crashed, you can use Knoppix to access your files for remote storage before reinstalling your OS such as Windows.
Ubuntu is another distro good for testing, only this has to be installed on your Windows desktop. You can do that with an installer known as Wubi, specifically designed to install Ubuntu on Windows. There are various Ubuntu alternatives for that matter and you can test on any one of them.
You can also run a Linux distro from a virtual environment. There is plenty of virtualization software available than can be used to achieve this. Among these are VMware Player, Sun VirtualBox and Windows Virtual PC. You can then run Linux alongside Windows.
Are You a New Linux User?
If you are new to Linux, and not just playing around with it, then Linux Mint is a free desktop distribution that is easy to use and understand. Because it is based on the Debian Ubuntu distro, there are plenty software options available to you. If you are looking for a particular application, check if it runs on Ubuntu, and if so it will also likely run on Mint. In fact, the desktop edition of Ubuntu is well worth trying first, since it works with many different types of hardware device.
Fedora by Red Hat is another free distribution, but if you are looking for a commercial application, then Xandros Home Edition is good for beginners. One benefit of Xandros is that this distro offers CodeWeavers CrossOver that does what it says – it enables you to run many popular Windows applications inside Xandros, including MS Office, Photoshop, Front Page and others.
Ubuntu, however, is the most user-friendly of all popular Linux desktop distros, and the press often uses the two terms synonymously: Ubuntu and Linux. It is certainly one of the most popular, and one of its benefits to new uses is that it assumes no previous knowledge. Nevertheless, many look on Mint as being an improvement on Ubuntu, enabling Adobe Flash and Sun Java to install as default applications. Those who are into music and videos prefer Mint due to its superior codec support.
Business Linux Users
If you have a business and want to use Linux, a lot depends on the size of your company and your 'must-have' requirements. OpenSUSE offers a good suite of office applications, a high level of security, a personal information manager and interoperability. It also offers professional support from Novell and other third parties.
OpenSUSE will integrate the office suite OpenOffice into your choice of desktop, and the suite is configured for compatibility with MS Office documents. A simple click on Wine enables compatibility with any other Windows software you may need to run from the Linux desktop.
You might also use Xandros, although this distro does not have the backing of a large vendor such as Novell. Nevertheless, like OpenSUSE, it is a desktop distribution, while Red Hat tends to focus more on server distributions.
Power Users of Linux
Power users and geeks prefer to build their own environments and customize their Linux installation to exactly meet their own needs. Such users include coders, programmers and systems administrators. You know who and what you are, and also exactly what your needs are. The Linux distro that you need may well be Arch Linux. This distribution immediately offers a list of configuration files that you can use to tailor your own system by altering the system and network configuration.
Another possibility is Slackware, although this offers slightly less customization than Arch Linux. It is simple to install, but more stable than Arch Linux, and hence less adaptable to custom configurations. It probably lies somewhere between the totally customizable Arch Linux and Ubuntu.
Choosing a Linux distro is not easy, but these are the flavors of Linux suitable for a range of users from newbies to experts with a focus mainly on desktop distributions. There are many others such as those running old computers that could use a distro such as Xubuntu or Puppy Linux to use minimum memory, but the above users cover most of the market for Linux operating system distributions.