After smartphones arrived, the overall percentage of people using a webcam reduced by 20%. Well, it's just in theory (considering some information databases) but in reality, things would be a bit different. We do know that there are a lot of Windows users across the world compared to the number of Mac and Linux users (for personal use). So, we'll take a look at the best webcam software for Windows.
Do you think that webcam recording isn't required nowadays? Just record it and save it in order to show the video to the next generation. Well, No! With the help of these best webcam software, you would be able to achieve a lot more things than you could ever imagine!
15 Best Windows 10 Webcam Software
VideoSolo Screen Recorder
To capture webcam video, Screen Recorder is our top recommendation which is developed by a software company that provides various multimedia products. And this screen recorder is one of their feature-packed handiwork. It mainly aims to record your screen activities and audio (both from the computer and microphone) without complex steps. Besides that, webcam recording, gameplay recording, and specific area recording are perfectly supported as well. Any purpose of using a screen recorder you can think of can be achieved by this powerful screen recording tool.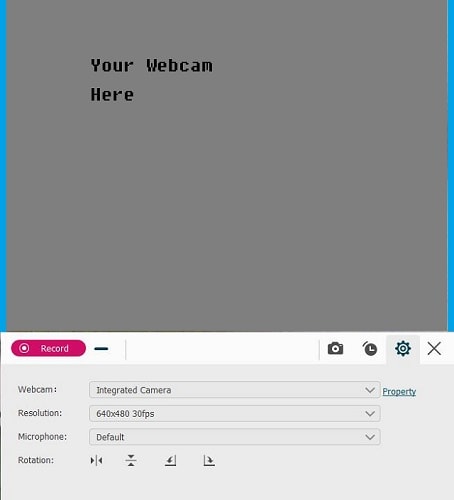 Screen Recorder's interface is very intuitive to use. And you can start recording your webcam just with a few clicks. Firstly, click on "Webcam" when launching the program. Then you will be directed to the record panel in which you can adjust settings such as resolution, webcam device, and microphone. To tweak advanced settings for your webcam, simply click on the "Property" shortcut. Once you set up the details, hit the Record button or use the shortcut of "Ctrl+Alt+R" to launch the recording. Moreover, you can save the video in WMV, MP4, MOV, F4V, TS, AVI, and GIF format, which should cover all your needs for generating the recording video.
Features:
Define the recording resolution and camera properties
Export to Multiple Formats
Scheduled Recording
Take screenshots
Preview and Clip
Shortcuts Control
AnyMP4 Screen Recorder
As a professional webcam recorder, AnyMP4 Screen Recorder helps you record the webcam in a stable and lossless way. Before recording, you can freely adjust or rotate the recording area. Besides, you can choose the resolution and format to save the recording in the quality you want. If you want to record your own voice and system sound, you can turn on the "Microphone" and "System Sound" options directly. You can also adjust the volume of the recording as needed. During the recording, you can take a screenshot at any time. You can even set a schedule to stop recording automatically. After recording, you can trim, compress or merge your recordings. Whether you are a game commentator, vlogger, teacher, or employee, you can use this webcam recorder.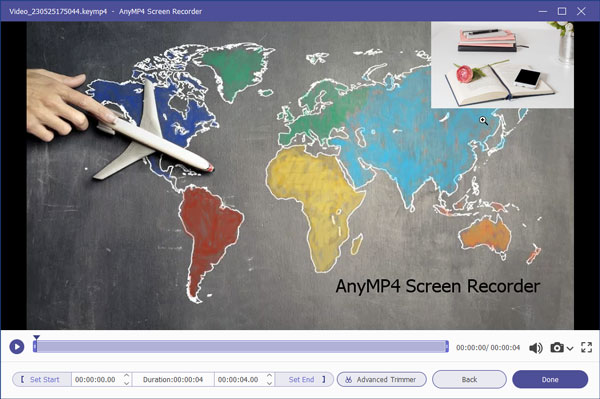 In addition to a webcam, AnyMP4 Screen Recorder allows you to record movies, videos, lectures, music, games, etc., for example, you can record teams meeting. This software offers you a convenient way to record your Windows or Mac screen without delay. You can choose from 6 recording modes to capture and save the content you want. You can even add lines, rectangles, or text to your recording. If you want to make recording even easier, you can set up hotkeys according to your habits. Try Screen Recorder for free now.
Features:
Freely adjust recording area of webcam
Record webcam, video, microphone and system sound at the same time
Set the output format and resolution of the recording as you like
Preview and edit recording, e.g. trim, compress, etc.
Offer 6 recording modes to meet the requirements
Support Windows and Mac systems
DemoCreator Screen Recorder
Wondershare DemoCreator comes with a powerful screen, webcam, and audio recording functions. This computer screen recorder also supports schedule recording and game recording modes. And with the screen drawing tools in DemoCreator, you can easily write and draw on the recording screen in real-time. DemoCreator also supports you to set the camera resolution and frame rate, setting the capture area and keyboard shortcuts. The essential demo-making tool helps learners, educators, freelancers, and gamers to take idea-sharing to the next level.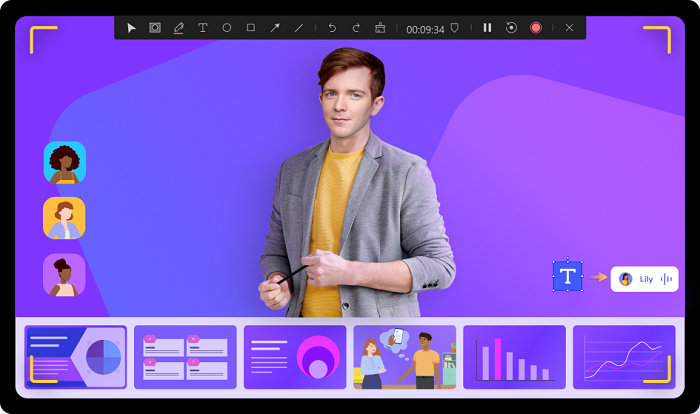 Want to remove the webcam background when capturing? With DemoCreator, you can easily remove the webcam background with its embedded AI face recognition technology. The software will automatically recognize your face and melt it into the screen to make your recording lively. What's more, mask and mirror functions are also supported.
DemoCreator is also a powerful video editor for you to add captions, annotations, stickers, transitions, and more. In the latest released version, DemoCreator combines DemoAir and Anireel as an add-on. DemoAir is an online screen and webcam recorder for instant video message sharing. You can create instant assignments, provide students with verbal feedback, and strengthen your team collaboration and audience connection through video messages. Anireel is for you to easily create riveting animated explainer videos with rich ready-to-use elements and scenes. With all features together, DemoCreator is a must-have for you.
Features:
Scheduled Recording
AI face Recognition for Camera Recording
Game Recording Mode
Real-time Screen Drawing while Recording
Edit Video and Audio in Separate Tracks
Rich Video Effects Pack
Export to Multiple Formats
Free2X Webcam Recorder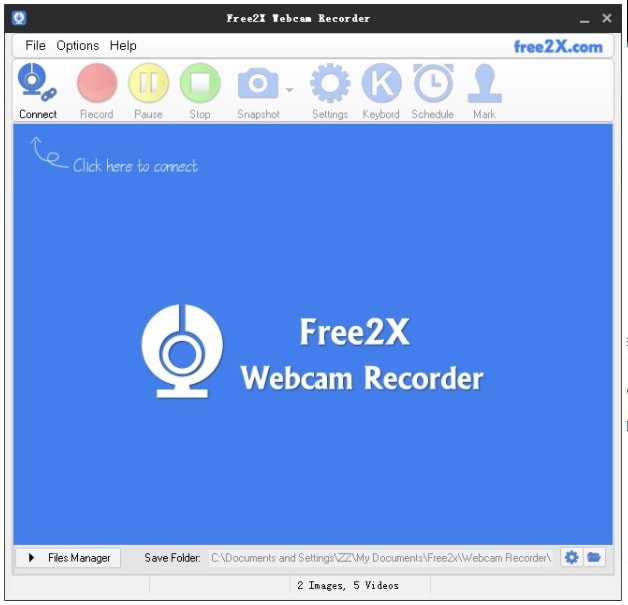 It is one of the most popular webcam software which you can use both for educational and commercial purposes. Not many features are offered here, but it lets you record videos from just about any webcam or digital video camera. You can save the video in AVI, MP4, and WMV file format according to what you require. You can record the audio directly from a microphone, line-in, or speakers.
In order to make things convenient, you can utilize the ability to create custom keyboard shortcuts. The keyboard shortcuts would let you record, take a snapshot, pause, or stop the recording while saving time from moving the cursor and clicking on an option (which normally people do!). As I mentioned just now, Free2X provides the feature to take a screenshot and save it as a JPEG/BMP image file.
Features:
Schedule Tasks.
Multiple File formats such as MP4, AVI & WMV.
Snapshot Functionality.
Custom Keyboard Shortcuts.
SplitCam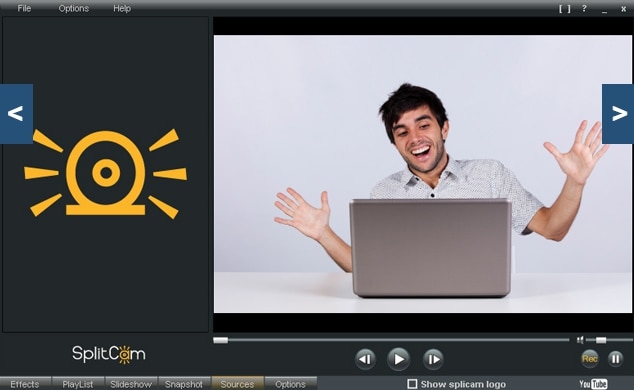 SplitCam offers quite a few good webcam effects to make your conversation fruitful or interesting. It supports HD video broadcasting. Did you think that you could use your webcam for just one single session? However, with this software, you can use multiple connections for the same webcam at the same time. You can split the video even while talking to friends on Skype, Yahoo, and MSN (all at the same time). We're not sure if it would work for all of the available video chat clients but you can give it a try.
Won't you like free webcam recording software with additional functions? Well, here's what you've been waiting for – SplitCam recorder allows live video streaming to Livestream, Ustream, Justin.tv, TinyChat, and other services as well. Well, it might not appeal to you if you are not using one of the supported streaming services, but I bet if a popular streaming service works for you, this software is going to be your best friend.
In addition, you can also connect to any camera using an IP address and use it as the video source for streaming something live. It might come in handy depending on the situation you're in.
Features:
Real-time 3D Masks.
Cool Webcam effects.
Video splitting to several programs.
ManyCam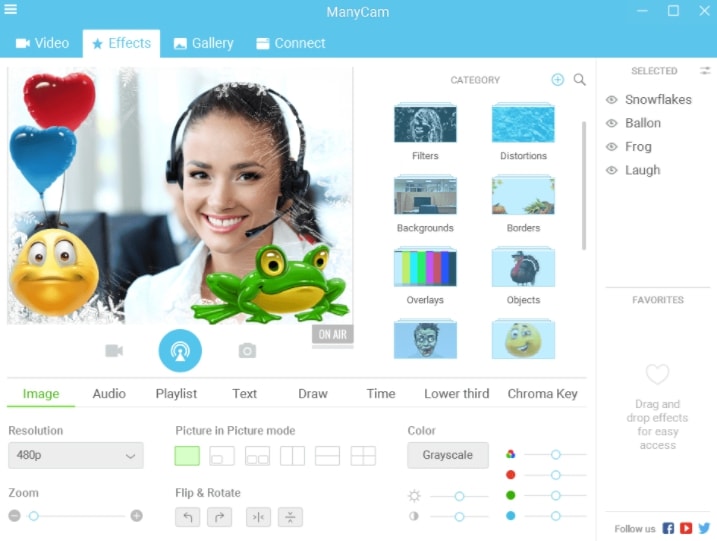 It is yet another best virtual webcam software for Windows that is free. However, it isn't quite popular, but it does work well.
It tries to go one step ahead of SplitCam by mimicking the feature to use the same webcam across multiple applications that would let you stream the same video source on multiple platforms. However, there's a catch, it lets you "switch" the video source. So, it does not let that happen simultaneously but provides an option to switch the video source like a pro.
You'll be excited to know that ManyCam supports dynamic backgrounds i.e. you can record the videos utilizing the Chroma Key tech. Although that's a bit inappropriate technically, it does nearly the same thing which could help you appear from anywhere. For instance, if you are in the UK and want to appear as if you're sitting somewhere else, this could help.
Features:
3D Face masks, filters, and effects.
Green Screen.
Game streaming.
Advanced Live Stream functionalities.
Yawcam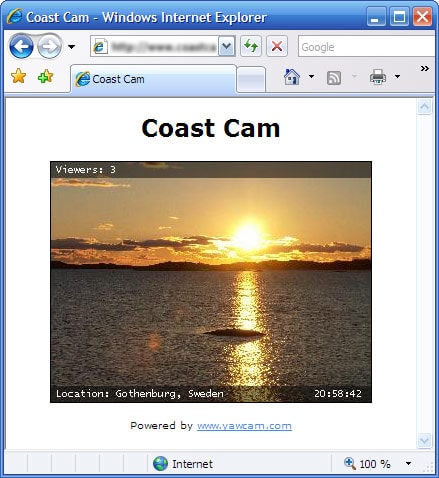 A basic webcam recording solution one can have for Windows. My best guess would be its aim for simplicity.
The developer definitely wants to keep things simple and offer only what is required for common users. Although, it neither supports simultaneous streaming at multiple platforms nor gives you the ability to utilize a dynamic background.
Normally, a user forgets about the resources when downloading software. So, if you have a system running on Windows that is slow and often encounters lag then you should prefer Yawcam. It does support all of the basic features required such as video streaming and taking a snapshot. In addition, it also supports FTP uploads and time-lapse movies and also gives you the privilege to protect the content with a password.
Features:
Image snapshots.
Motion detection.
Task Scheduler.
5. Free Webcam Recorder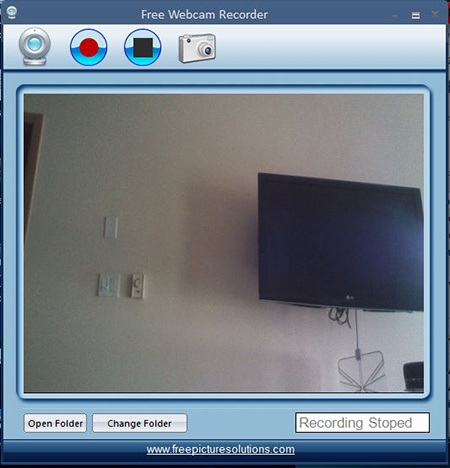 The user interface offered by Free Webcam Recorder is quite simple but responsive.
It claims to support recording with almost all of the applications that you might be using. Well, do note that this software does not provide any additional features. It's simply focused on recording. And, the company explains that in order to focus on the recording quality, they have not added fancy features that are normally present on other software products.
However, it would depend on what you like and what you don't. If your sole purpose is just to record, you should give this a try.
Features:
Image Snapshots.
Basic Webcam recording.
Apowersoft Screen Recorder

Apowersoft Screen Recorder is one of the most straightforward webcam recording software available for free. The free edition does come with certain limitations but also offers licensing options if you want premium functionalities.
With the free version, you get to record videos that are no longer than 3 minutes. Also, you will find a watermark overlay on the video you recorded through your webcam. The webcam recorder also lets you create recording tasks as per your schedule to automate things.
If you need to remove the watermark, you will be requiring a VIP account subscription for it.
Features:
Multiple Recording Modes (Full screen, custom area, screen, web camera).
Several output formats supported (WMV, AVI, MP4, MOV, MKV, FLV, MPEG, VOB, WEBM).
Built-in video converter.
Helps automate things by creating scheduled tasks.
Bandicam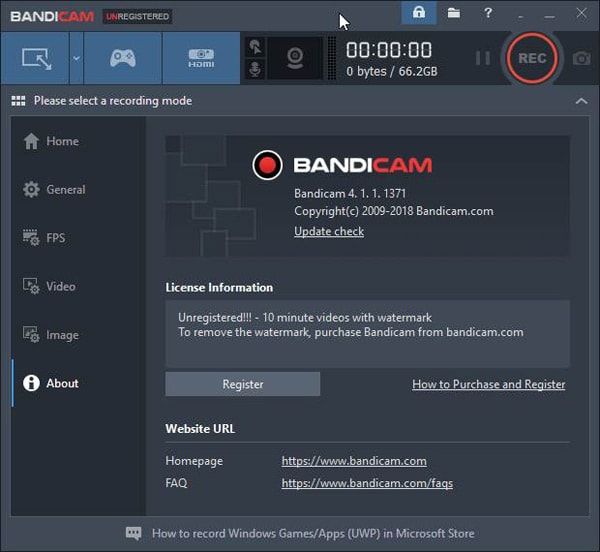 Yet another multi-purpose webcam recording software that does an excellent job for free. Of course, just like some other webcam recording utilities, it includes watermarks in the video you record through it. You need to purchase a license to get rid of the watermark. But, if you are okay with the 10-minute video recording restriction and the watermark, Bandicam should be best for your usage.
It also gives you the ability to record gameplay videos, and you can also capture your screen with it.
Features:
Screen recording support
Game recording support
Webcam overlay support
Real-time drawing
ByteScout Screen Capturing

ByteScout's screen capturing tool is a freeware program that primarily lets you record your desktop screen with external audio as an AVI file.
The user interface might be old school, but it does offer a recording mode via the webcam. However, it only exports the recorded videos in AVI format. So, if you need the videos converted to a different format, you will have to utilize a video converter separately. It may not be the best webcam software but if you were on the lookout for a very compact software utility to let you record videos through your webcam, this might be the solution for you.
Features:
Record desktop screen videos.
Record videos through your webcam.
Debut Video Capture Software

If you want something more than just the ability to record videos via your webcam, this should be the answer to it. And, guess what? No watermarks in the recorded videos. It offers a lot more tools like an inbuilt video editor, the ability to add custom text captions and more such features. With debut video capture, you can even add a custom watermark image to your videos without taking the hassle of editing your video later.
Features:
Multiple recording modes (Screen and Webcam).
Custom watermark and text captions.
Numerous video formats supported (mp4, avi, dv, mkv, flv, mpg, webm, wmv, and others).
Ability to change video recording resolution.
GoPlay Editor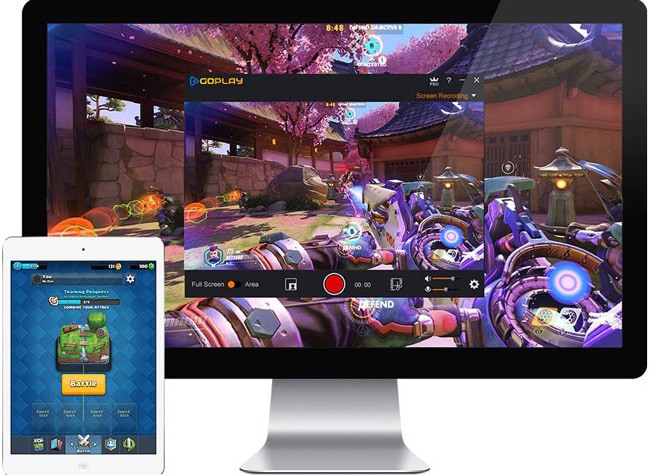 GoPlay Editor is an exciting solution for webcam recordings. It is primarily a video editor but also offers the ability to record your screen. You will be able to adjust the video resolution for the recordings. The free edition restricts video recording to no longer than 10 minutes.
Being a very extensive recorder and editor, it offers a pro version to it as well. If you want to get rid of the watermark, you should consider upgrading.
Features:
Game recording supported (4K @60FPS).
Screen recording.
Multi-track video editing.
Mild audio mixing capabilities.
Filmora Scrn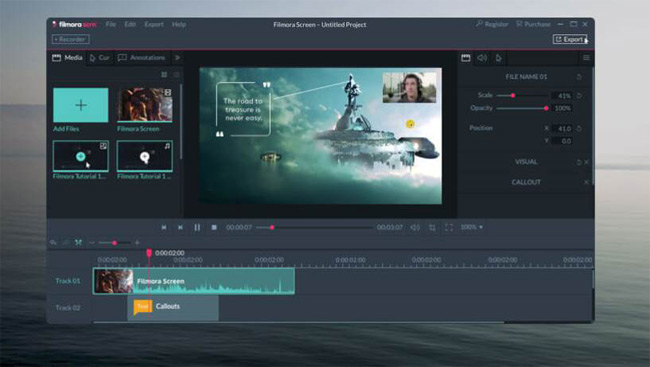 Filmora Scrn is a webcam recording software that also includes the ability to record your screen (and the gameplay). The user interface is impressive and supports GPU acceleration to increase the performance of the application. Filmora Scrn also lets you tweak the encoder.
It comes with a 10-minute video recording restriction and also includes a watermark on the recorded videos. For most personal users, this shouldn't be an issue, but if you want to utilize it for your business, you should consider upgrading. It indeed is one of the best webcam software utilities available even with the restrictions.
Features:
Multiple modes of recording (Screen and Webcam).
Inbuilt Video editor.
Custom Resolution.
Movavi Screen Capture Studio 9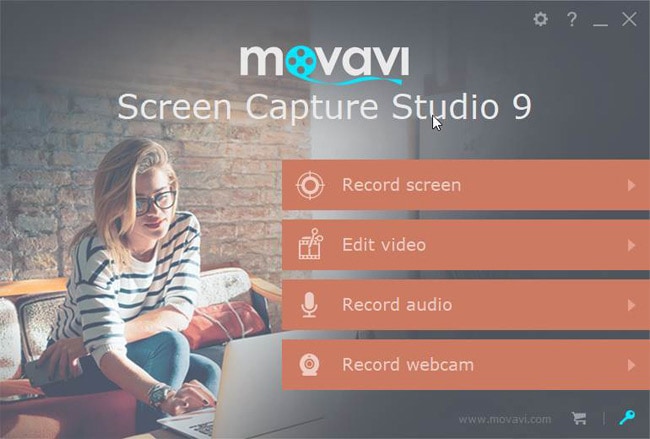 If you need to record something in a jiffy, you can download Movavi Screen Capture Studio 9 for free with a trial period of 7 days. Similar to Wondershare's Filmora, it also supports GPU acceleration.
However, it does not let you tweak the encoder. While it cannot change the encoder, Movavi's Video Editor is a bonus if you get it installed just to edit your videos because it is an impressive video editor indeed. Moreover, you can utilize Movavi Video Converter to convert your recordings easily.
Features:
Screen recording and webcam recording.
Built-in video editor.
Ability to set a custom resolution.
Task Scheduling.
Choose the Best Webcam Software
At the end of the day, you'll have to choose the best one for you. No matter what's best, if the software does the job you require, it is what you should consider choosing. Well, all of the software products mentioned here are free and the best webcam app. So, you should try them all in order to decide the best for your use.
Do you happen to know a popular, free yet best webcam recording software that we missed? Do you think that your favorite webcam recording software deserves to be listed here? Let us know your thoughts in the comments section below.