Navigating the labyrinth of data management in today's digital landscape demands robust and sophisticated tools. Particularly, when dealing with Oracle databases, the choice of your design tool can significantly impact the efficiency and effectiveness of your operations. This article embarks on a comparative journey, exploring three leading tools in data modeling design: ER/Studio, Erwin Data Modeler, and dbForge Studio for Oracle.
Our objective is to delve into the attributes that make these tools stand out in the realm of Oracle database design. We will illuminate the crucial aspects of their functionality, operating system compatibility, distinctive benefits, and the particulars of their pricing and trial options. The ultimate goal is to equip you with a comprehensive perspective to aid your selection process.
Whether you're an experienced data architect scouting for advanced data modeling capabilities, or an IT manager seeking an intuitive and reliable tool for Oracle database design, this comparison will shed light on the critical parameters to consider. As we dissect ER/Studio, Erwin Data Modeler, and dbForge Studio for Oracle, we hope to offer you a clearer picture of their offerings, thereby enabling a more informed decision. Let's delve into the exploration and discern how these tools fare against each other in the Oracle database design arena.
Overview
ER/Studio
ER/Studio is a comprehensive data modeling and architecture tool that offers a suite of high-level features designed to facilitate enterprise-wide data governance. ER/Studio excels in creating an efficient data architecture, strengthening the data environment, and promoting data governance. It's worth noting that ER/Studio is exclusively compatible with the Windows operating system.
Erwin Data Modeler
Erwin Data Modeler is a trusted and renowned tool in the data modeling industry, serving organizations for over 30 years. Erwin is designed to visualize, design, deploy, and standardize high-quality enterprise data assets. It is known for its data literacy, collaboration, and accountability features, along with successful cloud adoption capabilities. Erwin Data Modeler supports Windows, MacOS, and Linux, offering a broader range of compatibility compared to ER/Studio.
dbForge Studio for Oracle
dbForge Studio for Oracle is a powerful Oracle database management tool that incorporates a wide range of features, from database design and management to data reporting, analysis, and data import/export. It is notable for its modern and friendly UI, automated database documenter, and team coding approach. Like Erwin Data Modeler, dbForge Studio for Oracle is also compatible with Windows, MacOS, and Linux.
Unique Advantages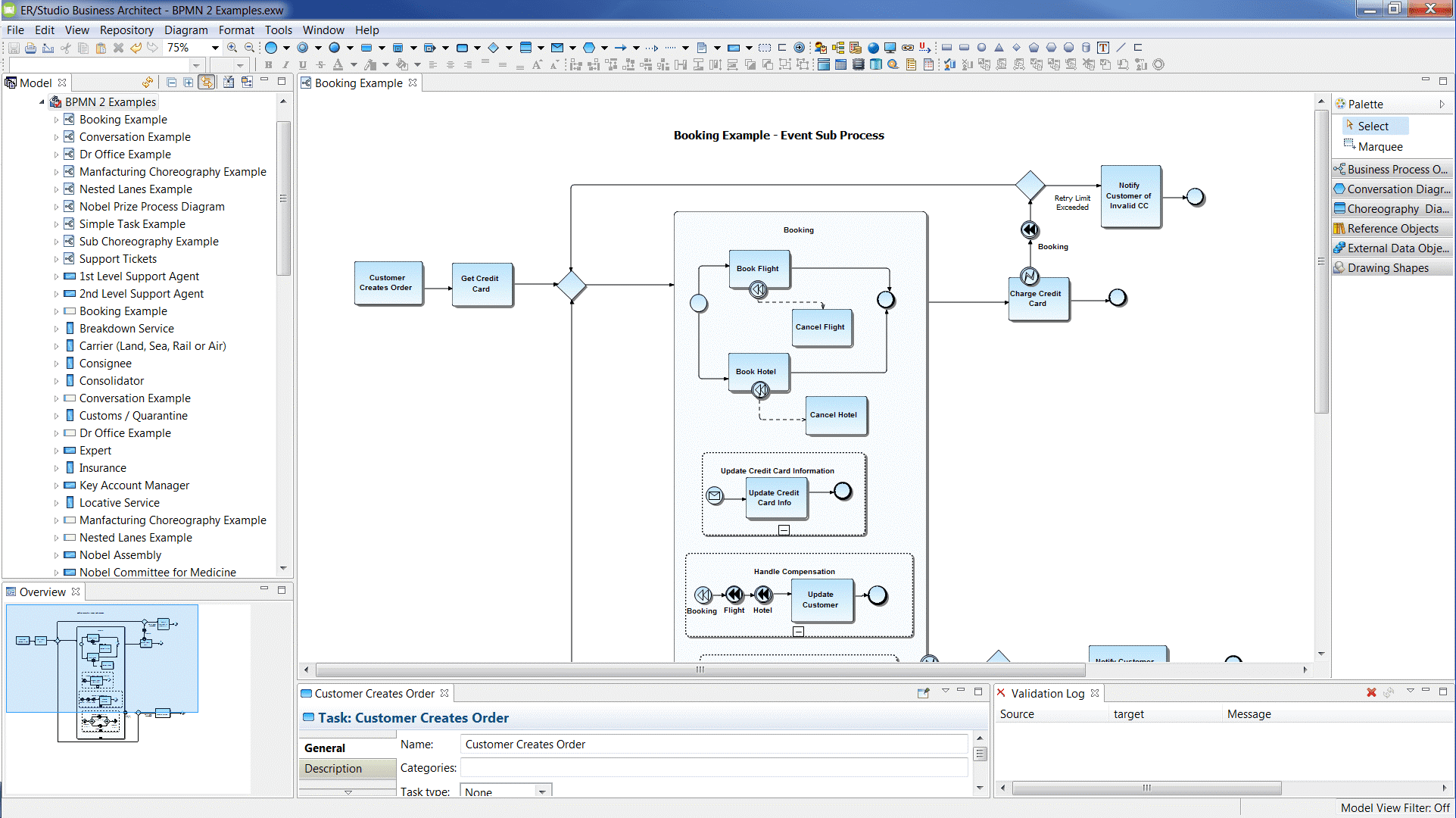 ER/Studio
ER/Studio stands out for its strong focus on data governance and its ability to map complex data landscapes. It provides a comprehensive suite of tools for building a future-proof business-driven data architecture, including support for relational, big data, and cloud platforms. The tool also excels in tracking end-to-end data lineage, thus simplifying data architecture. ER/Studio's centralized communication feature facilitates efficient collaboration and information sharing across the enterprise.
Erwin Data Modeler
Erwin Data Modeler's strength lies in its ability to discover and document data from any location, whether structured or unstructured, in a relational or NoSQL database, a data warehouse, on-premises or in the cloud. It provides a centralized model development and management view, aiding both technical and business stakeholders in understanding data structures and meanings. Furthermore, Erwin Data Modeler's automated data model and database schema generation help increase efficiency and reduce errors.
dbForge Studio for Oracle
dbForge Studio for Oracle stands out for its broad range of features that cover database design, management, data reporting, analysis, and import/export tasks. Its user-friendly interface and visualization tools facilitate complex database tasks. The team coding feature allows for efficient collaboration and code review among developers. The tool also offers advanced features such as a database project framework, a database documenter, a visual query builder, and more.
In conclusion, while ER/Studio focuses mainly on data governance and architecture, Erwin Data Modeler and dbForge Studio for Oracle offer a more holistic approach to data management and modeling. It's important to note that ER/Studio operates exclusively on Windows, whereas Erwin and dbForge provide support across multiple operating systems, thus offering greater flexibility in a diverse IT landscape.
Pricing and Free Trial Availability
ER/Studio offers a 14-day free trial, giving users the opportunity to explore its features and capabilities before making a purchasing decision. Following the trial period, users can purchase the Data Architect Professional subscription, which costs $1,470.40 per user per year.
Erwin Data Modeler provides a free trial upon request, making it possible for users to try out the tool's features without any initial investment. The standard 1-year subscription for Erwin Data Modeler is quite expensive compared to the other tools, priced at $4509.99, which includes reusable standards like model templates, domains, automation macros, naming, data type standards, and a wide range of model integration and interoperability bridges.
dbForge Studio for Oracle
dbForge Studio for Oracle offers a 30-day free trial, allowing users to extensively test the tool before deciding on a purchase. The tool is competitively priced at $149.95 for a 1-year subscription, which includes access to the product with support and upgrades. The subscription needs to be renewed after this period to continue using the product. The product is available by perpetual license at $299.95 for lifetime access to the product with one year support and upgrades included by default
Conclusion
Selecting the right data modeling tool is a crucial task, and it's essential to pick a tool that best fits your organization's needs. Each tool we've discussed, namely ER/Studio, Erwin Data Modeler, and dbForge Studio for Oracle, has its strengths and unique features. ER/Studio stands out for its data governance capabilities and business-driven data architecture design. Erwin Data Modeler is a veteran in the field with a wide range of high-level features and the capacity to handle complex data modeling tasks.
However, considering the balance between cost, functionality, and ease of use, dbForge Studio for Oracle emerges as a compelling choice. Its powerful features coupled with its user-friendly interface make it an ideal choice for users at all levels of expertise. Moreover, it offers excellent value for money, making it an attractive option for businesses on a budget without compromising on capabilities.
With its wide-ranging database support, robust modeling features, and commitment to continuous development, dbForge Studio for Oracle makes a strong case for being the go-to tool for data modeling tasks, particularly for those focusing on Oracle databases. The tool is not only cost-effective but also practical and efficient, making it a wise investment for any organization looking to optimize its data modeling processes.
Remember, the best tool will ultimately depend on your specific needs and circumstances. Therefore, it's always recommended to make use of the free trial periods offered by these tools to ensure they align with your requirements before making a decision.