Ever since Email has replaced traditional letters as the norm for polite and civilized conversation, the need to manage and differentiate amongst the various types of emails we receive has become the part and parcel of everyday life. More and more people are using their smartphones instead of their desktops to manage personal and work-based emails and many developers have released email apps dedicated to making this experience refined and efficient.
The stock Android email app on our smartphones does a pretty good job of providing the most basic functionalities, but for greater productivity and more advanced features, we must turn to third-party applications. Here is a list of some of the best email apps available for Android in 2019.
7 Email Apps for Android
Table of Contents
#1. TypeApp – The Best Email App for Android
TypeApp is an email app from TypeApp Inc, with support for desktop, phone and Android Wear. The app has about one million downloads and a 4.6 rating on the play store. The app supports all major email services and provides a unified inbox. It provides a feature rich experience with smart push notifications, configurable menus, and multiple themes. The app provides multiple quick-access functionalities while maintaining a beautiful interface. The app automatically combines relevant emails using clusters, which enable users to control emails from specific senders and with multi-edit, users can quickly move, delete, or mark clusters as spam. TypeApp encrypts all email for maximum security and provides a timed lock screen to protect private emails as well as SMS verification to ensure that account settings are safe.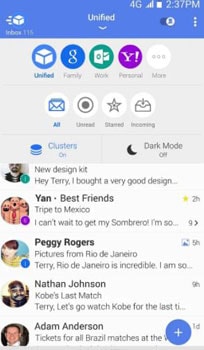 Price – Free.
Downloads – 1 million downloads.
Rating – 4.6 rating.
#2. Blue Mail – Best Android Email Client
Blue Mail is a free email client from Blue Mail Inc, with about a million downloads and a 4.6 rating on the play store. The app boasts of an intuitive and easy to use design with the capability of managing multiple accounts. It also has features focused on emailing people and groups with a highly customizable interface, so that the user can have a truly personalized experience. The app is adaptive, with a special focus on tablets and Android Wear and so it can be considered as one of the best android email apps. The mobile notifications can be customized per account. The app has a timed lock screen to protect private emails and encrypts every conversation to ensure maximum privacy and security.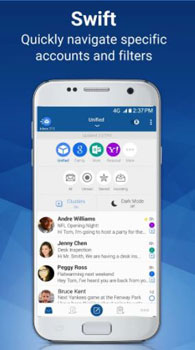 Price – Free.
Downloads – 1 million downloads.
Rating – 4.6 rating.
#3. Aqua Mail – MobiSystems
Aqua Mail from MobiSystems is an app for personal and corporate use. The app boasts of a million downloads on the play store and a 4.5 rating. It has a seamless powerful interface, supports multiple email providers and uses OAUTH2 for secure login. The app is customized for Android Wear and users can select from one of the four themes to change the look and feel of the app. The app also provides integrations with third-party apps and provides backup options via popular cloud services like Dropbox, OneDrive and Google drive. The app has a paid premium version which removes adds, enables push mail for Exchange servers, allows the addition of more than two accounts and lets the user make use of identities. Surely the best email app for Android.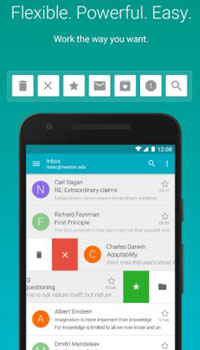 Price –  Free / paid premium version.
Downloads – 1 million downloads.
Rating – 4.5 rating.
#4. Gmail – Google: Default Email App for Android
Gmail from Google is one of the most popular email apps available. It has a whopping one billion downloads and boasts of an organized inbox, lesser spam and up to 15 GB of free storage. The merit of this app mostly lies in its integration with the Android platform and the Google assistant. Users are no longer restricted to using only Gmail accounts and the app supports multiple accounts.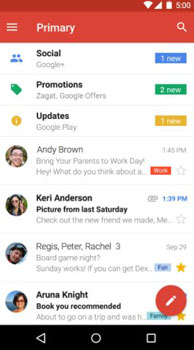 Price – Free.
Downloads – 1 billion downloads.
Rating – 4.3 rating.
#5. Inbox by Gmail
Inbox is a new app from the Gmail team at Google, which tries to bring about a different approach to the email app by providing integration with the Google Assistant to enable smart features. The app bundles similar emails together, provides reminders and snooze for emails to manage them later. The search functionality is efficient and searches relevant information from the inbox. The app also highlights important information without opening the conversations itself. This app is mostly aimed and focused on power users and at present works only with Gmail addresses.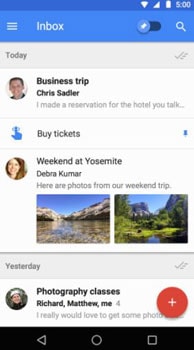 Price – Free.
Downloads – 10 million downloads.
Rating – 4.2 rating.
#6.Newton Mail – CloudMagic Inc
Newton Mail from CloudMagic is a paid, subscription-based email application which provides powerful features like Read Receipts, Snooze, Sender Profile, Send Later and Undo Send. The app comes with a 14-day free trial after which the user needs to buy the app. Apart from the power features already mentioned, the app provides a tidy inbox, 2 step verification, custom into swipes and remote data wipes in case of a lost device. The most powerful feature of the app is its integration with productivity apps like Todoist, EverNote, Asana, Trello etc. The app can be used across multiple devices and platforms.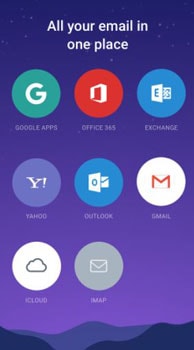 Price – $49.99/year.
Downloads – 1 million downloads.
Rating – 4.0 rating.
#7. WeMail – Kale Interactive, Inc
WeMail takes an interesting approach to the email inbox – it automatically organizes emails by sender and converts them to a chat-like interface. The chat-like interface of the app reduces the size of the inbox by 50%. The app provides a one-touch access to attachments, has voice email capabilities and a rich contextual search. The app supports all major email service providers, with support for Exchange coming soon. The app has received accolades from Emmett Shear and Steve Huffman and is definitely worth a try.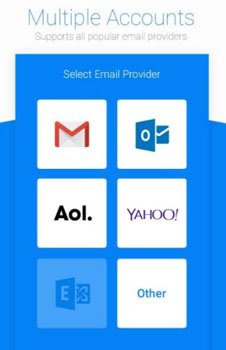 Price – Free.
Downloads – 100 thousand downloads.
Rating – 4.2 rating.
Conclusion – Email Apps for Android
All the apps listed above do a great job in increasing the productivity of their users and go a long way in making the user's lives easier. The unique approaches employed by the developers in making the management of personal and professional conversations seamless is one of the many instances where technology is utilized to make modern day life simpler and efficient.