A huge number of our population is dependent on our smartphones these days. A large number of those smartphones also belong to the Android ecosystem. However, too much dependence on anything can be harmful. Tell me this, how many of your friends' phone numbers do you actually remember? I for one, can remember none. Our contacts, our messages, our precious pictures and even our most important documents are all stored in the phone nowadays. Especially in India, the Internet speeds are slow and people are still not comfortable with backing data in the cloud. All this is fine until something horrible happens and you happen to lose data. Maybe you mistakenly delete stuff or your phone suddenly givesup on you. Sometimes, you might drop your phone and this might lead to a corruption in the memory.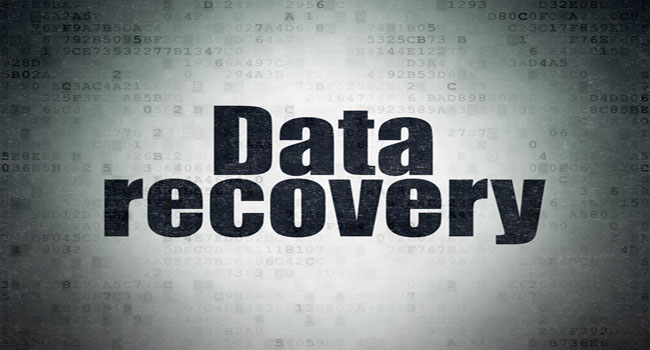 So, what does one do in this scenario? In comes Data Recovery software which do a thorough scan of your device and tries to recover whatever's possible. It is the best practice to run data recovery software immediately after you've deleted your file. This is to minimize the possibility of the sector being overwritten by newer files. One of the most efficient of these is Dr. Fone for Android and It can perform some pretty amazing functions.
Features
The first big feature includes Android Lock Screen Removal which can come in extremely handy when one forgets the PIN or lock screen pattern to his/her phone. The newer phones with a fingerprint scanner can also be disabled using this software. This can be useful when one enters the wrong pattern multiple number of times and even when small children set a PIN while playing. Sometimes, when you buy a second hand device, it comes with a lock screen. Also, in many cases of damage or display problem, you might not be able to enter the password on the screen. One limitation is that, for now, it only works on most Samsung devices.
The major feature for Dr Fone is its flagship Data Recovery Software, with claims of having the highest recovery rate in the industry. Data recovery is rumoured to be one of the toughest for a software to do, since the file has already been deleted. Dr Fone has a host of files that can be categorized and recovered, including contacts, Messages, Multimedia and all yourimportant documents. One of the biggest plus points in Dr Fone is that it can separately recover your Whatsapp data, especially important nowadays as Whatsapp has almost completely taken over our messaging. There is Data recovery available from both Internal Memory as well as the SD card. There is a preview available with options to select the files one wants to recover or even recover all of them. Existing data also, never gets overwritten.The biggest advantage of it is that it supports Android data recovery on over 6000 devices across the entire range of manufacturers.
The software is also very user friendly with big bold buttons describing their purpose correctly.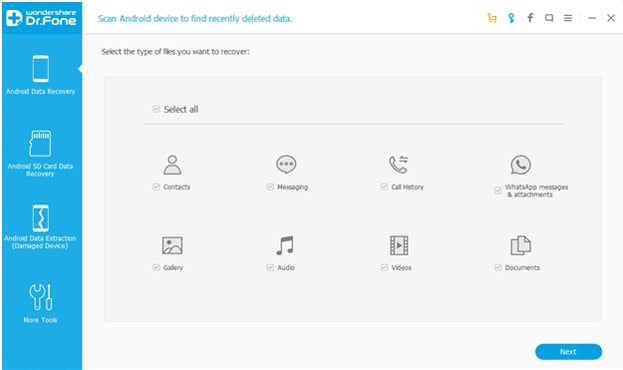 However, if one is having any trouble, Wondershare has a complete set of videos describing each and every step of the procedure.
The third biggest feature of the software pertains to Android Data Extraction for a damaged device. It also claims to be the world's first data retrieval software for broken Android devices. This again works for damages and broken phones, a system crash or a locked device. Virus attacks, not responding errors and even black screen problems are supported here. Like the previous Data Recovery feature, it can also recover deleted data on Android  all types of files, from Contacts and Messages to Multimedia and WhatsApp. Again, one limitation is that it only works on most Samsung devices. However, you can try your own and check.
For the entire software suite, there is a free trial period of 30 days and there is a guarantee that no data will be kept of leaked by the software. There is also a basic requirement from your Windows PCs which Include a 1Ghz CPU, 256 MB or more ram and a hard disk space of 200 MB. Android Versions supported also differ based on the three versions, but the most popular versions, KitKat and Marshmallow work on all.