Video-sharing platforms like YouTube, Vimeo and Facebook have become an essential part of our lives, sure. At this point, it may come as a bottleneck that you cannot download videos from these websites. While it's true that the internet is available almost everywhere, there are times when you have to stay offline. And, that's when you wish if you had that funny standup comedy video on your phone. Since these platforms do not let you download content for offline access, you need to use a third-party program. In this article, we are happy to introduce one of the easiest to use and a quick video downloader for PC — 4K Video Downloader.
What is 4K Video Downloader?
As the name says, 4K Video Downloader is a video downloader utility, available for Windows, Linux, and Mac. You can use this program to download videos from websites like YouTube, Vimeo, Facebook, etc. In case you are still wondering, there is 4K support too. That is, if the YouTube/Vimeo/Facebook video is uploaded in 4K quality, you can download it in 4K quality.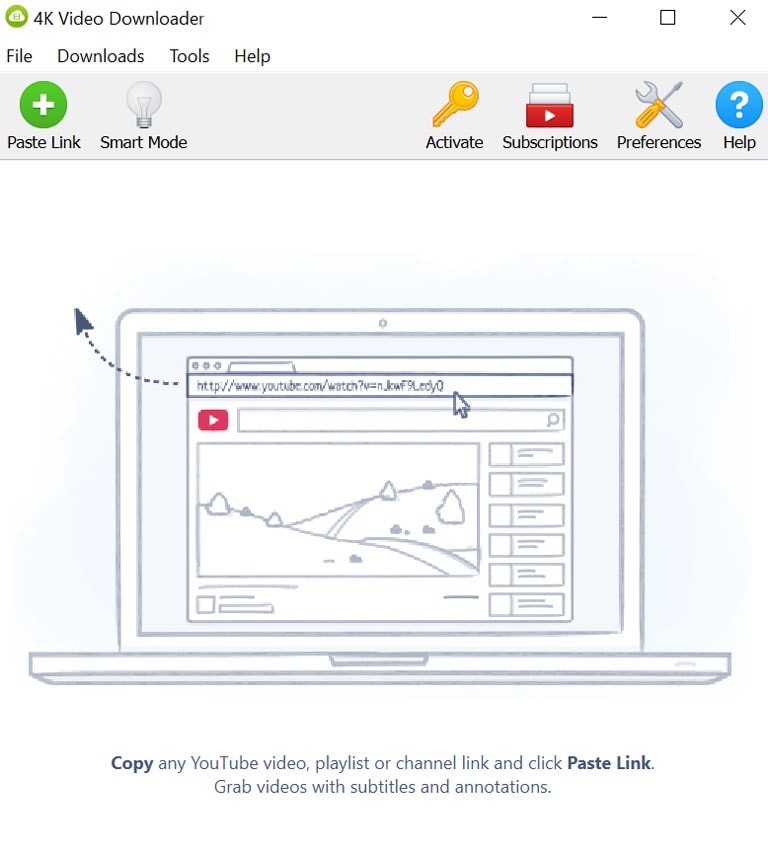 You can download 4K Video Downloader for free of cost, on all the platforms. However, there are some extra features that are exclusive to the Premium version. As far as the basics go, you are good with the free one.
Using 4K Video Downloader
Even if you have zero experience with these software products, you won't have difficulty getting started with 4K Video Downloader. The best part is that the process is completely intuitive.
Suppose you want to download a YouTube video or videos from a YouTube playlist. All you have to do is to copy the URL of the webpage and paste it within 4K Video Downloader. In seconds, the engine would analyze the URL and fetch video information. In the next step, you will have to select the desired quality of download video. You can also select the file format and the availability of subtitles, if possible. Once you are done with these, hit the Download button.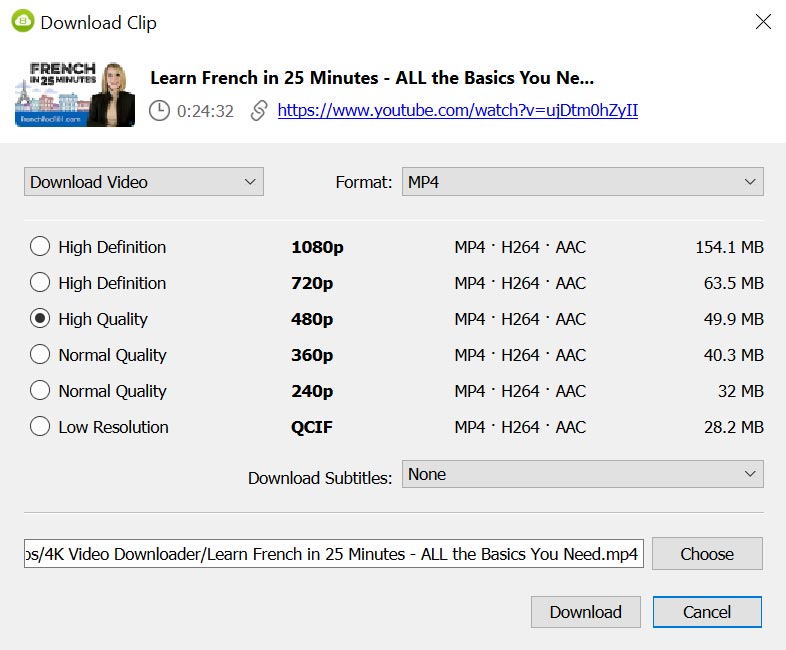 4K Video Downloader will finish the download with the fastest speed. Compared to both desktop and online YouTube downloaders, 4K Video Downloader offers better speed and reliability.
You can do more than downloading a single video using this wonderful tool. 4K Video Downloader lets you download an entire YouTube playlist in a single click. You can decide the quality and other aspects of videos in the playlist. This is a great feature when you want to create a wonderful collection of music or video content.

As we said, the process does not get easier.
Extra, Useful Features
Speed is one thing, but that's not the only great thing about 4K Video Downloader. When you start using it, you will also have access to some of the cooler features like these:
Smart Downloads
You can automate your video download process using a 4K Video Downloader. For instance, you will be able to subscribe to channels from 4K Video Downloader and all the videos uploaded to the channel would be downloaded automatically. Similarly, you can set up 4K Video Downloader to transfer data to other apps like iTunes.
Wide Support
4K Video Downloader is primarily a YouTube and Facebook video downloader. However, the program offers support for another variety of video-sharing websites like Vimeo, Tumblr, YouTube Gaming, Flickr and even lesser-known ones like DailyMotion. What's more, you can use the same tool to download audio content from SoundCloud, where you find a lot of indie entertainment.
3D and 360 Degree Video Support
3D videos and 360 Degree videos are the future and 4K Video Downloader is ready for it. You can seamlessly download both types of videos from supported websites. Of course, you would need a compatible player to enjoy this type of content, but that's okay, we believe. You also get proxy support so that you can download video even if a website is blocked in your geographical region.
Subtitles and Beyond
Did we say that 4K Video Downloader allows you to download subtitles of YouTube videos? Well, it lets you choose one of the many available subtitle languages as well. Everything will be embedded in the video for your own convenience. Another feature we wanted to mention is the support for file formats. You can get your favorite video downloaded in almost every popular media format, such as MKV, FLV, MP4, etc.
Aren't these just awesome?
Pricing
4K Video Downloader is technically a freemium software product. This means you can use the software for downloading content without restrictions. However, that's not the case for advanced features.
Playlist Download and Channel Download features are restricted in the free version. You can use the feature for only a specific number of times. If you are willing to pay, however, that restriction can be lifted. The paid version of 4K Video Downloader starts at $15, which gives access to three computers. There is also a plan at $25, offering different programs from the developer.
We'd say the pricing is quite reasonable.
The Bottom Line
4K Video Downloader gets everything right when it comes to a video downloader program. It offers one of the best speed levels we have seen, without compromising features. At the same time, you can expect the best speeds and control from the program. We would definitely recommend this tool to our readers who like the privilege of offline content availability.