Wireless broadband technology 4G is in the news. It is the natural successor to the 3G and 2G standards of cellular wireless telecommunications and may change customer preferences.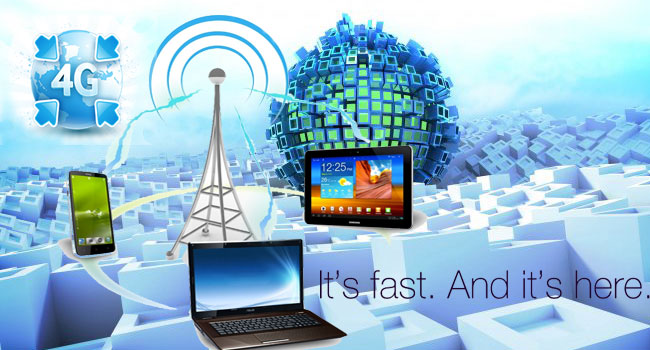 4G Technology:
The ITU-R organization has announced that WiMax, LTE and HSPA+ are 4G technologies. The first LTE release complying with 3GPP is Long Term Evolution. It is often called as "4G" even though it does not comply fully with requirements of IMT-Advanced. Theoretical it can have a net bit rate of up to 100Mbits in download and 50Mbits in uplink over a 20MHz channel. It can be increased using MIMO (multiple-input, multiple-output) antenna arrays. The present LTE and WiMax are just temporary, considered pre-4G, before the implementation of WiMax 2 and before LTE Advanced are implemented as per ITU objectives.
LTE Gains Ground:
Under 3GPP comes Long Term Evolution (LTE) which is a very efficient mobile broadband technology that delivers extremely fast broadband network. It can be used on paired and unpaired spectrum allocations. Nokia Siemens Network is one solution provider with LTE-ready commercial hardware and standard compliant software. There are many other suppliers. Probably LTE may have just got an advantage over WiMax as it is being supported by a leading group of telecom service and equipment providers. Included here are Verizon, AT&T, Nokia and Samsung. On the other hand Sprint is the first 4G network using WiMax in USA.
Providers take to 4G
After the roaring success of Verizon LTE pilot, the blazing speeds of 4G will be provided soon to 25 to 30 areas. Peak download speeds have touched 50 mbps with the network averaging 5 to 12 mbps download and 2 to 5 mbps upload. These speeds can rival wired broadband providers. LTE also is an option to customers in rural areas and wired broadband users, with opportunity to cut cost and coverage services. Verizon is all set to expand to more and more cities in the USA this September of 2011.
See Also: 3 Reasons You Should Work on Getting a Faster Broadband Internet.
One of the biggest network operators in the USA, AT&T has started its 4G LTE wireless coverage in competition to Verizon across the United States. The company has introduced 2 devices, one a mobile Wi-Fi hotspot and the other a USB stick. Meanwhile AT&T's plans to merge T-Mobile have run into problems.
T-Mobile USA uses HSPA+ technology and intends to double the speed of its 4G network which, in theory, can touch 42Mbps for download speeds.
Qualcomm, the US based Telecom giant, has plans to invest and provide 4G and LTE services in India. China Mobile the giant mobile service provider and Clearwire have decided to make multi-mode wireless products and TD-LTE (time division long-term evolution) cellular phones which will also benefit Taiwanese equipment suppliers. We see Huawei has become the world's biggest supplier of mobile broadband terminals. It has a strong hold over the European market and enjoys a market share of 49%.
According to the analyst firm Berg Insight, of the broadband connections in Europe 20.6% were HSPA/LTE at 2010 end.
See Also: 4 Ways to Protect Wireless Broadband Internet from being Hacked.
4G Delayed in Europe?
LTE is yet to gain ground even in UK and other parts of Europe as well. The authorities have delayed the mobile spectrum auction and have scheduled it to the mid of 2012. Therefore the roll out of the 4G networks is expected to be delayed.
Consumer Perceptions
The Neilson Company took a survey recently in the US, to find out consumer's awareness and perception of 4G service, which revealed that 3 in10 consumers are confused as to what 4G really is. This dilemma is mirroring one of that faced by the industry, because of the ambiguous definition of 4G. Respondents think iPhone is 4G which it is not. 54% of respondents think that this technology provides wireless data of 100 Mbps despite the fact that no carrier offers that today.
40% of adult mobile consumers have smart phones (July 2011 data) of which 40 percent are Android and 28 percent are
Apple's iOS. Despite the confusion on 4G, nearly 3 out of 10 consumers say they plan to get a 4G device in a year.
The coming year promises to be interesting as a market shake-out will determine the 4G technology that will carry us forward in mobile broadband.