For some people, changing their Smartphones is a regular thing – very regular that they just don't care about the device they had at a particular time. However, it's sure that the 'some' people do not care much about the data they have stored in their Smartphones, including the photos you have taken, music tracks that you do listen to, contacts you have stored in the device and movies if you listen to them. Or, it's sure that they are using a tool like Wondershare MobileTrans to transfer information from one device to another, thus having the process simplified. Well, if you have not heard about MobileTrans from Wondershare, it's the best time to start, as we are going to have a fully-fledged review of this productive tool, from top to bottom. First, it's better to have an overview of the tool, we suppose.
Wondershare MobileTrans – Things You Should Know
As we said, Wondershare MobileTrans is a tool that simplifies the process of transferring data between the two different Smartphones you have. You might be purchasing an all-new OnePlus Two, leaving behind the Moto G of yours there. You will be able to transfer information such as your contacts, music, videos, apps, call logs and text messages. Although the availability may vary according to the platforms of both devices – just simple as you cannot transfer iOS-based applications to an Android-based device. In brief, MobileTrans would be a good companion for two-way data migration between various Smartphone platforms, including iOS and Android. So, that's about the base, and we shall have a deeper view on different aspects of the tool.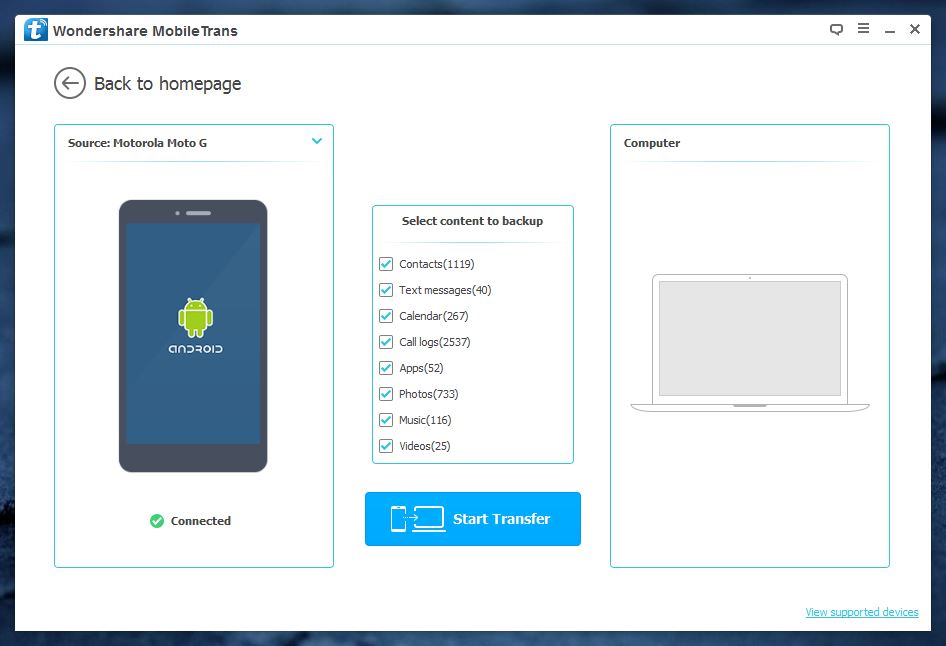 Platform Support
Despite being a Windows-only tool from Wondershare, Wondershare MobileTrans supports a wider range of devices, running on various platforms. However, as we said earlier, we might have to compromise some features in some platform combinations. You can use MobileTrans to transfer data between Android, iOS, Symbian, and BlackBerry. In addition, when we come deeper into the case of Android, we can find support for Android v5.0 Lollipop as well. And, as we consider the case of iOS transfer, you can transfer data from a variety of sources, such as another iOS device and an iTunes backup file. Also, to be noted, a huge number of devices are supported by the interface. It has to be noted that Wondershare MobileTrans offers support for Apple iOS 9 and Android M as well — so that you can backup your data when you're up for developer-oriented stuff.
An Easier UI and Process
When compared to other tools for the same purpose, UI of Wondershare MobileTrans is an impressive one from the usability point of view. Once you have connected both the devices and opened Phone to Phone tab, you can see the two devices in two positions and you have the option to toggle the position if you like to do so. After that, you need to select the types of information you would like to transfer from one device into the other. Once you have done with the selection, you can click the Transfer button to start the copying. It is natural that anyone would love the UI, given that he or she has basic skills to use a PC. Also, for each and every task, there are Wondershare MobileTrans guides available, which is a good thing.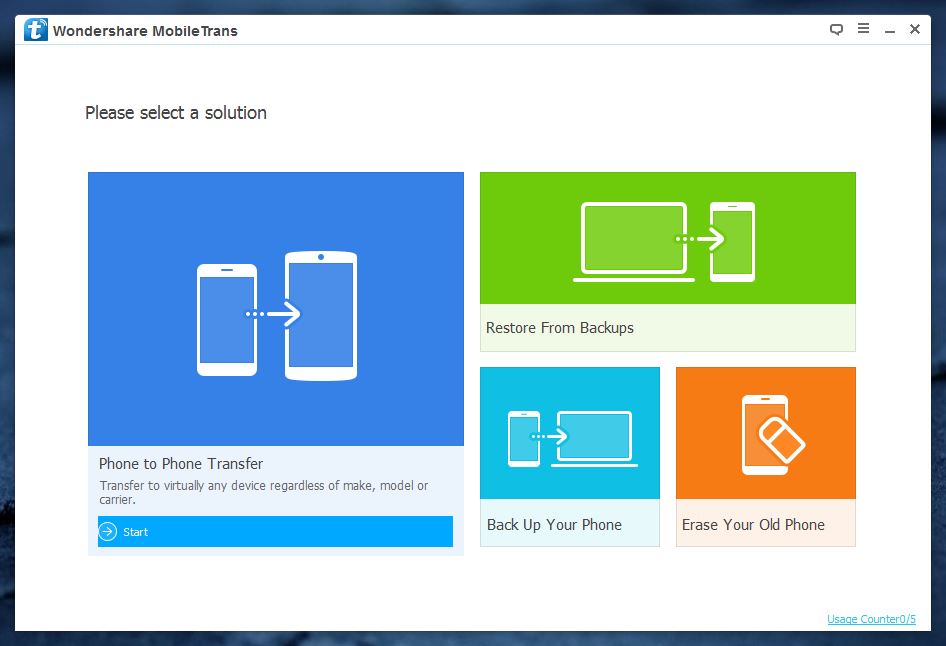 Additional Features Accompanied
There are some other features you get when you go with it, apart from the data transfer between two Smartphones. Some of them are:
The best thing is that you can backup your data in the phone, such as contacts, media files, videos etc. Once you open the Backup tab, you can understand how easier the process really is. 
Of course, restoring these backed up files is also possible with it and there is an option to restore backup from iTunes baa ckups as well (as in case of iOS)
The third feature, most important in this era, helps you delete data in your phone forever. It would be useful when you are giving the phone to someone else and want the data to be confidential as it had been. 
The Bottom Line
In light of all these, we are confident enough to call Wondershare MobileTrans one of the best tools to get help from when you need easier data transfer. Considering the price of $39.95, the deal becomes a kind of steal deal.
By the way, we have a coupon WS2015 that you can use while purchasing the tool. You can use it to have a discount of $10 when you check out, thus making the amount to $29.95! Make sure you utilize the coupon. You can purchase Wondershare MobileTrans from the official store of Wondershare Apps.