If you're all ears to the recent Windows 10 developments, you must have seen the new built-in Windows 10 VPN client feature.
By the look of it, it seems that you don't need a dedicated VPN solution while you can simply turn ON the built-in VPN for online security and protection.
However, as more you learn about it, the more you will be disappointed when you actually know what it means for you.
This article discusses how good the new built-in Windows VPN is, highlighting its features, pros and cons, and to answer the most important question, 'is it worth a try?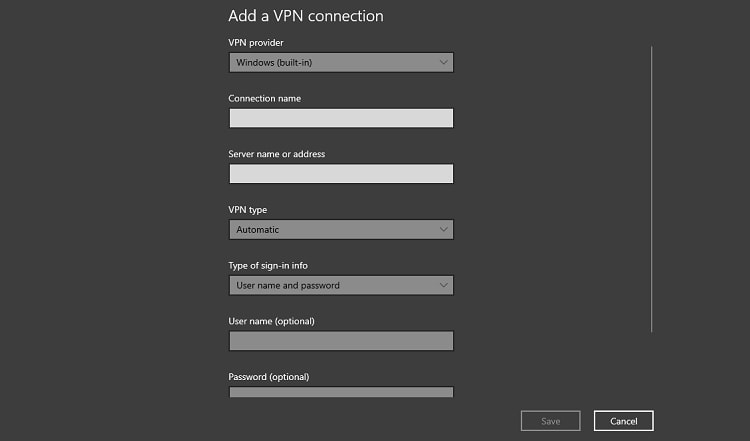 Windows 10 VPN Client is Not a VPN Service
Windows 10 VPN client isn't really a VPN service. It's actually a desktop client that will help you connect to a third-party VPN network. For that, you will still need a separate VPN.
This means, you will need to subscribe to a VPN and then enter all of its details to this Windows 10 client. It only cuts down an additional step to download VPN software on your computer.
But what stops you from downloading the dedicated VPN software? Is there something that Windows 10 VPN client offers that a dedicated VPN app don't? Well, let's keep reading what Windows 10 VPN client has to offer.
Windows 10 VPN Client Only Helps Establish a VPN Connection
Once you have subscribed to a decent VPN service – such as NordVPN, then it is time you get hooked up with the Windows 10 VPN client.
For that, you will need to set up your profile. Each profile you set up requires a different server address of the VPN you are trying to connect.
For example, if you need to setup a NordVPN profile to connect with a US server, you will need to enter a US server address that will be only available in NordVPNs website.
To make it simple to understand, you cannot connect to a different server each time with a same profile. For each server you want to connect you will need to create an additional profile. That makes it harder for you to switch to another server.
Windows 10 VPN Client is Not-So User-friendly
Windows 10 VPN client is not as user-friendly as you may have guessed it by now. You will need a bit of technical knowledge about protocols and server address that most VPN apps don't even bother asking.
It feels like an unnecessary step to set up a desktop client when you have already subscribed to a VPN service.
In the Windows client, you will be asked to enter the connection name, server address, VPN type, Username, and Password.
While if you use a VPN app, you will only need to enter your login details and then connect to any server and start using it. This makes it far easier to use. 
VPN Client vs Windows 10 VPN Client
When you compare the two options, you will find an obvious difference. For one, Windows client is very technical and most VPN users are non-technical. When compared with the VPN service client, there's no super technical knowledge required.
The VPN app looks more attractive in a way that you can find multiple country servers listed that you wish to connect. Just type in the country name or a city name and then press the connect button. If you're in a hurry you can just hit 'Quick Connect' button that will connect you to the fastest server.
That is not the case in Windows 10 VPN client. Here you need to enter all the details of the server and your login information each type you connect to a different server.
Most importantly, the Windows VPN client doesn't have the Kill Switch feature that disconnects your internet whenever your VPN connection drops.
So, while you're downloading torrent anonymously on a Windows 10 VPN client, if there's a disconnection in the VPN server you'll regret that all your life.
The design of a Windows 10 VPN client can really compete with the dedicated VPN software. It is too basic and doesn't have any attraction to it.
The Only One Good Reason to Use Windows 10 VPN Client
We've already laid out so many negative things about Windows 10 VPN client, but there's one good reason that a small group of people might like.
If you have a technical knowledge about VPNs and you can't afford to fill your computer with unnecessary apps, then it's reasonable to go with Windows client.
Most people have limited space on their system while other have low specs and want to make their system run smoothly. For those people, it is the best option.
Also, if you're concerned about security issues such as your VPN tracking your online activity through their app, then this is the best way around it. 
Is Built-In Windows 10 VPN Client Worth Trying?
The built-in Windows 10 client is certainly not worth your time and effort. It is simply pointless for a VPN user to use a Windows 10 VPN client instead of its dedicated app. It doesn't make any sense.
It makes more sense to connect to a VPN app than to a Windows client and set up a profile for each server.
But if you have technical knowledge about VPNs and you don't have a system with a lot of space, then only it is beneficial for you to try the Windows client.