Microsoft had a rough time, convincing people to buy the idea of Windows 8, when they rolled it out in 2012 and it's been a rough ride for Microsoft ever since. While the idea of moving on to a better built OS seemed to be a good idea on paper, it was impossible for Microsoft to ship it to the masses. That's where Windows 10 came in, Windows 10 promised to ease the learning curve and make things as less jarring to the general masses. While Windows 10 is still catching on to fix the damage its predecessor did and Microsoft is invested in making it work.
This is why Microsoft has moved away from the idea of major releases of Windows every few years and adopted the annual update cycle and having only a single version of Windows for the update candidacy. This year was the first among the many to come for Windows to get updated to a host of new features. So without waiting any longer, let's get right into the Windows 10 Anniversary Update, inside out with the 9 new features that Microsoft packed into Windows this year.
Windows 10 Anniversary Update : An Inside Look
1. Windows Ink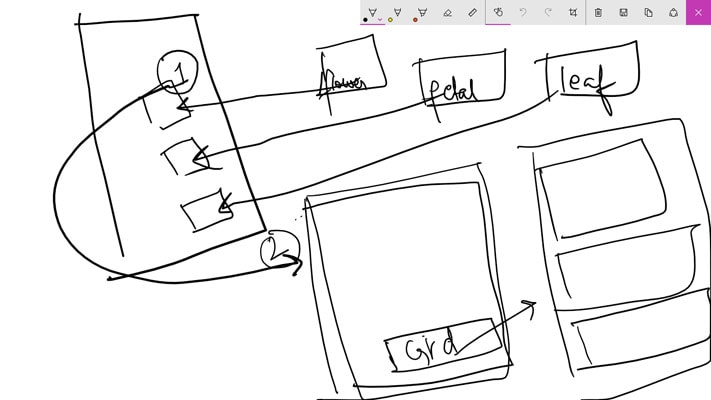 This is by far the biggest feature and it won't be wrong to call it the hero feature. It's a vast improvement over the ink support that was already in Windows. The new sketchpad, which you can get access to via the taskbar is extremely helpful when you simply want to take down quick notes. The screen grab is another handy feature you can use to annotate screenshots. The ink experience is quite native to the whole Windows experience so you can use ink from the Office suite right into the maps to calculate the distance between two spots. With future updates, this feature is bound to get better.
2. Edge Extensions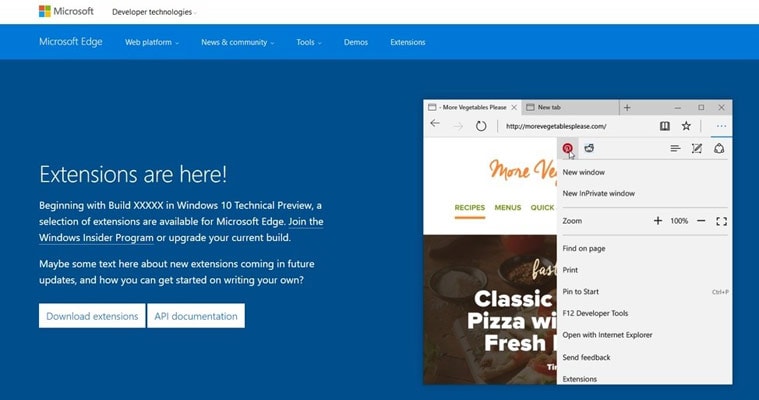 With Windows 10, Microsoft finally did away with the old Internet Explorer and built a new browser from the ground up. Initially, codenamed Project Spartan, Edge offers a fresh web browsing experience. It's fast, snappy and everything you would want from a modern web browser which includes the stealthy dark mode which the internet is crazy for these days. When Windows 10 shipped in 2015, edge has limited features but showed promise, and Microsoft lived up to it. The anniversary update brings a lot of enhancement to Edge including browser extensions. You can grab some of the most popular ones from the Windows Store including AdBlock Plus, 1Password and numerous more and customize the browser to your needs.
3. Dark Theme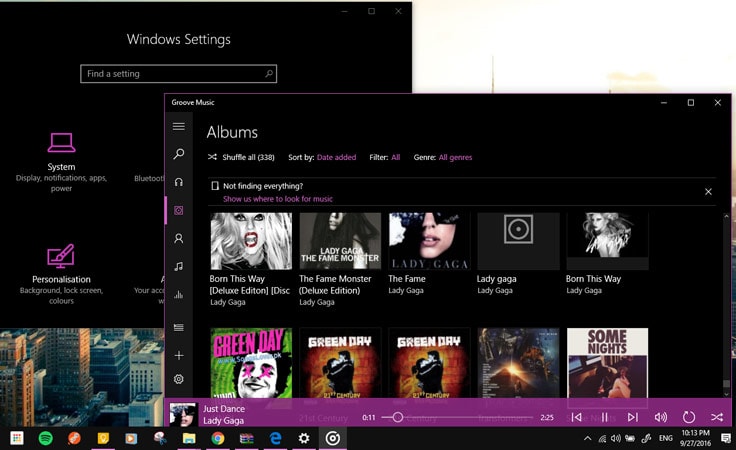 Windows 10, when it shipped had a few incomplete corners which needed to be finished and one of them were the UI. The anniversary update fixes a lot of those and one of these fixes was the full fledged roll out of the Dark UI. You can now switch on the dark mode in the settings. The Action center also gets UI enhancements. You can now customize the Action Center with more tiles so that you have access to quick settings like VPN etc right on the Action Center.
4. Improved Tablet Mode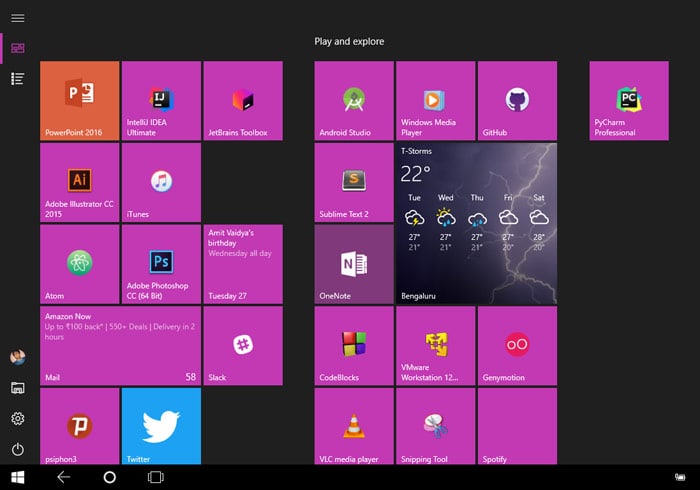 Windows 8 laid a lot of emphasis on tablet mode, so all those who were a fan of Windows 8 full-screen Metro UI (also really?) you will find the Tablet Mode way more usable, and functional. You can switch between the modes via action center. The Apps now open in full bleed, edge to edge which takes full advantage  of the screen real-estate and providing an overall better user experience on tablets.
5. Extended Support for Windows Hello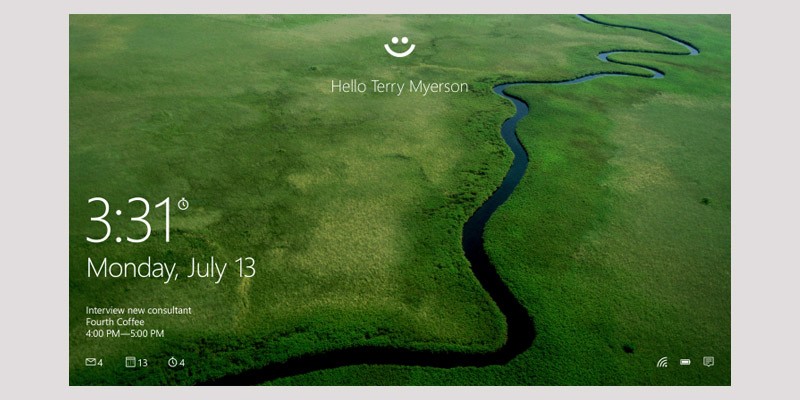 Windows Hello was the proprietary authentication mechanism that Microsoft shipped with Windows 10, it allowed you to use biometric technology to log in to Windows. With Windows 10 Anniversary Update, you can now log into popular websites and apps without the hassle of typing in your password. Windows Hello will be further extended to support more apps and websites.
6. Windows 10 Apps on Xbox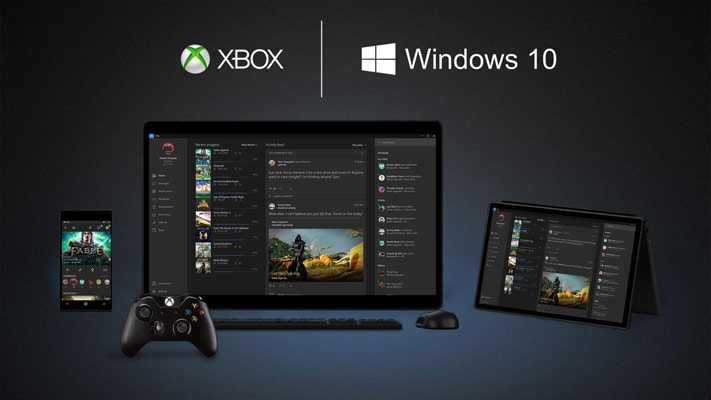 It's about time Windows extended the app support for Xbox and all you gamers would be glad to know that the Xbox one now supports Windows App which is core to the vision of a unified Windows platforms across devices and form factors. Popular apps like Netflix are already available as Universal Windows Apps. Other Microsoft apps like the Groove Music, MSN and Weather are already beings moved over to Xbox.
7. Bash on Windows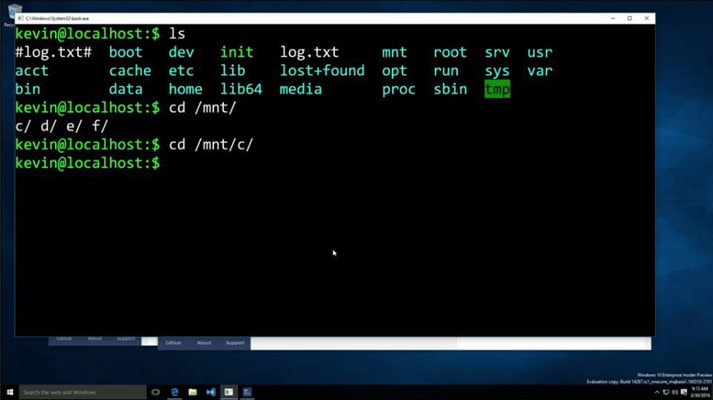 One of the biggest announcements for developers for Windows was the introduction of the Bash shell on Windows. Now web developers don't need to harass themselves by using a virtual machine to SSH into their servers. The interesting part is that it's not a Linux VM running on top of Windows, it's a Linux subsystem which was built in collaboration with canonical It's an optional Windows feature you'll need to go in and enable, but once it's setup you'll receive updates if Microsoft tweaks it in the future.
8. Sync Notifications from PC to Phone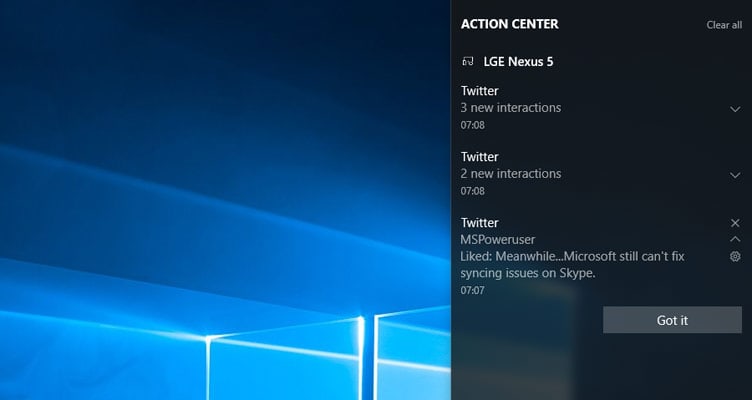 After inking this is probably one of the most appreciated features on Windows 10. You can now relay your phone's notifications to your desktop via Cortana. All you need is a Windows Phone or an Android device and once you set things up all the apps on your phone would be able to relay notifications on to Windows and you will be able to reply to them directly too.
9. New Skype App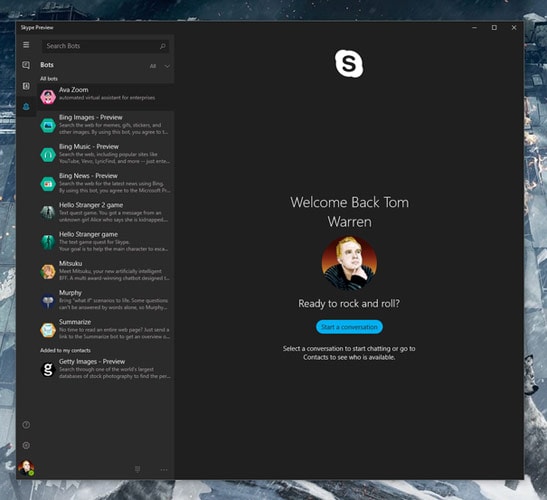 Before the anniversary update, Windows had a host of Skype apps which made it difficult to pick one and use. With the update, Microsoft has designed a Universal Windows App which gives us a look into the future of Skype. While it's not fully feature-ready just yet, it will still get you through your video and audio calls. There's messaging integration built in but it still requires a little bit of work.
Windows 10 Anniversary Update – Conclusion
To be totally unbiased, Windows 10 is far from complete. There are still rough edges which still needs polishing. Microsoft still needs to convince developers to build apps on top of Windows and create an ecosystem that grows and achieves the goal of becoming Microsoft's most 'well thought of' product ever.