Last January 26, 2013, the new ruling issued by the Librarian of Congress is finally imposed. Now, unlocking a phone subsidized by your carrier is now illegal and would be in violation of the Digital Millennium Copyright Act (DMCA).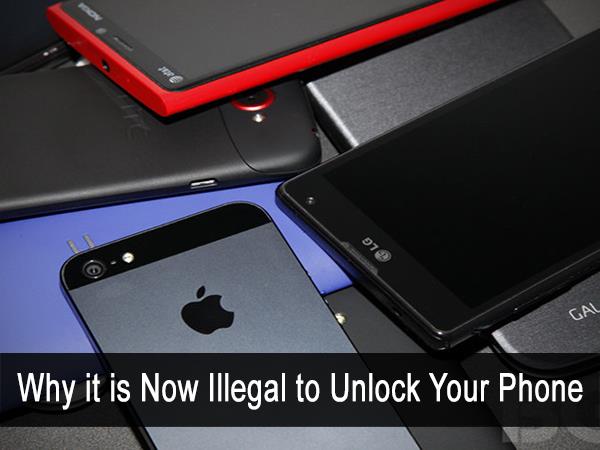 This new rule has wrought confusion and anger from a lot of consumers. Why would this rule be in play when customers are supposed to own the phones? Isn't this curtailing consumer's right to choose?
To get the gist of this new rule, here are some of the bases of the Librarians for this new rule:
Availability of Smartphones
The new rule issued last October was based on a couple of things. The first is that, according to the Librarian, there are now a lot more avenues consumers can pursue to get an unlocked phone. There are retailers like Best Buy that offer a variety of unlocked phones. Even Apple and its partners like Verizon are offering the iPhone 5 unlocked. T-Mobile is also an advocate of unlocked phones and will be offering more unlocked devices in the future.
In short, if you do not want unlocked phone, do not get a subsidized phone that is locked to a certain carrier. The ones who will really be affected are the world travelers. Say you are going to Europe for a business trip, instead of buying a new phone, you can simply insert a prepaid sim to your business phone and you are ready to go.
With the new ruling, you would have to ask permission from your carrier to unlock your phone for travel and they will have to be the one to do it for you. That can be a lot of trouble just to get your phone working in another country.
Ownership vs. Licensing
Another basis of the new rule is that the interpretation of the law has changed because of new court decisions. This is probably the more important basis of the new rule. In the decision of the case Vernor vs. Autodesk, Inc. by the Ninth District Court in 2010, it was established that we, the cellphone owners, do not actually own the software running in our phones. Instead, we are instead just it so we do not have the legal right to alter it. Think Windows or Microsoft Office. We only get licensing rights to use their software but we do not actually own it. It's the same case with the software running in our phones.
Fortunately, jailbreaking your phone is still allowed in the current rules. But with the current trend, I will not be surprised if a new ruling comes out three years later saying that it is also illegal.
Right now, the enforcement of the new rule is still pretty unclear. How they will detect illegally unlocked phones was vague and the consequences for doing so were not specified.
What is clear, however, is that the major carriers just got a solid legal backing to go after consumers who unlock phones without their permission.