Hello, world! Its Friday, October 13th and just like always, we're back again with another round of weekly tech news. In this week's news, we'll cover a lot of things that were announced at Facebook's Oculus connect event held this week, the list includes Facebook Stories coming to Pages, Facebook launching 3D posts to let you play with VR objects in News Feed, Oculus launching Oculus dash to replace your monitor with VR, Oculus Rift getting an insane new price for the holidays, Oculus launching a new product for businesses, Facebook introduces venues for watching concerts and movies in VR and Facebook's new standalone VR Headset, Oculus Go.
Facebook Stories is Coming to Pages for Better Brand Impressions
This week Facebook held Oculus Connect 4.0 at their headquarters to showcase everything that they've been working on this past year, and what is the future of computing. There are a lot of things they announced but let's get started with one of the least used features on Facebook and what the company is doing to change that. This week Facebook announced that Stories are coming to Pages. The feature will eventually be rolled out to companies in the coming months. They justify this move as an attempt to give brands an option to promote themselves better among their fanbase. Facebook's product manager said. They say that they came up with the feature by getting inspired from Instagram and how their users have embraced Stories from both brands and public figures.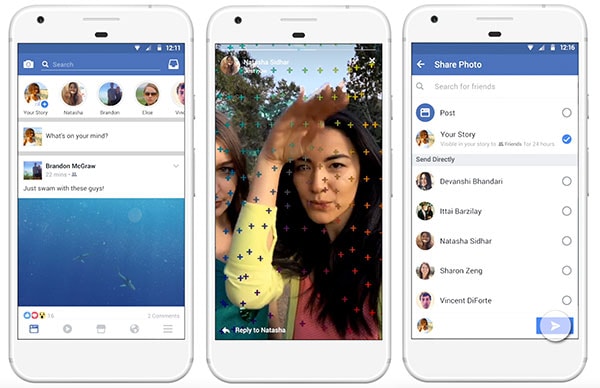 The company said that users will see stories from pages they follow or like on mobile as well on the desktop. The option of creating a story, however, will remain with the Page Admin. This feature will be a huge boost for News publishers and entertainment personalities as it would give them a quicker way to reach their audience. This new push from Facebook may just be the thing that Stories as a product feature needed. Till now its barely been used by people but maybe after brands get access to that, it may see some traction. Facebook will have to invest in educating the brands which have a presence on their platform to make sure that Stories are utilized to their full potential. It will be key to seeing how Stories does with Pages provided Facebook strategizes the rollout.
Facebook is Launching 3D Posts to Let you Play with VR Objects in the News Feed
It's no news that Facebook is seeing VR and AR as the next big computing platform. We saw a lot of things that the company is working on at their annual F8 conference this year. They're committed to making VR and AR mainstream. This week at their Oculus Connect event, the company showcased a new integration it's bringing to Facebook to promote VR content. It's called 3D posts and it basically puts VR content right in your news feed.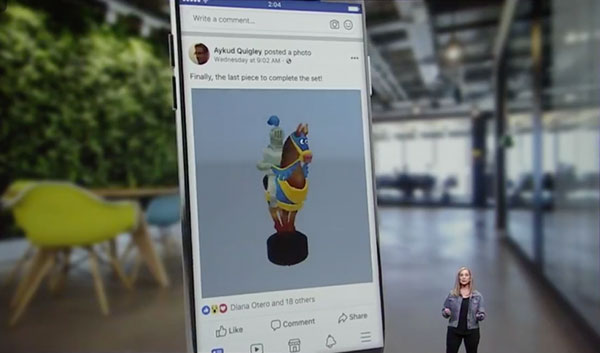 Facebook wants you to create virtual objects using the Oculus Medium platform or Facebook Spaces VR and then share them with your friends on Facebook who isn't privileged to get hold of a VR rig. Users who see the 3D posts will be able to interact with that object by grabbing, spinning and looking at it from all angles. Facebook is also working on an API that will allow third-party developers to give their users option to share such creations to News Feed. The company will also give Spaces users the option to share images captured from Facebook Camera to be shared on News Feed. Spaces will also allow users to broadcast live 360 videos from inside VR. VR adoption is still in its early days and with companies like Facebook investing heavily into it and making a huge push for it will make our transition into this new realm faster. This new feature will be rolled out over the coming months to the main Facebook app.
Oculus Announces Oculus Dash to Replace your Monitor with VR
A typical monitor is what you would find in a typical workstation or office. But Facebook thinks it's time for it to go away. The company announced Oculus Dash. Dash will serve as a monitor replacement, you'll instead use a giant screen in VR to get your work done. Dash will be full-fledged means you can code on it but at the same time, you'll also be able to consume content on it.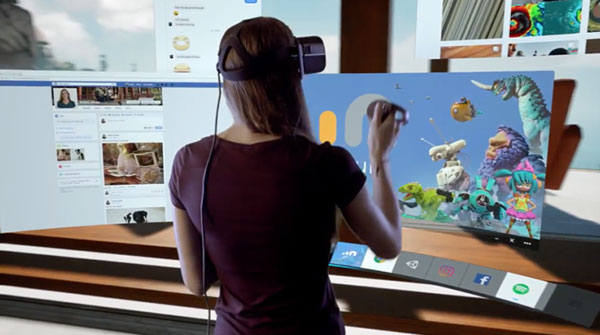 It will allow you to use traditional desktop apps and communicate with friends all at once. This is going to be huge especially for developers who create VR content as they will be able to debug VR apps while actually running them in VR via Visual Studio, Unreal, and Unity. A launch date is yet to be announced from Facebook, but this looks like an absolutely promising product.
Oculus Rift Announced at an Exciting New Price
In order to make VR a mainstream and commonly accessible platform, the price at which one can get hold of that should become affordable. Facebook, the company which on the frontier of VR and AR innovation is realizing this and this is why they announced that their VR Headset the Oculus Rift is getting a permanent price cut and will now be offered at a compelling $399 tag. The change was announced at Oculus Connect conference.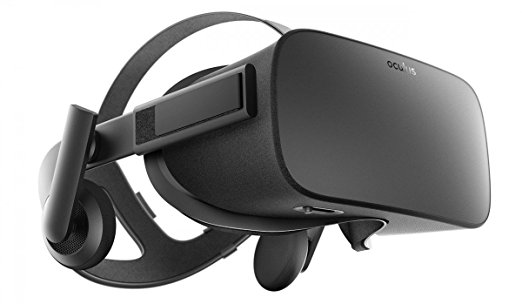 This is huge for the company and users who will finally be able to justify the price point of the rig. The new price makes it half of what it was originally launched at. This opens up a lot of doors to VR content creation and innovation as the tools become more accessible.
Oculus Coming Out with Oculus for Businesses
When VR becomes a household name and everyone has convenient access to the technology, it will become a key platform for brands to be present on and advertise on. Facebook realizes this and wants to get there before anyone else does. In light of the same, they announced Oculus for Business to help enterprises build on top of VR. It wants to help companies like Walmart and Deloitte to build experiences for clients and customers.

The program will allow these companies to buy a $900 Oculus Rift bundle in bulk with enterprise-grade warranty, full commercial license for VR and dedicated customer support. The premium car manufacturer, Audi is one of the launch partners which allows you to pretty much build a car and configure it in VR so you get an idea what it would look like when it's delivered. The bundle comes with Oculus Rift, remote, Touch Controllers and 3 sensors to create room scale VR along with extra face pads to account for the different customers they cater to.
Oculus is Building a Standalone VR Headset Oculus Go
Finally, let's get to the product which stole the limelight at Facebook's Oculus Connect conference. VR is still in its very early stages and like its the case with any new technology, initial adopters have to pay a higher price for the product so that it trickles down to the mainstream consumer. VR has finally reached a stage where it can start becoming mainstream but unfortunately, there aren't any products to help it do that. With Oculus Go, Facebook wants to change that. Oculus Go is a $199 self-contained VR Headset that will sit right in the middle of the Oculus lineup of devices between the Gear VR and the Oculus Rift.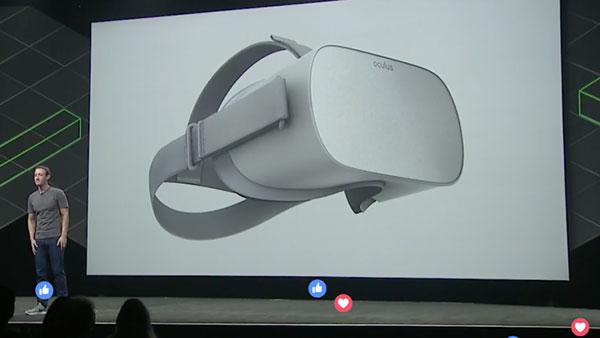 It will ship early next year and will come in for $199. It will be completely untethered so you don't have to connect your phone or computer with it. Facebook says it is a new way for Oculus to reach its goal of getting one billion people in VR. Do note however that this isn't the Santa Cruz Headset which has been leaked and rumored, that's still a separate product. The Oculus Go does not have inside out tracking or fully tracked motion controllers which keep the price down. On the specs department, the Go will come with new lenses, a 2560×1440 screen and spatial audio built in so it can be used without headphones. It will use a controller similar to the Gear VR. Developers will get access to the Oculus Go in November with a commercial launch in early 2018.
That's all for today people, Facebook is extremely committed to building a VR ecosystem for the transition to the next generation of computing. What are your thoughts on VR/AR and the future of computing? Let us know your thoughts in the comments section below or on Twitter.