CS:GO is more than a game or a community. It is a vibrant economic system where items are bought and sold every day. Something that will improve your in-game experience is a better version of the legendary AK-47. The skin was added to the game in 2013, and it is still in high demand.
With the emergence of the Arms Deal Collection, gamers saw the Case Hardened AK for the first time. As the name suggests, the skin upgrades the appearance of your rifle, as its metal parts are hardened and covered with stains — blue, purple, and yellow. The handle is brown, and the buttstock and handguard are both wooden.
Available Conditions: Overview
The price for the AK-47 depends not just on the market but also on its condition. All types are available, from Factory New to Battle-Scarred. Thus, the Float Value ranges from 0.00 to 1.00. The skin has plenty of pattern variations, and it is also available as a StatTrak™ item.
A major advantage is that signs of wear, such as abrasions or scratches on the surface, are not visible. As the weapon ages, its metal parts acquire a layer of patina. This gives the weapon a darker look, but that's all.
Overview of Prices
As of the time of writing, the average price for the item in its basic condition ranges from around $90 to $250, while the StatTrak™ version will cost you between $200 and $640. Prices have been growing steadily over the past few years.
Where to Buy
Players can purchase the skin in the official Steam community and on third-party sites. While the official platform may seem to be the ideal option, it does still have flaws that prompt players to look elsewhere. For buyers, the prices are the biggest deterrent.
For example, a field-tested AK-47 Case Hardened is currently being sold on Steam for over $108. Meanwhile, the best global price can be found on DMarket, which lets you save up to 25%. This international third-party platform has seen over 10 million deals executed so far, it works with 20+ payment options and offers a wealth of other benefits. You can secure cool stickers and rare float values.
Word of Caution
In recent years, the Steam ecosystem has lost its shine because of the emergence of independent platforms. A third-party site will act as the middleman, as it connects users to the official Steam community. Scammers create fake pages to take advantage of this, so be careful. Consider:
1. Feedback
Check websites like TrustPilot. While the reviews are largely subjective, any issues mentioned in several complaints are red flags. Pay attention to payment delays, loss of skins, problems with access, and unreliable sellers. Victims of scammers lose their skins and access to their accounts, so stay safe.
2. Float Values
Pay attention to the reliability of the float values. Do the users get what they pay for, or do they end up with inferior floats?
3. Security Protocols
As the trading ecosystem is a digital economy, security is absolutely paramount. Make sure that the provider complies with the applicable regulations. It must provide a KYC procedure to weed out impostors. Secondly, any page that collects information must have a green padlock sign next to the URL in the browser address bar.
If the platform has been around for some time, the feedback should let you know about any dubious practices. Honest providers have nothing to hide, so they describe all of their policies on their websites and have extensive FAQ sections.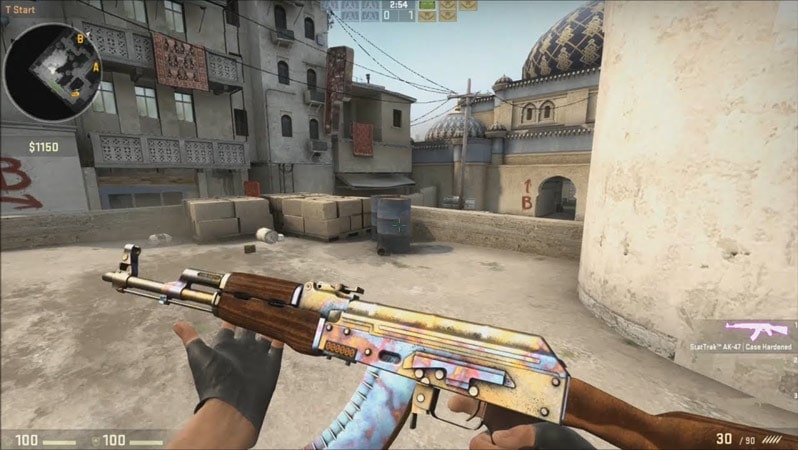 How to Buy
Purchasing is easy. Using your Steam account, you can secure the best price on an independent platform like DMarket. Here is how this process works on this platform.
Click on the skin you want to buy (aside from AK-47, there are hundreds of thousands of other skins).
Click on the "Buy" button (to see if your deposit is sufficient).
Refill your balance if necessary (over 20 methods are available).
Wait for completion and enjoy an enhanced gaming experience.
Once the transaction has been processed, the item will arrive in your collection. It's that easy. You are just a few steps away from unlocking one of the best skins in CS:GO!
The Bottom Line
Third-party platforms attract buyers and sellers of CS:GO skins, including for the AK-47 Case Hardened. Visit a reputable exchange to snatch the best deal and buy the item quickly and securely. While Steam has its benefits, its closed-loop system does not suit the needs of traders focused on asset exchange.