Consider a class of 100 students who take a test. You want to see how they performed in a test. You can enter all the marks in a spreadsheet and maybe calculate the average and see how many got above/below the average. Or you can create a graph out of the marks which will show its distribution. You can infer so much more from this graph. If the average is closer to the maximum marks, then maybe the test was too simple. If you factor in the GPA of all the students, then you can find out if the average was high because the class was made up of exceptional students with high GPAs. To this, you can add whether or not these students receive any private tutoring and see what effect that has on their marks. This is just an example of how much insight you can gain from data visualization.
Imagine being able to gain similar insights into a long-standing problem with the business. Data visualization would make it so much easier to pinpoint a cause and rectify it. It is because of this that visualization has become an important business intelligence tool. Not just business intelligence, data analysts and data scientists also benefit from visualization.
All the perks from data visualization can only be realized if it is performed using a tool that is powerful, versatile and reliable. Tableau fits the bill perfectly.
It has become one of the most commonly used visualization tools and there has been a surge in demand for data visualization with Tableau training. Tableau has many useful features that make it perfect for data visualization. Here are a few:
Wide Range of Visualisations
From simple bar charts and pie charts to heat maps and treemaps, Tableau has a wide range of options for envisioning your data. Each type of graph offers a peculiar insight into the data. By just changing the type of visualization, you may be able to gain a better understanding of the data. Tableau developers are well aware of this and this is why you can easily switch between the graphs and charts used. All of the graphs are presented in a stunning manner and the colors and fonts are completely customizable. They look great on their own without any customization too.
Real-Time Data Analysis
Depending on your field, you may have to work with high-velocity data, i.e. data that is changing fast. Tableau can make a live connection with the database. When the database changes or new entries get added, you can just refresh in Tableau and the changes will be reflected in your dashboard as well. Another option is to set the data to refresh at specific time intervals. Your data visualization with Tableau course will cover how this can be done. The ability to view the changes in data in real-time can help you draw valuable insights.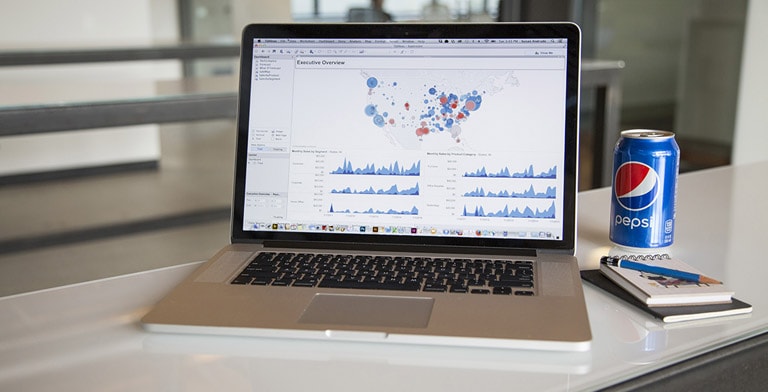 Collaboration
You don't work in a vacuum. Whatever conclusions you come to by analyzing the raw data, you will have to share it with a team or even with the whole organization. Tableau lets you share your dashboard with multiple users and this feature enables you to share your conclusions too. This also makes it easier to collaborate as a team.
Work WIth Different Data Sources
During your analysis, you may have to draw data from many different sources such as files from clouds, data warehouses, spreadsheets, etc. All of this may not be at the same level of granularity. The data blending feature of Tableau blends all the data together in the visuals while keeping them apart at the source. This is an innovative method that not only speeds up the process of combining data from multiple sources, it also negates the need for priming the data before processing it to create the visuals.
Create Stories
It is always better if your findings have a narrative. They should tell a story that should lead others to your conclusions. Using Tableau, you can create a sequence of visualizations that come together to form a narrative. Other users can interact with the story to gain more insights.
No Coding Needed
Tableau's best feature is that it doesn't require any coding. This makes it particularly interesting for those who have no programming background but want to use Tableau to create stunning visuals for the business needs. Even though Tableau doesn't require any coding, it supports languages such as Python R, SQL, etc which can be integrated with Tableau.
Get Data Visualisation with Tableau Training
If you too are enticed to learn more about Tableau and how to use it your advantage, then you should take a data visualization with Tableau course. It will help you understand all the features of Tableau and make you a pro at creating breathtaking visuals that offer valuable insights for your organization.