One of the many things that revolutionized the Web in the previous decade was the rise and popularization of platforms like Wix. Online website builders like Wix has made it possible for everyone to create, publish, promote and maintain a website without the hassles of code. As you know, since they are offering complete packages, you don't have to purchase individual hosting needs. Needless to say, the web-building UI is really intuitive for everyone. But, the real point is that you can use website builder like Wix for different purposes. For example, today, we can talk about creating a site that showcases your videos – using something called Wix Video.
We do understand that you have something called YouTube when it comes to publishing videos, but that is not always the case. For example, you might want to create a website that is subscription-based. It means a user will have to take up a paid subscription for accessing the service. On another day, you might also need detailed statistics to understand how a particular project went. So, starting a dedicated website for video is not alien as it sounds. And, the last time we checked, most people choose YouTube because they didn't find something like Wix Video.
In this article, we will talk about everything you should know about showcasing your videos using Wix Video. Before we get into a step-by-step tutorial, we should have an overview of the Wix extension and how it works. Shall we start, then?
What is Wix Video?
We hope you know what Wix is; you might have used it already if you had been into website building. It has a few features up its sleeve, and Wix Video is a must-check-out plugin in the list. In case you never knew, the Wix platform has become modular. Instead of adding all the features, you can include the content you really want. For instance, if you don't want your website to have a blog, you needn't have one. In the same place, you can include some awesome videos and live-streams if you want. This is where the Wix Video plugin has its scope.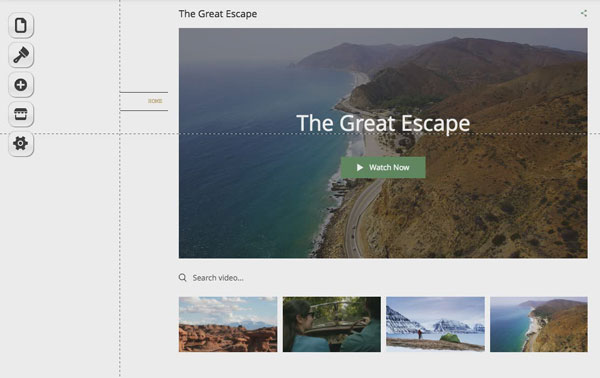 Using this plugin, you can do two things. First, you can create a website that is solely for hosting, publishing and sharing video content. Second, you can include a dedicated Video section in your existing website as to stream something or offer certain subscriptions. Once you have set up a Wix Video website, you can simply share the URL the next time someone asks you how to stream video content. There are a few features that you will love in Wix Video — such as Video Selling & Renting features. It means that Wix Video is a suitable choice for digital marketplace websites as well.
Just so you know, Wix Video is an official extension from Wix, making it completely cool and secure.
Pricing and Availability
There are both Free and Premium versions of Wix Video you can check out. So, even if you have a completely free website of Wix, you can use the plugin and see how it works. So, on a normal day, you can purchase the premium version only if you need the actual features. Otherwise, stick onto the free version.
For instance, if you need extra storage space, you can go for the Wix Video Premium version. Also, if you're ready to pay around $9 and go for the Premium plan, you also have an option to sell your own merchandise. But, you know the best part? Wix Video doesn't put annoying ads in either plan.
With that in mind, shall we check out how to showcase your videos using Wix Video?
How to Showcase Videos using Wix Video?
The steps are far simpler than you expect them to be.
As we told you earlier, you can use the Wix Video app in both free and premium versions. So, the first step is to add the Wix Video app into your Wix HTML Editor. Make sure that you can add videos in different ways.
You can upload a video of your own to Wix storage space, from Computer or Google Drive
You can also sync videos from popular sharing platforms like YouTube, Facebook, and Vimeo
In case you're interested, you can add a video as the page background as well.
All these can be done from the Wix Video button that you can find on the left sidebar. By default, Wix Video will be inserting a section that consists of a big video player and small choices. We must say that Wix Video has one of the best video players we have seen. The touch-to-play video player works seamlessly on mobile and desktop devices.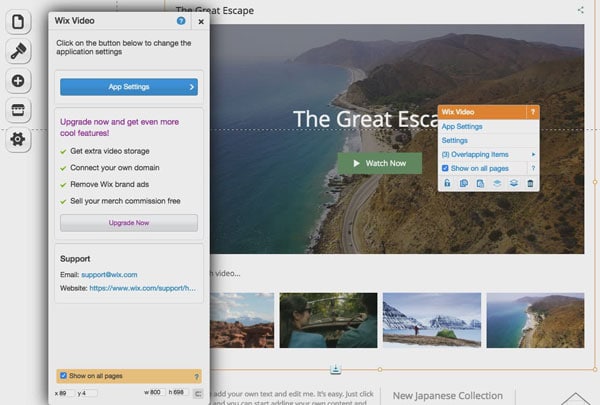 As you know, all features are available from the App Settings window. It makes things easy by offering you a wonderful space for managing, modifying and making final changes. Be it adding some Subscription/Selling feature or including another section, everything is quite easy. If you have the basic experience with the Wix HTML Editor, you won't have any trouble in getting along.
By the way, we have talked about how you can include videos in an existing Wix website page. That having said, you also have an option to create an entirely new website for showcasing videos. Or, say, you can make a special page on your website and showcase videos there. Don't worry – both the options are available via Wix and you will have no trouble in setting things up.
Wrapping Up
Well, this is everything you should know about using Wix Video for showcasing your video content. It doesn't matter if you need a dedicated website or a single webpage: Wix Video lets you create both kinds of content. As we mentioned earlier, you can always have the awesome features of ad-free video playback and fully-fledged customization – without even going for the premium version. At the end of the day, we'd suggest this utility for everyone who needs a video website of their own. How does that sound? Do let us know.