Leaving your Windows PC open to everyone isn't a great idea! It's always recommended that you should put a strong password for your PC, even if you're using it only at home. Starting from Windows 8, however, there has been an integration between your local Windows OS and Microsoft account. Once you have linked your PC to an account, both will have the same password. It means, you will have to log into Windows using the same Microsoft account password. Amidst all these comes the issue of forgetting passwords. What will you do if you forget the password of your Windows 10 PC? Well, that's some chaos, isn't it?
If you were planning to use the Forgot Password feature, that's not really helpful in most cases. And, as you know, that won't work on Windows 7 or older versions of Windows, as there is no integration between your PC and Microsoft account. So, with a bit of generalization, we can say that the Password Recovery utility of Windows is somewhat nonsensical or at least impractical. So, whenever they forget the password, majority believe that their PC has become inaccessible and they move forward to format the entire Hard Drive. That's quite an extreme task, as you will be losing all the stored data.
It's in such a situation that PCUnlocker becomes a viable solution. It's a piece of software that can help you recover your Windows 10, 8 or 7 PC when you have forgotten the password. You can either simply reset the password or remove the entire concept of password from the system. In other words, we find it convenient and efficient at the same time. So, in this article, we will tell you how you can reset forgotten Windows 10, 8, 7 PC password with PCUnlocker. Before we jump into the actual tutorial with steps, we should have a look at PCUnlocker and how it works, right?
About PCUnlocker and How it Works
As mentioned above, PCUnlocker is a piece of utility software that can reset the password of any PC running Windows 10, 8, 7 and XP. Although it sounds so simple, there are some seriously effective algorithms that's involved in the process. It's pretty interesting to see how such a simple piece of software can get rid of one of the biggest headaches people have.
PCUnlocker is a premium software and you will have to choose the right version for you. There are a bunch of extra features in the higher versions, such as the support for computers with UEFI Secure Boot and that one option to entirely remove password without resetting it. Some of these features are Enterprise-only and you should go for them only if you really need them.
As to the question how PCUnlocker works, it's going to change some system-level settings. We do not want to get technical here. What you have to do is pretty simple — it's about creating a bootable drive and boot your Windows PC, which is locked due to forgotten password. Then, you will have to follow the necessary set of steps to get things done.
Now that you have a clean idea, we will check out the actual steps that are involved in how to recover your Windows 10, 8, 7 or XP PC. Shall we start?
How to Reset Forgotten Windows 10 Password with PCUnlocker?
Now, to the steps involved.
Step #1
First of all, you will have to download PCUnlocker from the official website. You would see the link in email that you received after purchasing the software too. In either case, you will be able to download a ZIP file to your PC. Make sure that the download is complete and not corrupted or anything.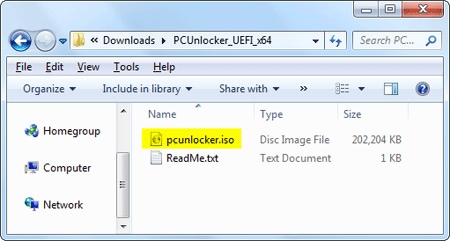 Use the Extracting software to unzip the file into a program. It wouldn't take more than a few seconds and you will have the extracted files available in a single folder.
Step #2
Now, you need to burn the file into a bootable device, right? Here, you have two options, depending on the device that you want to burn the file into. If you want to burn it to a CD or DVD, you can do it right from the Windows interface.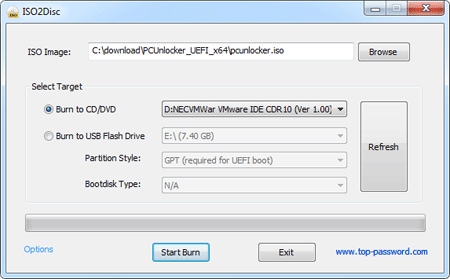 On the other hand, if you want to boot using a USB Drive, you have to download a tool named ISO2Disc. It's a free tool that lets you convert a removable USB Drive into a bootable drive. You can get ISO2Disc from the official Download link.
Step #3
Once you have downloaded and run ISO2Disc, you will be able to burn the PCUnlocker ISO file into one USB drive. It will not take more than a few seconds; so, don't worry. Once you have finished the burning process, the USB will be having PCUnlocker Bootable program inside.
Now that you have prepared the bootable USB, it's time to do the installation part, which is somewhat easy yet time-consuming.
Step #4
To boot an external drive, you first have to restart your computer. And, then, you have two options to choose from.
You can go to BIOS Settings and select the USB Drive as the Primary Boot source
You can press External Boot button when your computer is starting up.
In either case, make sure that you select the right USB Drive, to which you have burned the PCUnlocker ISO file.
Now, give PCUnlocker some time as it finds information about your Windows installation and users that have been registered.
Step #5
So, you will be seeing the PCUnlocker utility interface now. We hope you are planning to reset the local user password here.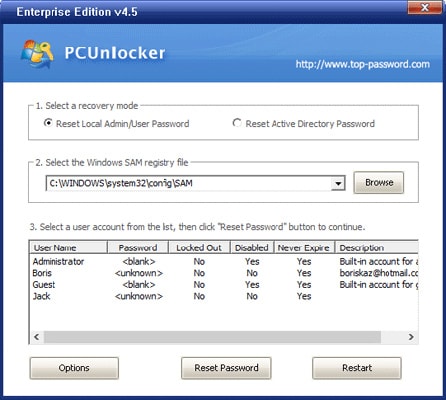 Select the user account from the list and hit the Reset Password button. It will show you a pop-up instantly, and you can enter the new password there.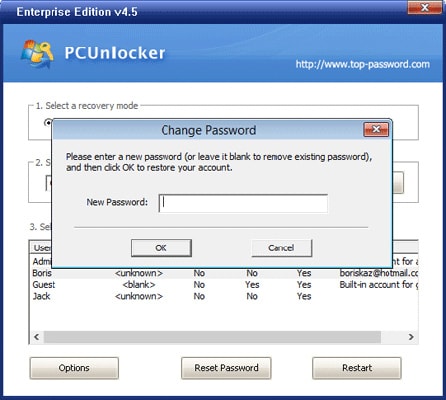 On the other hand, if you want to remove password from Windows OS, you can go to Options and do that. It all works fine inside the PCUnlocker utility, quite smoothly too.
Once you are done with your choice, you can hit the Restart button.
Let's Wrap Up
Voila! You have successfully reset the forgotten password in your Windows 10,8 and 7 PC. It should be noted that the process works on XP devices as well, and there are no web-based activities involved. Even if you count in the elements of USB burning and external booting, the process is simple — and far better than formatting your entire hard drive. So, what do you think about PCUnlocker? Isn't it awesome?