As a business owner, you should know that you are among the cybercriminals' prime targets.
Not only do you interact with people online, but you also hold and handle valuable assets, like data and money, which are all hacker honeypots.
One of the reasons why many businesses and organizations experience data breaches is that they dismiss the importance of even the simplest of cybersecurity measures.
That is why the Cyber Essentials came about.
What is Cyber Essentials?
Cyber Essentials is a UK-based certification class for sites and UK businesses that emphasizes five fundamental defense controls to combat prominent threats and attacks.
These controls include firewalls, security configuration, access control, malware protection, and patch management.
When you comply with and maintain all five technical controls to an acceptable standard, you can apply for certification.
You will go through a shared service assessment, vulnerability scan, and a questionnaire about the technical controls.
If you can prove that your IT systems are secure, the program certifies you and gives you a badge you can display on your website, app, and marketing materials.
These technical defense measures, when applied correctly, are proven robust and powerful in protecting your business. Not many owners are convinced, though. You may even be one of them.
You may have secured a handful of your devices, but remember that you must maximize your online security across your entire IT landscape.
If you leave your website, any gadget, network, and other IT aspects defenseless, you can hurt your business dangerously.
That said, here are six reasons you can't afford to ignore the Cyber Essentials.
Let's begin.
1. You need to show proof to your customers that your website is secure.
When engaging with your business, your customers are, at first, naturally hesitant to pay or provide personal information online.
The higher the payment, or the more data they are required to provide, the more they will evaluate your cybersecurity first before deciding to continue.
As such, to convince your customers about the security of your website, you can display your Cyber Essentials certification badge on your website and app.
One of the Cyber Essentials benefits of showcasing that badge is the positive impression it leaves on your audience — that your business is secure and you take cybersecurity seriously.
As a result, you boost your conversions, sales, lead generation, and customer loyalty.
You also earn your customers' trust, which enables you to build meaningful partnerships more smoothly with them.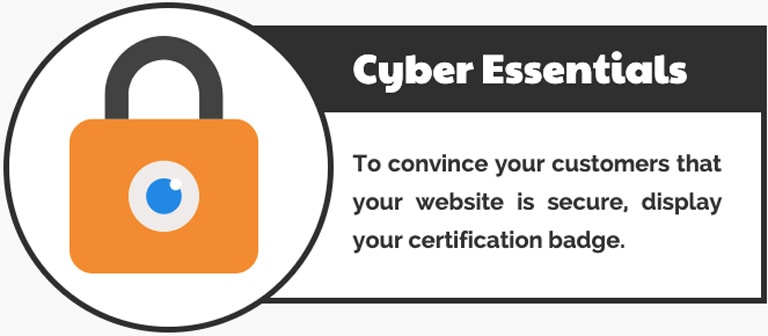 2. You risk exposing sensitive data.
Your data is valuable to your company because it supports your efforts in digital marketing, customer engagement, and other aspects.
This data covers information about your employees, executives, and customers: names, addresses, contact details, credit card numbers, account credentials, financial figures, and more.
Unfortunately, this data is also valuable to cybercriminals.
Once they steal your information, they can also take the person's identity, gain a hefty profit when they sell it on the dark web, charge large expenses to credit cardholders, and more.
Cybercriminals may even target other online documents, such as sensitive emails and voicemails, confidential research papers, intellectual properties, and others.
That is why Cyber Essentials includes access control as part of the checklist.
With this mechanism, the program urges you to restrict access to your assets only to people directly concerned.
Access control also encourages you to establish several security layers. The most valuable data should be behind the most robust defenses and the non-valuables among the first few layers.
Doing that ensures that cyber hijackers get nothing critical should breaches occur.

3. You risk substantial financial loss. 
Cybersecurity breaches can cost you tens of thousands to millions of dollars.
This price pertains not only to the amount of money the hackers stole or the worth of your data records but also to your business recovery and repairs.
To give you an example, a global credit rating agency called Equifax underwent a data breach affecting 147 million customers. The price for the recovery? Around 439 million dollars.
In 2017, hackers stole 172 billion dollars from bank accounts in 20 countries worldwide. Two years later, they gained more than 4 billion dollars from hacked cryptocurrencies.
Moreover, expenses for data breaches, on average, now reach around 1.41 million dollars.
This amount is too high a price if you don't fortify your cyber defenses, which protect you from threats like malware, ransomware, and phishing.
Malware protection is, hence, one of the Cyber Essentials technical controls.
It prompts you to set up the right anti-virus software and train your employees with the proper cybersecurity measures.
Ideally, cybersecurity should take up more than 13 percent of your business' budget. Consider your web design costs as well to include encryption, among other things.

4. You can tarnish your reputation.
When news of your data breach or stolen funds gets out on social media and international TV, people can't help but remember your company name and reassess your reputation.
A tarnished reputation is one adverse result of cybersecurity breaches, producing a chain of reactions.
First, cybersecurity breaches shock people that a reputable business has security loopholes or weak defenses.
Your clients then question your budget allocation for cybersecurity and how much you value their security.
Finally, successful cyber hacks make your customers question your trustworthiness.
When that happens, your sales and revenue may suffer. Your customers may switch to your competitors or tentatively avoid transacting with you.
That is why Cyber Essentials includes firewalls in their critical controls checklist.
When installed across your whole network and updated regularly, firewalls safeguard each gadget in your IT ecosystem.
Since firewalls monitor your traffic, they can detect any questionable activity. They prevent botnets, hackers, and keyloggers from monitoring and penetrating your network.
They also shield you from various cyber threats that come from almost anywhere, like unsecured public WiFi networks, removable devices, and others.
5. Cyber threats evolve.
Technology has constantly been evolving to help you enhance your business and stay ahead of the game.
The bad news, though, is that, as these technologies evolve and new trends emerge, so do cyber crimes.
Even malware distribution predictions for 2020 reveal that attacks will become more sophisticated.
To date, hackers already demand ransom in cryptocurrencies to avoid being tracked quickly. They hijack forms to inject malware, bomb reviews, automate cyberattacks, and more.
Thankfully, there are ways you can prevent these evolving cyber threats from inflicting severe damage to your business.
One way is by managing your patches properly. 

The Cyber Essentials program includes patch management as a vital defense measure for your enterprise.
Patches fix security loopholes and vulnerabilities, so hackers don't exploit them and inject malware and other harmful files.
Patch management also entails frequently updated firewalls and anti-virus and anti-malware software.
Updating them is necessary because cyber threats evolve. Out-of-date software may not recognize new malware and allow it to enter your networks.
Unpatched or outdated software is also a commonly uncovered flaw among users, and may even be the root of cyber attacks experienced.
6. You'll need it for scaling up.
As a business owner, you don't intend to remain a start-up forever. You visualize your enterprise expanding over time.
As you scale up your business and cater to a broader audience, you will hold more data to improve your services and meet their needs.
The more data and customers, though, can mean the more hackers will target your business.
That is why Cyber Essentials includes security configuration in their checklist.
Your business should configure your networks and devices to have the most potent security settings and mechanisms possible, including stronger passwords.
Scaling up your business is desirable and beneficial, but remember it involves bigger needs and higher expectations on your cybersecurity.
That may mean spending a larger budget or investment in cybersecurity. If you don't, you may suffer heftier losses in your money, data, customers, and reputation.
Don't ignore the Cyber Essentials.
Cyber Essentials provides business owners like you a compelling reason to fortify and invest in your cybersecurity.
Investing in cybersecurity is not too high a cost compared to what you can lose — your data, money, reputation, customer trust, among others — not to mention recovery.
Hence, this loss and several more detrimental results and scenarios should prompt you never to ignore the Cyber Essentials.
Did you find value in this post? Do take the time to share it with your colleagues. Cheers!