Online safety is of paramount importance these days. With scandals like Cambridge Analytica throwing light on how companies are misusing our data, surfacing everyday, it's only logical for one to be concerned about their online safety. While securing our online footprint is an important aspect everyone should focus on, another equally important aspect would be securing our computer and other device we use to access most of the content these days.
Securing our device is a broad topic, it still needs a place to start. One of the devices we use for getting stuff done is our computer. It's quite likely we use it for work and for play. And its also a place we most commonly store some our most critical data. This makes it important to make sure these machines stay unaffected by any possible malware infection. This post is going to talk about several ways in which you can prevent a malware infecting your machine and some preventive measures to avoid it in the first place. But before we do that let's clear some confusion surrounding viruses and malwares.
Let's Talk about Viruses and Malware
Before we get into the details of the post let's first understand what viruses are before learning how to avoid them and undo the damage caused by them.
A computer virus unlike its biological counterpart is a program which when executed/installed on a machine alters the normal working of the machine and adversely affects in functioning in several different ways. It may spawn numerous threads in the background to hog down your memory or create duplicate files to eat up your precious storage space or worse, it may start deleting your files or corrupting the core operating system.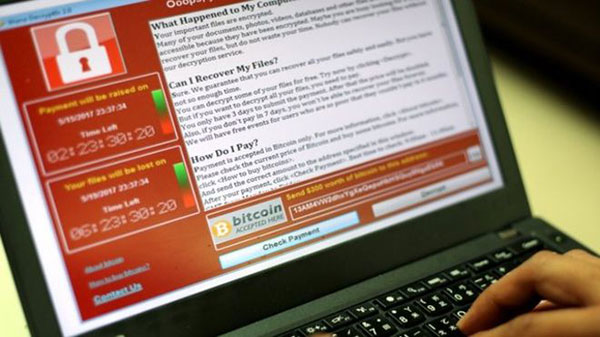 In the recent past, there have been multiple cases where due to the spreading of a malware several key businesses had to shut down till the spread was quarantined. A recent example of this would be the WannaCrypt ransomware that affected multiple Windows machines. With the ever progressing technology, viruses and other malicious programs have become smarter than ever, some have become so sophisticated that they are able to fool the operating system into thinking it's a harmless program. Before we get to how we can avoid viruses let's take a look at where they started and how far they've come to truly understand the amount of threat that they pose.
Computer Virus: A Brief History of their Existence
The idea of a computer virus is by no means new, in fact, it's existed since 1949. John Von Neumann had come up with a theory of self-reproductive automatons during his theoretical and preliminary work on computers. In the early 1970s Core Wars programs were written which were capable of fighting each other to survive in the memory space. The actual term "computer virus" was coined in 1981 during a conversation between Professor Leonard M Adleman and Fred Cohen. Later in 1983 Fred Cohen presented the concept of a computer virus for the first time in his seminar and implemented a functional virus within 8 hours of the seminar which gave him full access to all computers. Starting 1985, computer viruses became a thing, most of the ones spreading were joke programs but every once in a while there came some things truly virulent. By the early 1990s viruses were a household name, affecting mostly .com files but later becoming more sophistication and clever, attacking system level files and corrupting or encrypting data. By the 2000s computer viruses created entire enterprise around them, several virus removal programs entered the market in order to help users stay safe and disinfect their affected system. Today computer viruses pose more threat than ever. Every business is reliant on computer technology and a fault or failure in operation at one location is capable of causing a loss of significant capital. It only makes sense that users take every possible measure to protect their systems and in the case of an infection, know about the steps to be taken to revert the damage. This article is going to be divided into 2 parts one for protection, second for disinfecting the system which would include the comparison of some of the most popular anti-virus programs including some free offerings. I'll try keeping it on point, let's get right in.
Part 1: Prevention
The first step in preventing a computer virus infection would be protecting your machine from all possible source of getting a virus. That means securing your browsers activity first. The most common way of getting a malware on your system would be the internet. There are millions of bogus websites out there which impersonate to be harmless but trick you into downloading a small game or a few version of a proposal application which turns out to be a malware instead. My best advice in those cases would be to absolutely trust your browser. Sincerely most of you are Chrome users, don't ignore the warnings that Chrome gives when you try to access a website which uses an insecure connection. Always prefer websites which use the HTTPS protocol over the ones which use HTTP.  Second, make sure not to insert USB drives acquired from untrusted sources. Windows users this is mostly for you. People using macOS and Linux are still far ahead in terms of security than Windows. Make sure you scan your device using an Anti Virus program before exploring it on your PC. If you use a public computer make sure it has an anti-virus software before you copy files from it to your hard drive or USB flash drive. And lastly, by default assume that advertisements (unless it's being served by Google and Facebook) are a scam. No, your device is not infected by a critical virus and no they are not giving you a free program to remove that infection. Third, always be prepared for the worst. You never know how sophisticated and intelligent a program can be, thus to be on the safer side for those worst-case situations, make sure you maintain a backup of your important files. If you are using a mac, make sure you are using Time Machine. It always helps a tonne to know that even though your entire system crashed, you can still restore it back completely.
These happen to be some of the few different ways how we get our computers infected. There are rare and far more sophisticated ways in which an attacker would target your computer in order to infect it but those are one in a million situation and are way beyond the scope of this article.
Part 2: Reverting an Infection
Alright, so maybe you were a little careless or maybe someone was accessing your computer and accidentally they installed something they did not intend to and now your system is behaving weirdly. It becomes unresponsive once in a while, you notice that your storage is getting full faster than expected and worst of all you are noticing frequent crashes on your machine which usually happens to work just fine. It's a very likely that your system has been infected with a computer virus. Don't panic, in today's date it's more common of an occurrence than you may actually think. I'm here to help you out, let's walk you through a few steps to make sure we're all set for restoring your machine to a previously working state.
Step 1: Preparation
Relax, it happens. Now before we actually start doing some things to avert this disaster, let's make sure you have not connected any external storage devices to your system. If you do, it's safe to assume that the device connected to the machine is also infected. Make sure you format it before using it elsewhere. (This is where having a backup saves people's asses).
Step 2: Choosing among the possible options
On certain platforms, it is easier to recover from such a damage or failure. If you are using Windows or macOS(with TimeMachine enabled) you may be in luck. Due to the regular backup schedule, the system keeps a time stamp of days so you can go back in time to that particular state.  Windows users can start a System Restore to revert the infection. Press and hold the Shift key and click on the Restart option to get into the Troubleshooting screen. Now select Advanced Options and go to System Restore and try to restore to a point in time where your system vitals were normal.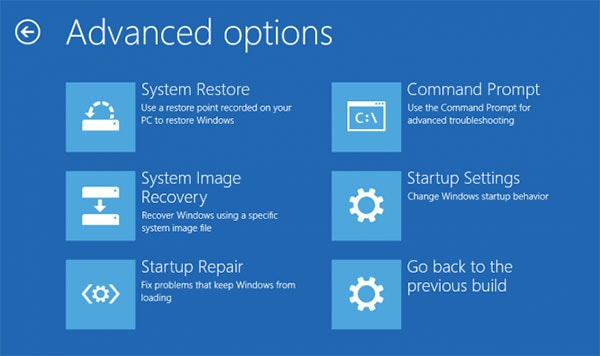 Same goes with macOS users, launch Time Machine and select a point in time where your system was not infected and let it do its thing. There is a high possibility that by going back in time you will be able to remove the malware that infected your machine. Do note however that Windows machines are inherently more prone to malware than Macs so it will be a fairly rare case where a mac gets infected. This statistic is even lower on Linux machines, one of the many reasons popular businesses and online services use Linux servers over Windows.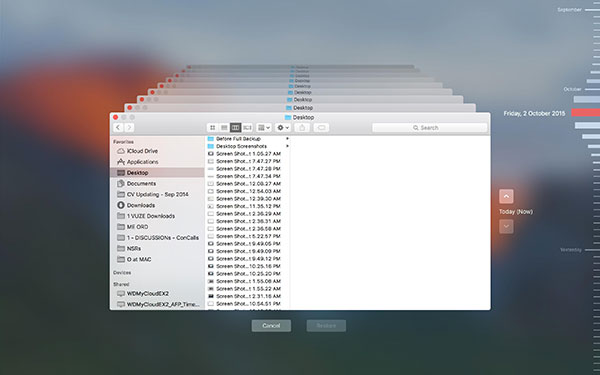 If however, you did not maintain a Time Machine backup or a System Restore point, we'll go the conventional route and use an antivirus tool to remove the malicious program. Following are my recommendations.
Malwarebytes
Malwarebytes is a freemium program available for both Windows and Mac. The free version cleans infected computers and if you are impressed by how good it is at its job you may be interested in a paid version which not only cleans your system but proactively blocks such programs and prevents infections. Head over to their website to download the free copy.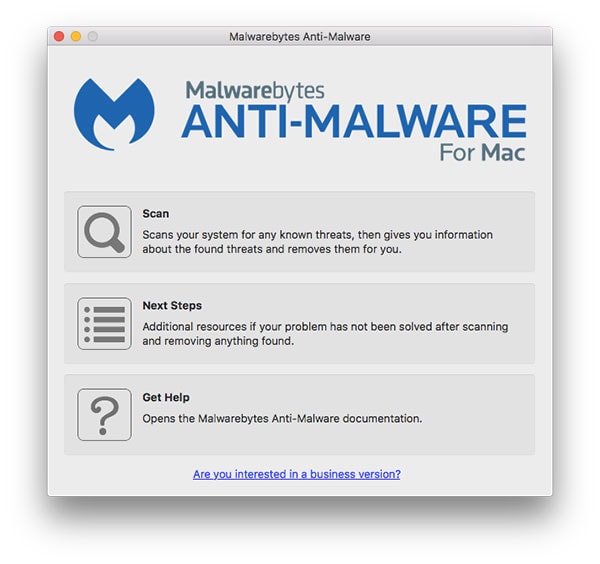 QuickHeal
QuickHeal is one of the most popular antivirus software available for PCs (also available for macOS). It proactively scans for threats and disinfects or heals the malicious programs. In my brief usage of the program on Windows, I was impressed by how light it's memory footprint is. It comes in for a subscription but you can get a 30 day trial like most programs to evaluate it before making a purchase. To download a copy head over to their website.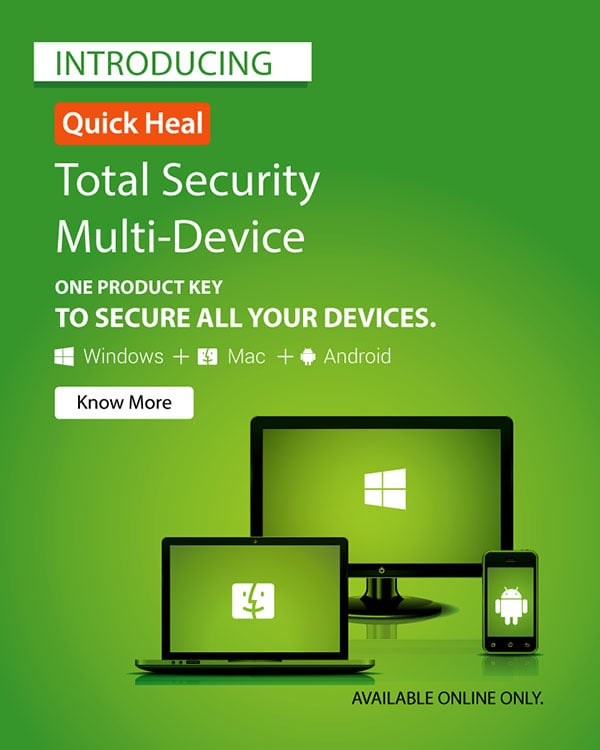 AVG
AVG is the most popular free antivirus utility out there (with a premium version made available in the recent past). While it does not carry as many bells and whistles as its competitors, it is known to get the job done. It's the most basic protection you could imagine. Head over to their website to grab a copy.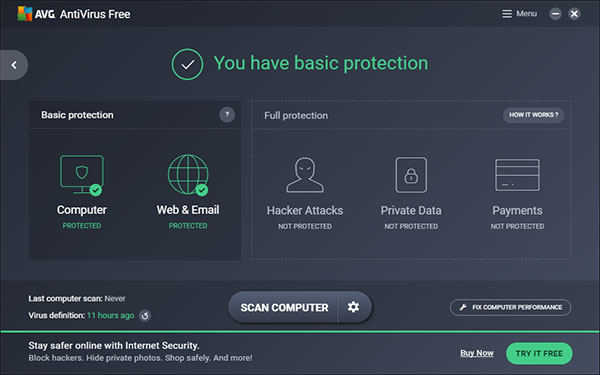 Alright, so I assume the above steps helped you disinfect your system. If it did not, then performing a fresh install of your operating system is your only option. Agreed it's a hassle but it's a speeding ticket you'll have to pay for for being a little careless with your computer's health.
Conclusion
In the end, I would like to summarize by stating that with technology advancing every day, it's obvious that malicious programs will become smarter and more capable as well. Making sure our system and our data is protected is our responsibility and if you follow the things mentioned in the post above, you would always stay on the safer side. Be a smart and aware online citizen, I will see you in the next post.