People who have been craving access to search engines while they drive (or a constant carpool companion) may think that the Siri system for iPhone's holdover 4S may be just the ticket. But the truth is that it could land you with a ticket if you're not careful. For many, this software is a godsend that will allow for performing searches, getting directions, making reservations, and updating a calendar, all hands-free. Some people will just be happy to have someone (something?) to talk to during a long, dull, daily commute. But authorities warn that anything more intimate than a conversation (no touching!) could lead to flashing lights.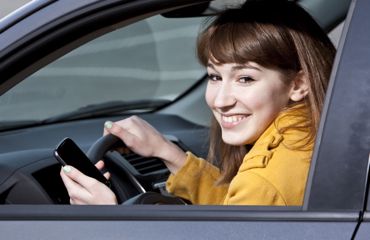 The real problem here is that people don't seem to totally understand the hands-free driving laws that are being enacted in state after state. How many of you have seen those idiots driving around with the speakerphone on while the phone is in their HAND! Is there anything at all unclear about the concept of hands-free phone usage? It means without your hands, people! In any case, police have basically said that using Siri in the car is fine, as long as you don't touch your phone. And with most states starving for funds, don't be surprised if you get pulled over for pushing a button to activate Siri or reading directions that are posted on the screen.
In California, for example, a portion of the law reads thusly: "a person shall not drive a motor vehicle while using an electronic wireless communication device to write, send, or read a text-based communication." While one of the main selling points of Siri is that it operates mainly in an aural capacity (it takes voice commands and speaks back to users), there may be instances in which touching the phone or looking at the screen to read information is required. And the authorities want people to know that this is not allowed and that those caught in the act will be subject to ticketing.
Of course, Apple hasn't left anything to chance. While users can activate Siri by pressing the home button, it is also accessible via Bluetooth devices (headset or otherwise). So while drivers are not necessarily allowed to lean over and make contact with their iPhone, if they have a Bluetooth enabled car they can certainly push the button on the steering column that activates it and use a voice command to get Siri going.
There is the little matter of subjectivity to consider, as well, and laws are only really specific on the use of cell phones in the vehicle for persons under the age of 18; many states are opting not to allow it at all. But only nine states thus far have passed laws requiring totally hands-free cell phone usage while a whopping thirty-four have banned texting while driving. So depending on what state you're driving in, you may be subject to different laws. And opinions on what constitutes breaking the law may differ from one police officer to another, as well. Some may not think that hitting a button to activate your phone counts as an offense, while others may see any contact as a clear infringement.
In the end, it may be up to a judge, but considering the state of most state budgets, it's a pretty good bet that you'll wind up paying for any touching where your phone is concerned. So your best bet is probably to go hands-free and use Siri by voice command only. It will help you avoid a ticket and you may just steer clear of an accident, as well.