For years, people dreamed of connecting individuals even from afar. Bright minds from different parts of the world tried and failed to make this dream come true. It wasn't until 1876 that Alexander Graham Bell introduced the first telephone.
Over the years, telephones have evolved from the top box to smartphones. Your smartphone comes with a variety of features that were not available before, such as a touchscreen, internet connectivity, and wireless synchronization with other devices. Life has become so much easier since the introduction of mobile phones.
Though a phone may be convenient like other devices, it can get you into trouble if not used responsibly and carefully. Here's how you can make your phone work for you and not against you:
1. Consider Using eFax
You may need to generate documents and send them for school or work. Hence, a fax machine will come in handy. It can transmit scanned printed materials to your recipient. It can also read data through pulses before routing it to your recipient with a wireless connection. However, this kind of device can be a bit complicated and expensive. It's large and might need a lot of work to keep it functional.
Nowadays, you don't have to own a fax machine to send necessary documents. You can simply use an eFax app and fax online from your phone, laptop, or even tablet.
But be careful when choosing an eFax application. There may be some applications that aren't trustworthy. An unreliable application may compromise your data and sell it to other entities. Worse, they may save your e-signature and other personal documents for unauthorized transactions. To find the best application, check out the features and see if the subscription will be worth paying.
2. Use Your Phone In Moderation
You might forget all your accessories when you go out for a road trip or an appointment but not your phone. Your phone is so important that you grow personally attached to it like most people do. In fact, studies show that most people worldwide consider their phones their most prized possession.
Another study from IDC Research reveals that 80% of people who own smartphones reach for their mobile devices 15 minutes after getting up in the morning. This is concerning because you're starting your day by reacting to other things, such as new emails, text messages, and notifications, instead of thinking of your personal goals.
It's easy to get addicted to your phone when you use it for many things, such as connecting with family and friends, checking your social media accounts, and watching videos or shows.
But too much phone usage may put your health in danger:
3. Back Or Neck Pain
Using your phone for a long time may result in back or neck pain. Some studies in Britain show that people aged 16 to 24 years old have neck or back pain issues—which are usually felt by older people. Phone addiction can even make you physically inactive.
To prevent back or neck pain and spend less time on your phone, do some stretches, follow a schedule for phone use, and switch off notifications. Getting rid of unnecessary apps will help too.
4. Anxiety And Depression
Most people check their social media accounts to communicate with loved ones and friends. Though social media is an effective communication tool, it has become a source of stress and mental health problems for some people. Seeing others' photos on social media makes you compare your life with theirs, causing you to feel miserable and envious.
Based on a 2015 University of Missouri study, people who spend a lot of time on Facebook are at high risk for depression. People with depression may experience anxiety, become suicidal, lose their confidence, or exhibit physical symptoms like headaches or fatigue. 
There are some helpful tips to use social media on your phone the healthy way. One of these suggestions is to build genuine connections with others instead of comparing yourself. Catch up with an old friend or an elder relative. Reducing the number of people you follow on social media is a great idea as well. Follow those you look up to and trust.
5. Protect Your Browsing Data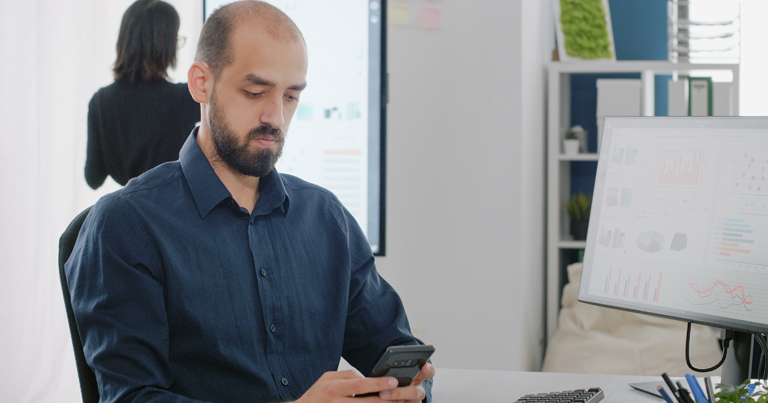 Using your phone to navigate websites generates digital footprints. One is passive, and the other is active. Passive footprints are the digital footprints you leave behind after visiting a webpage, like your IP address, browsing history, and approximate location. On the other hand, active footprints are the digital footprints you promptly give, like filling out a survey or providing your credit card details for an online subscription.
Consider protecting your browsing data so that no other entities can harm you. Hackers may steal your data if you're not careful when browsing the net. They may also corrupt your mobile device by leaking malware to its software system.
Keep your browsing data safe by steering clear of restricted websites and installing a VPN (Virtual Private Network).
Conclusion
Mobile phones are some of the successful technologies people rely on. With your phone, you can carry out everyday tasks, connect with others, and stay updated. However, just like any tool, your phone can work against you. So, remember to use it efficiently and responsibly.