In our modern world, the power of phone calls can not be overestimated. You know that it's forbidden to record calls without your interlocutor's consent. However, there are situations when the call recording is vital for your safety. People also record their calls during interviews, work calls, and more. So you see that this procedure is quite popular, but iPhones do not have a built-in phone recording option. There are many apps on the internet users can benefit from when recording calls. But there are other ways to save the conversions you have on your iPhone. Read the article and find out how to record calls on your iPhone.
#1 Record Calls with Google Voice
The US and Canadian residents can freely benefit from a free calling service Google Voice. Others may use a VPN for accessing the service. Google Voice allows users to make free phone calls with their personal phone number and a voicemail inbox. Many iPhone users choose this service due to the possibility to record phone calls easily. There are a few simple steps to set up the service for recording.
Firstly, you need to download the Google Voice app. Launch the app and sign up with your Google account. It'll take you a few seconds as everyone now has a Google account, so your profile will immediately appear in the app. The next thing to do is select your phone number to connect to the Google Voice account. You will get a message with a verification code for phone number confirmation. Now you have to verify the new set out with the code.
Once you create your Google Voice, make the final step before receiving calls. You should go to the Google Voice site and sign in to your Google account. There is a Settings menu in the upper-right corner of the page, where you have to find the Calls tab. It's located on the left side of the page and helps you to enable incoming call options for Google Voice. Now you can easily record iPhone calls by simply pressing the 4 key on your dial pad. This action starts the recording and notifies your interlocutor about the recording. You can find your recording in your Google Voice inbox. Download your call recordings if needed and benefit from this option rightfully.
#2 Record Calls with a Third-Party App
There are plenty of good applications for call recordings on your iPhone. Using a third-party recorder has many advantages, but you should be prudent when installing the one on your device. Choose reliable and secure third-party applications that ensure a high level of data privacy and regular backups. Consider that it's legal, well-tested, has many reviews as fraudulent organizations may use phone recording apps for stealing personal data. Modern history has seen some unpleasant cases of secret phone recordings.
You should pay for a decent phone app and your data security, so MightyCall is a great option. It is a quality call recording app for iPhone users. The app has many advanced features, a high-security level, and a free trial. It provides users with toll-free, vanity, local, and international numbers. In order to start using a third-party app, you should find it in the Apple Store and install it. Then sign up and confirm your phone number.
As a rule, it's recommended to pay attention to recording applications that have a straightforward interface, have basic call features, and cost a reasonable sum. Users should be able to record, process, and save calls on their devices. What are the other must-have features for your recording app? Choose the app that has a caller ID, call forwarding, and screening feature for full control over your calling experience. It's preferable that the app you choose has an emergency call option. A good app is not free as it provides your data security. Decide your budget and choose a corresponding app and subscription plan. There must be trial periods so users can decide if they want to pay for the app.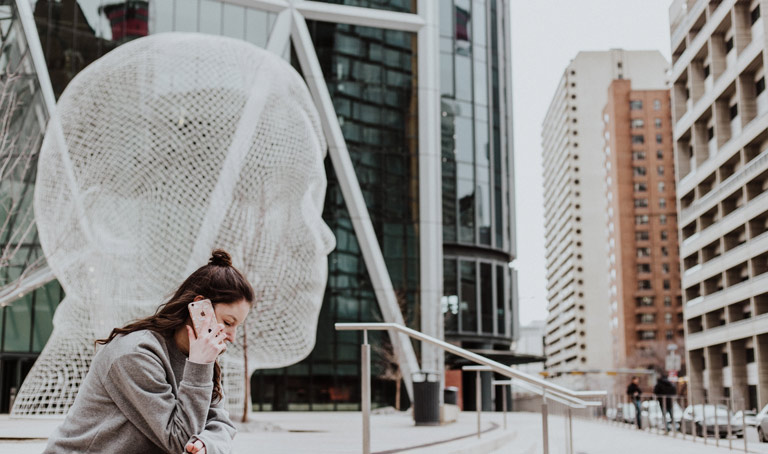 #3 Record Calls with Hardware
Using hardware for call recording on an iPhone is the easiest way to capture the needed conversation. You need another device with a quality microphone like another smartphone, laptop, portable recording device, cable, etc. Let's take a closer look at the recording hardware options.
When using an iPhone, iPad, or computer for recording a call on your iPhone, you need to make sure there's no noise in your environment. Then increase the voice volume to better hear the interlocutor and record the conversation clearly. Notify the person about the recording and place the recording device close to your phone. Then you can save the recording and send it to your device.
You can use a cable to record the call easily. It has a microphone built into the earpiece. When you talk over the iPhone, it captures both conversation sides. You can hear the conversation while it goes into a recorder. Users should use an adapter with output to a recorder. The recording device allows users to store recordings and send them to the computer.
It's also great to record your calls with the help of recording earphones. Many decent products in the market will make your phone call recording flawless. You can not only easily record calls with an earphone recorder but do many other things like listening to music etc. You do not need an extra device for iPhone call recording. They look like ordinary headphones, but when you need them, press the button, and they will become your recording tool. These headphones have some storage, and then you can copy your recordings to the computer via a USB cable.
Final Thoughts
Now you know several effective ways to record a call on your iPhone. This knowledge prepares you for any life situation. You can quickly record a call in urgent cases or make a quality recording for an interview. We hope that this article will help you a lot and facilitate your life.
Featured Image Credit: https://unsplash.com/photos/gyslVZcsNK4