Proofreading seems like a waste of time, but it is as important as writing the content itself. It is not always easy to proofread or edit your own work. Even if you perform a final check before submission, mistakes can still slip through. That's why proofreading and edit tools can work as a second pair of eye.
Today internet is jam-packed with these tools. They can proofread your work for clarity and even suggest more suitable words.
Since you're reading this, we suppose that you're at least interested in having your content proofread by professional. But how does proofreading help?
Mistake Free Work
Overlooking mistakes in our work is easy. Our brain tends to internally correct or skips over any error we see when we're already familiar with something it makes mistakes difficult to spot. This is where professional assistance or fresh eyes help to catch errors in our work.
A Professional Edge
If you proofread your work properly, it will look professional. A polished work can be a pleasure to read, and extra effort will pay off in the end. Even minor mistakes can undermine the authority of your argument, simply because they suggest you were not paying attention.
For example, a reader might think if the author couldn't be bothered to proofread his work then why I should trust that his ideas have been researched thoroughly? You can also hire an actual professional for academic proofreading. A second person, preferably professional, can do proofread your work better than you.
Proofreading Techniques
Proofread is the final check of writing. Start your proofreading with these three things.
Check your paragraph flow
Does your title let your reader know what to expect?
Is your formatting correct?
There are some proofreading techniques to create a mistake-free work.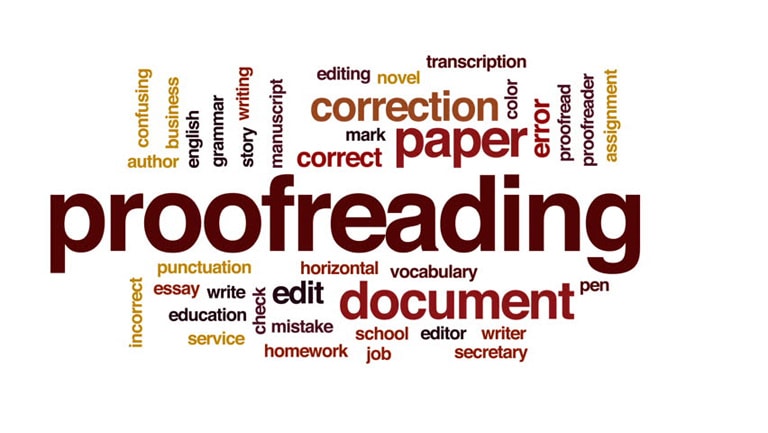 1. Read Your Work Out Loud
Reading out loud helps you to identify problems in sentence structures or words that sound wrong. It also forces you to focus on words and how they sound together, so you're more likely to catch your mistakes.
You can ask your friends if you find any mistake they can help you identify problems and give you a second opinion.
2. Use Online Checkers
Today plenty of apps are available to proofread your work. Mistakes in your writing are not good for your professional image. It also makes you look careless or irresponsible.
Today people depend upon different software which is easily available on the internet such as Grammarly, PerfectIt, Ginger Grammar and Spells checker. These proofreading tools will help improve your assignment and essays. That way, you can achieve the grade you need.
3. Write First Proofread Last
Proofreading and writing use two different mental processes. Proofread your work as you writing can break the chain of thoughts, and writing flow. So leave your proofreading until after you've completed writing.
4. Break Your Work into Parts
If you have a very long document break it down into sections and work only one section at a time. This way, your work becomes manageable. You'll be able to concentrate more, and there will be less chances to skip any mistake or error.
5. Take Some Time before Proofreading
Read everything carefully and slowly. Try pointing or tapping on each word to concentrate more. Take some time before proofreading so that you can look at your work with fresh eyes.