You have probably noticed there are times when your internet connection becomes really slow, and this behavior tends to repeat itself when you visit certain websites or use specific services. Quite strange and frustrating, right? Ever wondered why that is happening? Reasons vary and might often involve network cramming, hardware failure or some sort of maintenance measures. More often than not, it turns out that your internet service provider is behind the reason you are experiencing these issues. The proper term for that is throttling. Let's take a look at what it is and what you can do about it in order to improve your internet experience.
Throttling – A Definition
In simple everyday language, bandwidth throttling as it is usually called, is a practice that internet service providers exercise by purposefully slowing down the internet connection of their customers. It is a measure that's very often undertaken in order to control traffic and avoid congestion. An example would be the sudden poor connection when you stream content or download torrents, causing the streaming or downloads to take more time.
While ISPs can control and slow down internet speed in any particular area they service, they often choose to target individual users at given times, on the basis of the nature and kind of user activity. They are also capable of exchanging information about this activity with a third party.
Reasons for ISP Throttling
If your internet connection gets throttled, this means that your provider might believe you have exceeded the data consumption you are supposed to use for over a specific period of time, such as reaching your data cap for the current month. Or you might be performing a specific activity they like to limit, such as streaming video or torrents. Whatever the reason is, internet service providers are likely to slow down your connection in an attempt to influence a specific behavior on the part of their users.
Sometimes there are also legal reasons to perform throttling, such as when providers want to stop a DDos attack. Or when it is necessary for traffic organization and optimization. And let's not forget peak usage times where network mobbing is commonplace. You can find a full list of all possible reasons here. After all, every system has limited capacity, so certain rules and regulations need to apply in order to ensure optimal performance.
How To Tell If You Are Being Throttled?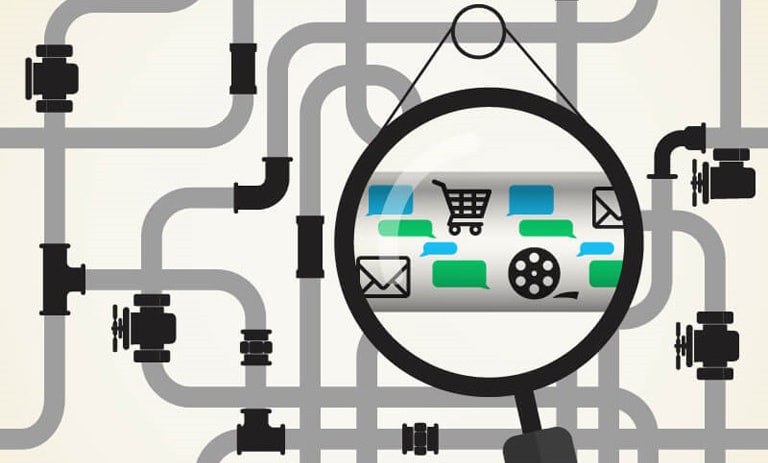 If you think you can tell whether you are being throttled simply by looking at your internet connection or download speed, you are wrong. Bandwidth throttling is definitely difficult to detect and prove. Throttling might happen at times of heavy traffic, or it might target only a certain kind of activity. It very often has an irregular pattern that is difficult to pinpoint, and it might not affect every subscriber in  the ISP database.
So, how do you know if you are a victim of bandwidth throttling? Well, one of the ways is by conducting a speed test. Measure your internet connection speed at different times and then compare these values to the ones promised by your ISP when you signed the contract. Are there differences? If the answer is yes, this means you are experiencing throttling, which is creating an inconvenience for you when browsing, streaming, torrenting or downloading data. 
What You Can Do About It. Proxies.
If you want to take measures against throttling, you don't need to file complaints, call anybody or hire a lawyer. You can stop your ISP from throttling the internet by using either a proxy service, or a VPN. One thing you need to know about proxies, however, is that as free as they are, they also provide a slow download speed. You have to look for the few which will offer an improved performance and better streaming times.
What a proxy will do for you is communicate with servers on your behalf, deliver the content you have requested and, best of all, protecting your port numbers and hiding you, so that it's difficult to tell which is the actual computer at the end of the traffic. A disadvantage is the fact that proxies do not use encryption, so in case your ISP does as part of their throttling efforts, they will easily track you down and recognize you. 
Stop Throttling With A VPN
A VPN is the perfect choice for dealing with throttling. It is a sure way to block your ISPs attempts at mobbing your traffic and deteriorating your torrenting and download speed. Its main advantage over proxies is the fact that it encrypts your connection data and provides a safe and protected tunnel for it.
As a result, your internet provider will only detect the action of sending and receiving data, not the nature of this data.
The VPN will ensure that your provider doesn't understand you are using your connection for peer-to-peer data transfer. Bear in mind however, that if you go crazy and exceed your monthly usage limits, this will not prevent throttling on the basis of excessive data consumption.
Applicable Measures
OK, let's sum up the measures you can take in order to prevent ISP throttling which by the way, you can also read at https://www.beencrypted.com/bypass-isp-throttling/. You can start by measuring your connection speed at various different times of the day to see if you are getting the same number or not. By all means pay attention if you experience slowness. Notice what you have been doing when the slowness occurred. You can use the Internet Health Test to check whether slowness is due to heavy traffic in your area or actual ISP throttling.
Do you know other subscribers in person? Ask them about their experiences. Do they experience the same lagging? If the answer is yes, then you can rest assured that it's throttling that makes your experience bad. In that case, it is probably time to pick a VPN service that will protect you from your provider's throttling activity.