Remote teams are becoming a new normal. Especially with the current COVID-19 pandemic in place, companies have started going remote with business processes and meetings. Today, online meetings are driving businesses, virtual presentations are not just an option but a necessity. Online presentations are finding their place in our normal day-to-day professional lives. Working remotely requires a great deal of communication between remote teams. It is more important than ever to communicate information and ideas clearly with your peers. In-person interactions are a gone thing for now. How can we transform offline meetings into engaging remote discussions? Since you won't be present in front of your audience, the physical touch is missing.
That void can only be filled by your presentation. In order to engage better with remote teams, you should do thoughtful planning, use superior slide design and ensure nimble, interactive delivery to the audience. Virtual meetings have taken the center stage now. One should understand that the engagement factor differs significantly for virtual vs face-to-face discussions. You can bookmark this page as your ultimate guide, be it virtual meetings, presentations, seminars or tutorials, clever planning and picturesque design is your way to success. Engagement can be maximized, better communication can be ensured if you create your presentations the right way. Wondering how to start a presentation? You can create & deliver successful online presentations with the following tips.
Keeping It Simple
The best starting point for any virtual presentation is to keep it simple. Slides in online presentations should feature a minimalistic design that expresses the message clearly. The main point of having a presentation is clear communication between team members. Information on each slide should be easily identifiable. One shouldn't overwhelm the audience with tons of information on slides. Always remember that you'll be there on the remote meeting bridge explaining the facts and figures. Therefore, you should include only key and relevant information in your slides. The goal is to remove visual distractions so that people can focus on the chief content rather than struggling connecting the dots.
Pick a Template
Using PowerPoint templates has always been a great choice for garnering your audience's attention and proactively guiding them throughout the presentation. Ready to use templates offer greater scalability. The right template can provide you with professional graphic design, quick customization ability, and design consistency for every slide. Ensuring a consistent design is very critical for your presentation's success. No one likes slides with hodgepodge design and content. Having constant design flow from slide one to last is imperative, it will also help you avoid any unwanted jarring transitions. You can also leverage the template for your corporate branding. People will relate more to your presentation once they start relating the slides to your company's branding. This is also an integrity booster for your presentation.
Visuals are Extremely Important
People respond quickly when the information provided to them is in visual form. Any presenter should understand the cognitive functions of visuals to maintain a healthy in-presentation audience. Slides should have graphics and images because it will have a significant impact on your audience and can boost your presentation goals. Visuals help by improving the clarity of information, achieving consistency, and better retention of information. Since visuals can be interpreted by a layman, it makes your presentations flexible so that everybody can develop an understanding of the subject-matter easily. There will be some people who are unaware of those terminologies you're using. Engaging visuals eliminates the limitations of verbal communication.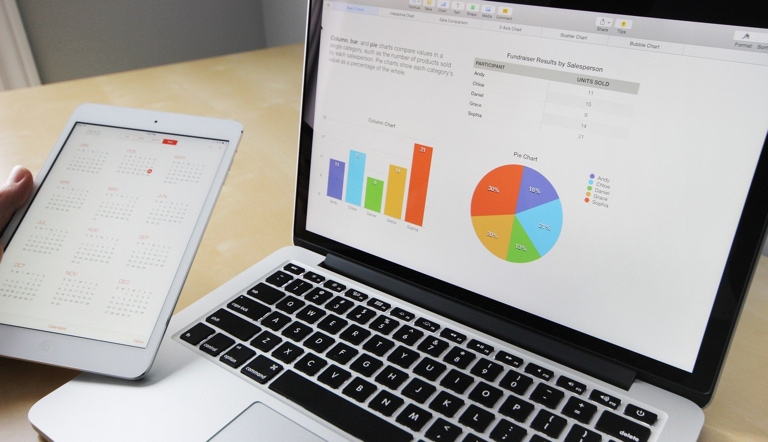 Use Charts and Graphs
If it's a meeting, there will be numbers too. For your remote meetings, you need to present information in a concise, compact and consistent style. No one likes to read numbers off the slide. Creating charts and graphs can make your slides visually more engaging and will also help your audience decipher numbers/trends easily. It is only then that right assimilations can be made. If it's a remote sales pitch, you should be able to project growth numbers and metrics clearly to your stakeholders. Charts and graphs make an assessment of information so much easier/ Your potential clients, executives and team members can make important inferences and take key metrics home with them.
Minimal Animation
No wonder animations are great for controlling the pace of delivery of a presentation. Animations also boost the appearance of content and slides as a whole. While adding animations to your slides, you should stay consistent with your choices. Animations should be sparingly used, it is advised to stick to two or three animation types. You should be able to provide a direction to your viewers through animations. For instance, you should be able to draw attention to the most important part of your slide. It is always beneficial to visualize an eye flow while creating slides and including animations. Always imagine yourself as an audience scanning the slides. It is then only you should identify regions or areas where animations can really make a difference without distracting your audience.
Give Room for Brainstorming in Your Slides
It is much easier to engage with people in person. Traditional methods such as walking on the stage are no longer applicable here. When you're presenting online, it's just your voice & presentation. The bar has been set higher for remote meetings. Without attractive design and thoughtful planning, you might throw your audience off the track, leaving the bored & unfocused. You need to keep interactivity in mind. Soliciting their questions, comments and feedback during a presentation is crucial. You can use poll, chat and even a whiteboard template for the job. Through this manner, everybody can participate and give their inputs. Effective idea-sharing and brainstorming can be done when everybody is on the same page. You can consider using brainstorming, idea sharing and whiteboard templates to achieve higher audience participation and interaction.