It does not matter which kind of business you have — a grocery store or a multimillion tech venture —, you should have an attractive logo at all times. That apart, logo designing rates are skyrocketing like never before and you may not even have enough time to hire a professional either.
All these emphasize the dire need of having an easy platform where you can create a logo online.
Recently, though, we came across Logomaster.ai — an online logo-making website and we thought the app checked all these requirements. In this article, we will be telling you how you can create a logo online using Logomaster.ai, also checking out what it's in offer.
What Is Logomaster.ai?
As we said above, Logomaster.ai is an online platform that allows you to create logos. You don't need to be a designer or artistic person to do this. In case you didn't figure that out, Logomaster.ai is using the power of Artificial Intelligence to help you create the right logo. While you can create the logo for free, downloading the same requires a fee. The point is that you're paying only when you are satisfied.
Compared to the generic process of making logos, you're doing a lot better here. Having generated more than 50,000, Logomaster.ai has some experience when it comes to choosing the right, royalty-free logo for your upcoming business, alright? Now, without further ado, let's check out how you can create a logo using this ultra-simple tool.
Step One — Get Started with Logomaster.ai
You have to open www.logomaster.ai on a web browser to start creating your business/personal logo. Once you load the website, you can see a screen like shown in the following screenshot. You have options here, to begin with: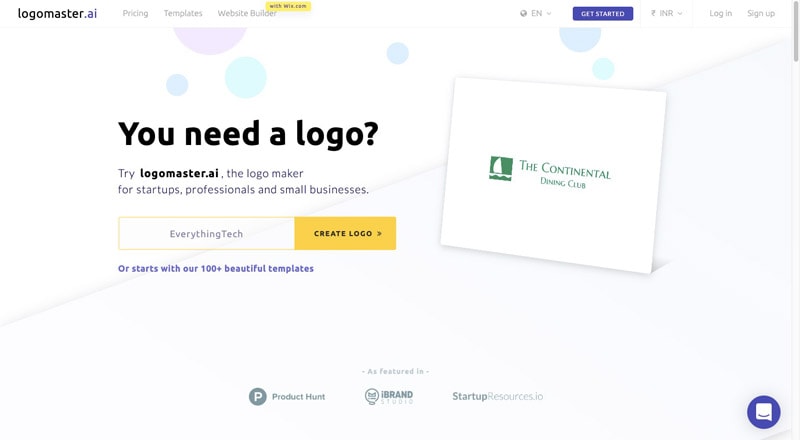 You can type in the business name and Logomaster.ai would start finding the right design for it.
You can choose from hundreds of logo templates from the Logomaster.ai library.
We prefer the first method if you want more control in the way. So, enter your business name and hit the 'Create Logo' button.
Step Two — Logo Category
In this step, you have to select the category of the logo. This input helps Logomaster.ai in choosing a suitable design philosophy for the logos, you know. You don't have to worry about the incompatible or inappropriate set of designs after this.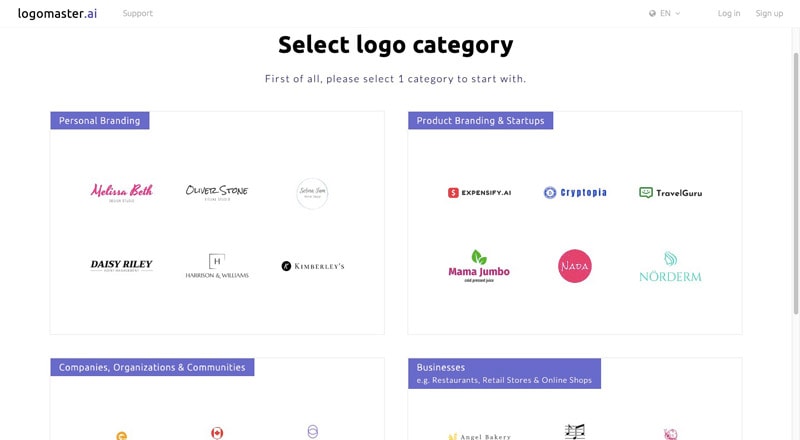 You can simply click on one of the shown categories to begin the process.
Step Three — References
This step is where the AI of Logomaster.ai comes into play. The website will show you a huge set of designs and you have to select (at least) three logos from the set. Just so you know, make sure that you are selecting the logos you really like.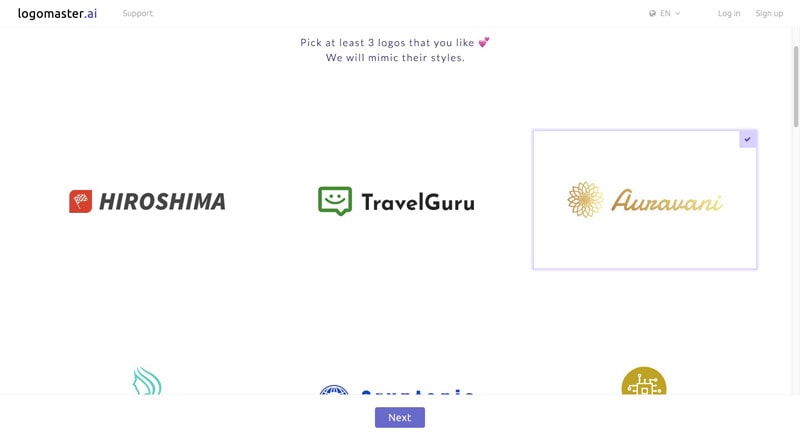 The platform itself tells you that the final logo will mimic the style of your selections. They're not going to be copied, but there will be influences for sure. Click the Next button once you have selected all the logos you liked.
Step Four — Select Color
Color is perhaps the most important thing in a logo and Logomaster.ai has an intuitive way to pick that. As it is shown in the screenshot, you can choose the right color for your logo based on shown references. This is a super-easy process.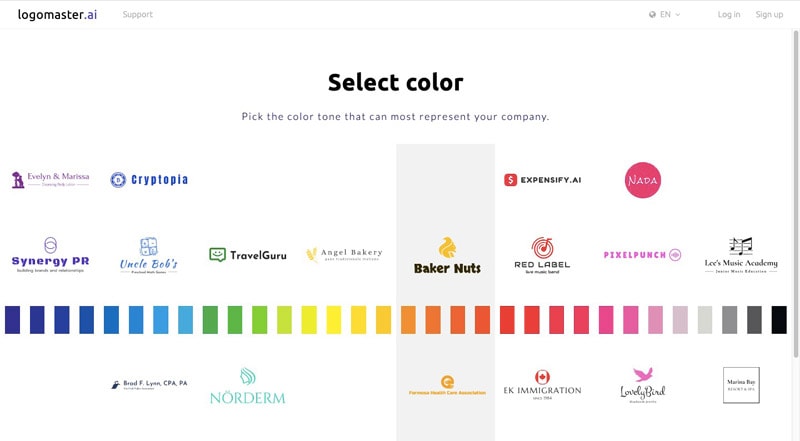 Simply select the color and Logomaster.ai will ask you for the slogan input. This is not necessary but it's good to have a slogan on your logo. Make sure that the slogan is quick, catchy and doesn't take up too much space from the design.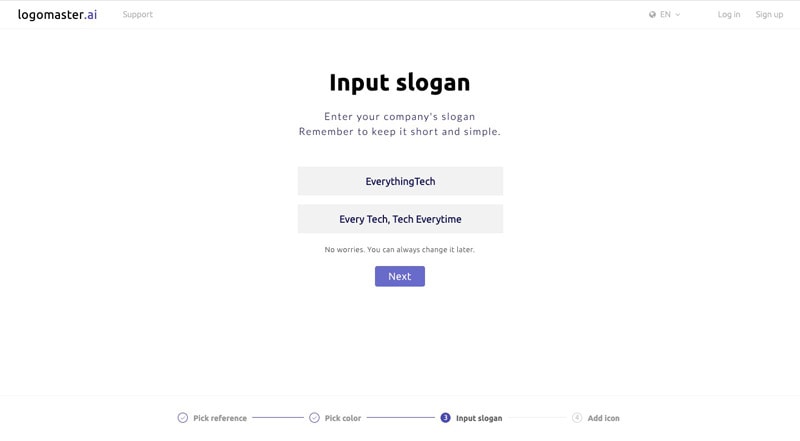 Step Five — Add Icon
In this step, you have to select the most suitable icon for the logo. This is where Logomaster.ai makes the most sense if you ask me. You can either scroll down the entire collection of icons. Or, there is an option to search for specific keywords and get corresponding icons.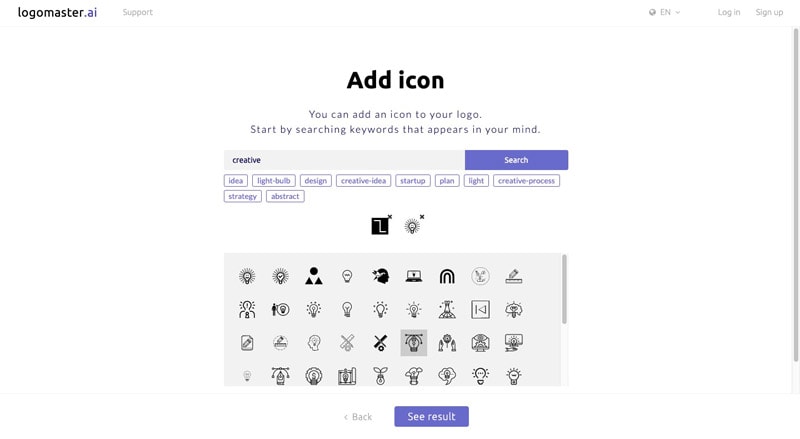 You can select multiple icons and hit the 'See result' button to find out how Logomaster.ai has designed your logo.
Step Six — Proposals
This is probably the best thing about Logomaster.ai. It does not give you a single logo. Instead, it shows you multiple proposals to choose from. Make this selection and you're good to go. You can select one of these proposals for fine-tuning.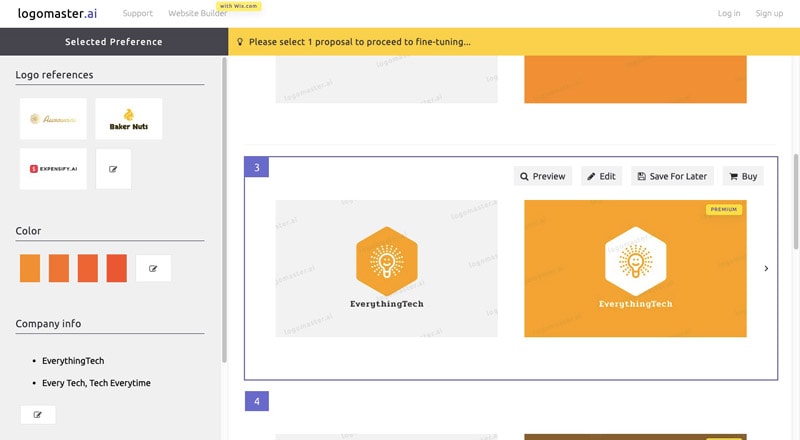 Simply select the proposal and you will be lead to the customization dashboard.
Step Seven — Customization
This is where you can make your magic happen. Logomaster.ai allows you to customize the logo from every possible aspect. You can change the icons, background and even the thickness of the line. It's a complete set of packages for customization.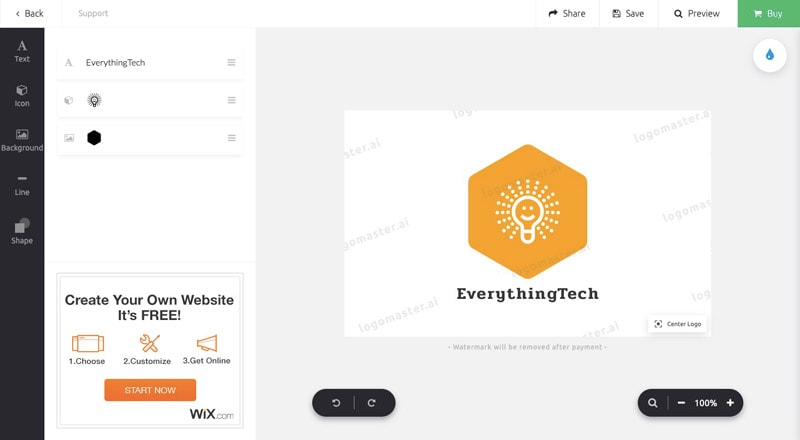 Once you are done, you can save, preview or directly buy the logo. Logomaster.ai will show you how your logo looks in potential situations, such as in an advertisement board or as a Facebook business page picture. It gives a real vibe too.
The Bottom Line
This is where you can decide what to do. If you have been using Logomaster.ai — create a logo online utility — for the same purpose it was meant, you would have found the perfect logo for your business by now. It won't be a tough task to decide whether you want to pay for the logo. As you can see, the service is offering some of the high-quality logos we've ever seen. That even competes with professional-made designs — but at a fraction of the cost. So, what do you think about Logomaster.ai? Do let us know in the comments.