For about a decade, Mozilla Firefox is a widely used web browser. It might not be the fastest web browser, but it does the job entirely if you have a Windows operating system. Before Firefox Quantum, users had to problems importing/exporting passwords, which were saved in other Firefox browsers. You just had to install the add-on. It is very convenient to backup saved passwords in case you need to reinstall Windows OS.
Unfortunately, add-ons for importing/exporting saved passwords do not work in Firefox Quantum and other later Firefox versions. You can see these passwords by navigating to "Preferences"  > "Privacy & Security" > the "Saved Logins" section. Note, that you can view them, but you will not find the option to export/import passwords.
Optionally, you can use third-party password saving programs, for example, LastPass or KeePass, which are cloud-based. However, you should be careful using the due to for security reasons. It is better to use Firefox's built-in password manager of Firefox. In this article, we are going to discuss the easy way how to backup Firefox passwords.
Manually Backup "key4.db" and "logins.json" Files
Mozilla Firefox saves users' passwords in key4.db/logins.json files. You can find data in the Firefox profile folder. So, it is not tricky to back up these files and have all your passwords exported. Once the reinstalling Windows/Firefox is complete, you can restore these files again.
Get Your Passwords Exported
The first thing you have to do is to open the "Run" command dialog. You must type the path "%APPDATA%\Mozilla\Firefox\Profiles\" and click the "Enter" key.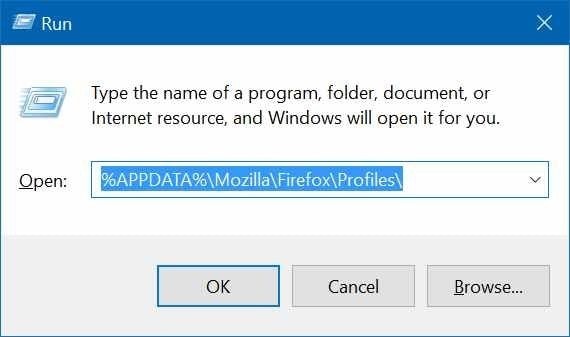 Find the "Profiles" folder and go to your profile folder. Users who have several profiles will see several folders. In case you use a single profile, you will find your passwords in the default profile.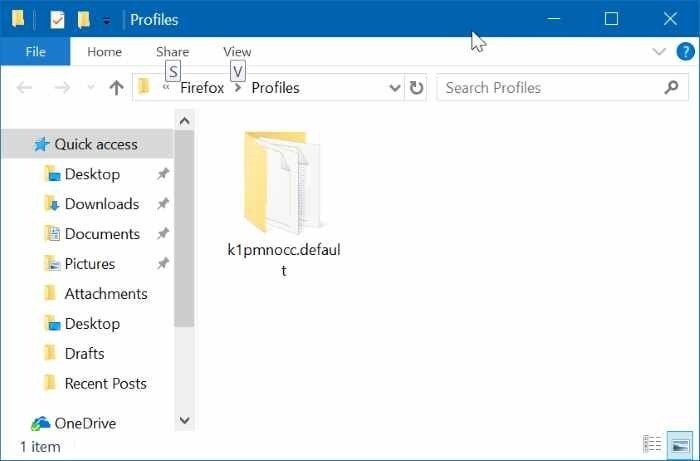 Now, you must open your profile folder and locate the files named "key4.db" and "logins.json." Save those files in a safe offline location.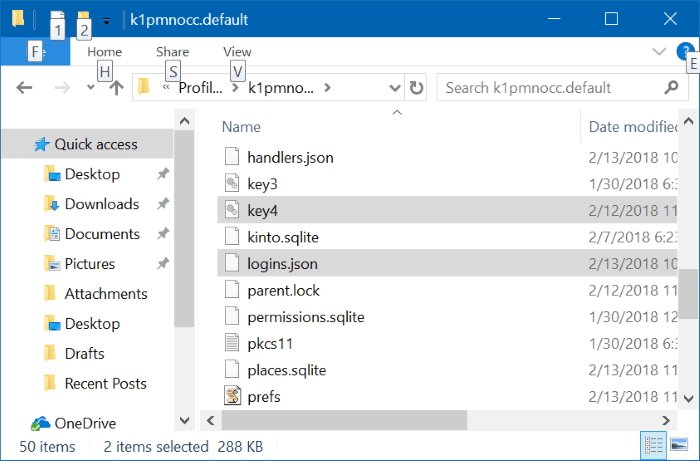 Get Your Passwords Imported
Once you have reinstalled your Windows/Firefox, you should import your password immediately.
Start with pressing the "Run" command box.
Type the "%APPDATA%\Mozilla\Firefox\Profiles\"
path and click the "Enter" key. This will open the "Profiles" folder.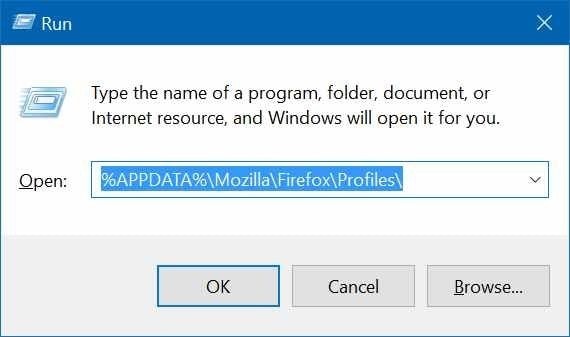 You must copy and paste the " key4.db" and "logins.json" files, which you have previously backed up. That's it – so simple!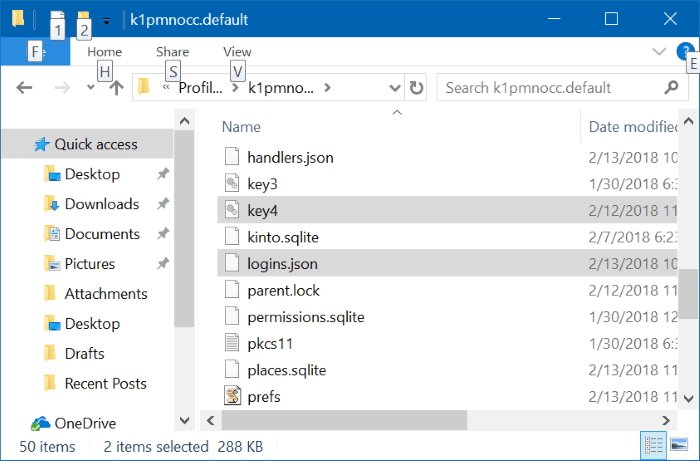 Use "PasswordFox" Utility to Backup Passwords
PasswordFox is a free and trustworthy utility. To view all your Firefox passwords, you just need to download and run PasswordFox. You will see the displayed password along with username/URL. This utility works the best on Firefox 57-58.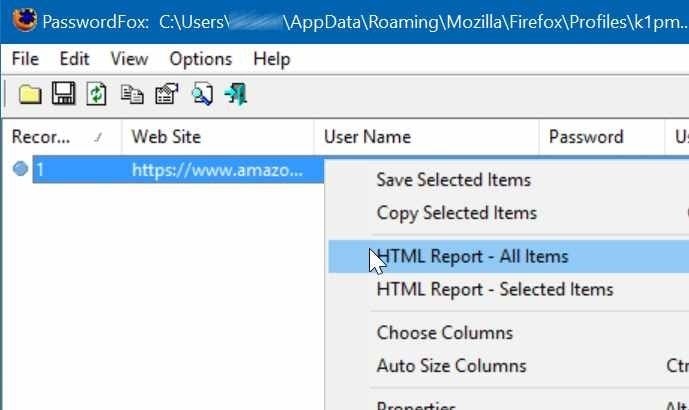 You can export passwords in HTML file format by pressing the "HTML Report" option. You can backup specific passwords by clicking the "HTML Report – Selected items" option.
Use "FF Password Exporter" to Export All Your Firefox Passwords
FF Password Exporter is a lightweight program that you can use for free on  Windows PC. It will help you to back up passwords, which you saved in the Mozilla Firefox web browser. You can export passwords in CSV/JSON file formats.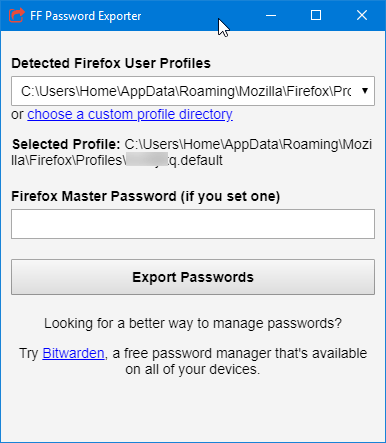 The Manual Way of Exporting Passwords
Some people find this method too time-consuming and old-fashioned. However, if you are afraid of using any third-party program for exporting your passwords, you can manually back up all passwords by merely writing down each username/password. The method will fit you only if you do not have hundreds of passwords. So this is what you have to do:
Start with opening the Firefox browser.
Press the "Alt" key, then "Tools," and "Options."
You must switch to the "Privacy & Security" tab.
Press the "Saved Logins" button and click the "Show Passwords" button. Now you can have a quick view of all your saved passwords.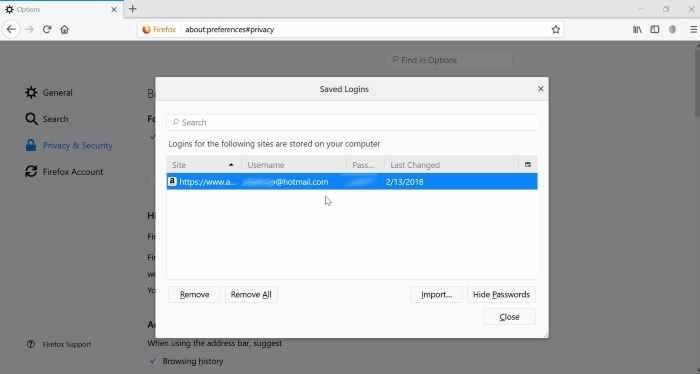 Now take your time and write down attentively all usernames/URL/passwords on a piece of paper or a text editor.
Conclusion
It is crucial to save all your Firefox passwords on your backup drive. You never know what may happen. In worse situations like when your devices get stolen, you can access your personal data.