Websites are a technological development that came with the introduction of computers. It is defined as a central location of several web pages that are in relation and accessible by opening a homepage by using a browser. Technology, on the other hand, means inventions and innovations to accomplish specified goals simply.
Since technology is advancing, it will result in a more straightforward website building. Currently, web development is a bit complicated for many individuals. It even becomes problematic because of its terminologies that are hard to grasp. Please visit for homework service.
Individuals who understand common terminologies on all things online will quickly create a stable portal on their own. All you need is a responsive website builder (due to mobile first indexing) to give you a platform towards building and maintaining your own site. It will save you from other expensive methods. But for your website to thrive, you must use the latest know-how inventions famous in web design. The website designers will utilize the terminological hassles for you.
HTML5
There is what we call HTML5 which is a Hypertext Markup Language's latest version. Nearly all the components available on a website utilize HTML as it works to add texts, images, links, and forms. It is the foundation of your online site that holds everything.
Technologically, it is the core language of your website. It is in speculation that the new features in HTML5 will allow a more powerful and practical websites days to come. It is because of its unique attributes, elements, and behaviors. There are also different applications.
Multimedia elements
Improved multimedia components are also essential. Prior, the process of adding audio and video to the website was complicated compared to today. Working with the new ones is easy. When you want to put sounds or video captions on a site, it will be readily achievable by web builders without any problem. It is also the secret behind numerous backgrounds having videos on their web pages. In fact, a video caption is eye-catching hence likable by many.
Semantic elements
Developing technology helps website developers to create top platforms as well as templates needed by the website builders to add some marks. Semantic elements prevent complicated website coding as compared to the past. It is clear and that easier to receive codes from the semantic elements. Therefore, the search system can easily index our site since it is understandable. It is another technology creation that increases the performance of Search Engine Optimization.
HTML5 and bounce rate
Google can interpret the speed you're your site is taking to load and your clients as well will be able to see it. Users normally leave a page that has loading problems. The tracks of the search engines help determine the time users take while browsing on your website. They use that time to determine your bounce rate. Average time taken by a client to bounce from your site to the other is used to calculate the bounce rate of your site. When the bouncing rate is negative, search engines respond by not displaying the website on their result page top. It is a technological advancement that will help to calculate users' priorities and respond appropriately towards clients' satisfaction.
Website speed optimization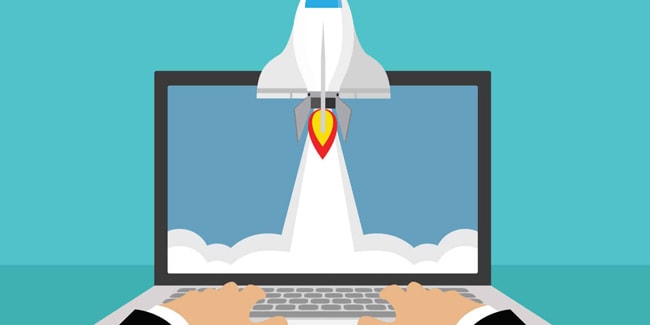 Website performance speed is another vital factor that is a win for technology. HTML5 usually utilizes the electronic capabilities with increased efficiency due to the developing optimized site speed. There is the innovation of the web worker as well as request animation frame. The former characteristic helps HTML5 to load duties at higher speed by dividing JavaScript on the background while the latter optimizes animations of 3D and 2D. You can also communicate with the server innovatively and new means. Additionally, it allows for more stylish themes and the use of several output and input gadgets. You will also be able to store your data on your homepage on your side locally as you operate efficiently offline.
It is not tricky knowing whether your builder is using HTML5. By 2014 Squarespace and Wix all uses HTML5 templates which were complete. It is always on the top page and latest on the website technology. With the rising technological improvements, smartphones, tablets, laptops, and desktops will all have a responsive web design that provides the optimum user experience. It is responsible for putting HTML into screen size and layouts. It works to achieve friendly expertise your users. The website technology is nowadays aiming to the developing mobile phone industry for future achievements.
The developing mobile website technology will assist in managing your website on your phone and paying your dues online.