The new image editing features on Google Plus offer professional-quality image editing facilities to amateur photographers. Anybody who has used Snapseed will spot immediately that most of the features of this fabulous app have been incorporated into Google+. You can manually upload photos from a digital camera, or Auto Backup (formerly Instant Upload) does this automatically to your Google+ profile page when you use the camera on your smartphone.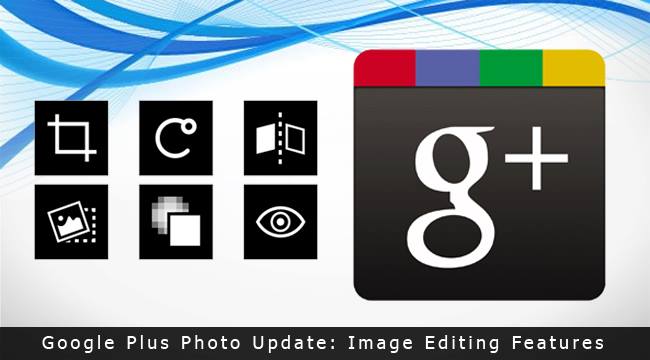 When you access your Google+ profile, you will find your photos already there, ready for editing and enhancement. Your photographs are backed up in a cloud so you can gain access from any mobile device: iPad, smartphone and also your laptop as long as you have internet access. You are permitted 15GB free storage. Auto backup makes sure that your photos are safe as soon as they are taken, and can be accessed even if you lose the device on which you took them.
It is extremely easy to browse your photos, and when you do you will find that they have been enhanced. Auto Enhance is an intelligent item of software that intuitively improves the look of your photographs. It identifies the more important areas of your image, and then accentuates that area with better definition and clarity. All automatic changes are reversible if you prefer the original.
We have checked out the editing tools, have the following comments to make:
Google Plus Image Editing Features
Google has integrated the Snapseed tools into Google Plus image editing. Each tool is simple to use, and you can easily check its effect and then cancel if you prefer the original.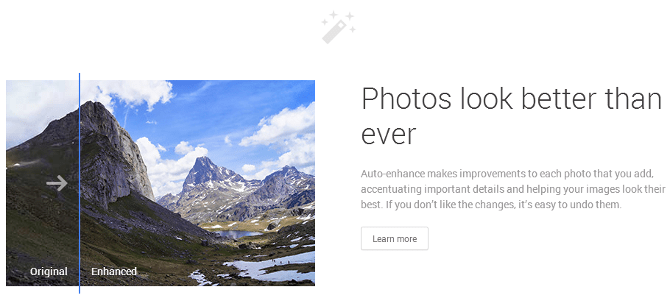 When you visit your photos, you will see the enhance link at the top left of the picture. Place your cursor over it and hold the left click on – you the see the original. Unclick and you see the enhanced version. You can cancel the enhancement if you prefer from that link. We have never had to cancel – the enhanced versions are generally sharper, cleaner and offer more punch in the color than the originals.
Google+ Edit Menu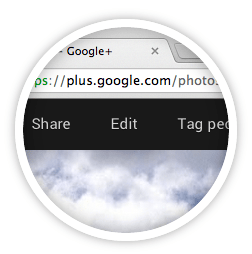 When you click on the Edit tab above the image, you will be offered both horizontal and vertical edit menu options. First time round you are advised to try these out for yourself. This is not an instructional guide, since the use of these menus is largely intuitive. The results are also subjective, in that each person has their own preferences with images.
There are too many options here to discuss them all, suffice to say that they were all interesting and some very useful image editing features are provided, even to somebody with no artistic leaning. Here are some of them:
Decorate Tab
What we might think to be a good option, you may regard as being pointless and of little use to you. A lot depends on what you want to use your images for. Being able to present them in black and white was interesting, but that's all. We had a lot of fun with the 'decorate' feature, giving myself a moustache, beard and vampire teeth. With many different options with this tab you can spend a lot of time amusing yourself – and who knows, you might give yourself a new look if like what you see!
Effects Tab
The Effects tab offer you a number of different effects – some very specialist and some extremely useful, even to amateurs. For example, you can apply a very even fake tan to selected areas of skin, you can airbrush and you can remove excessive shine or blemishes in the photograph. You could virtually turn Quasimodo into Esmeralda! Pity it's only in photos and not real life – but give them time! Google is capable of many things we thought were impossible! Google Life enhancements may just be down the road!
It should be stressed that with all of these effects, you can try them out and then cancel them if you don't like the result. You can also save a copy of your image with the changes, rather than apply and save them permanently. If you change your mind later, you can always go back to the original, but if you simply 'save' then this is not possible.
Autofix
In the Basic Edits tab, Autofix is the most prominent tool. This sharpens your photograph and improves the color and overall appearance. Then you have the Exposure settings, where you can change the contrast, highlights and shadows – you can add or remove shadows on your image.
The 'Sharpness' control can sharpen your image automatically, or if you prefer you can do so manually using a sharpness and clarity sliders. The automatic option appeared to do a good job on my image, and could not better it manually.
The 'Colours' tab gives you the usual color saturation ad temperature controls. It also offers what is known as a 'neutral Picker' where you click on an area of your photo that is intended to be grey or white, and the software removes any color cast from that entire area. It works very well, in that it can identify solid areas intended to be all grey and remove any redness or yellowness from it, other than shadows which it somehow retains.
You can also crop, resize and rotate images to present them in your preferred form. While this is normal in regular image editing software, it is one of the new image editing features for your photographs on Google+.
Google Auto Awesome
Auto Awesome is an awesome feature from Google that can do some great things with your photos. There are five options in the Auto Awesome package, namely:
HDR (High Dynamic Range)
Google+ can provide a superb image where every aspect is at optimum clarity and contrast. To achieve this, you must take three photos of the same scene at three levels of exposure: low, normal and high. The result is an image that 'pops' a bit more and stands out better than any of the originals.
Mix
Photograph a number of portraits, and 'Mix' will display them in photo-booth format.
Motion
Take a number (at least 5) of sequential photographs involving some movement then Auto awesome will make a gif file displaying the movement as a short animated sequence. It works best with photos of moving objects/people on the same background, or the same subject on a moving background – or perhaps even both.
Pano
If you want a single panoramic image of a wide scene and your camera cannot do this, take a number of shots across the scene and Auto Awesome will use them to provide the panoramic scene.
Smile
If you take a number of shots of a group of people, Google+ will assess each shot and take the best element from each for each peso to make each individual look at their best.
After trying each of these options with an iPhone, it can honestly be said that Auto Awesome is truly awesome. Perhaps it would have been easier to use the video option rather than 'Motion', although not all smartphones offer video. The other options were all superb, and clearly worked as described. One or two took some learning to get the settings right, but once the problems were resolved they worked perfectly.
All in all, the Google+ image editing features were excellent, and all worked as described. While many of the editing options and settings would be useful for professionals only, they were at least offered and those that were useful to an amateur photographer definitely worked as they should.
This image editing development has certainly given a massive boost to Google in the image and photo-editing field. Snapseed has integrated well with Google+, and together they offer a pretty comprehensive editing facility. This is an excellent addition to Google's armory. It offers a powerful platform for amateur and professional photographers, and also for those imaginative souls that like to play around with their images.
The Google Plus photo update gets 5* for its ease of use and photo editing features in our views.