For an active Internet user, not a day goes without several Google Searches! You may search to know the political stuff in the area, to find the best car in the market and or to find out answers. And, when compared to the old times, Google Search is becoming smarter every day. Google Search Autocomplete is a factor that impacts this smartness — quite positively.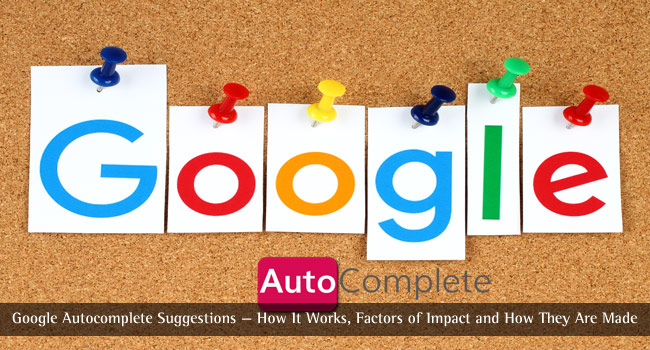 As you can see, Google does not really allow you to complete your search query. Even before that, you will get suggestions from the search engine. At times, the feature is quite useful, because you don't have to complete the whole text. However, there are times when Google Autocomplete Suggestions become quite funny too.
For instance, if you Google search about Australian politics recently, you would have found something amazing. It showed what most people want to know from a search engine, or about the politics. Like this, there are many instances when these Autocomplete Suggestions become more important. In this article, however, we are planning to give you a detailed view on Google Autocomplete and the way it works.
The Scene with Autocomplete
In case if you are not familiar with it, you should have an introduction! Google Autocomplete Suggestions is a feature that suggests keyword when you type something in the status bar. If you have enabled it in Chrome, you would get suggestions as you type something in the Omnibox. Suppose you are searching for the term 'cool'. Then, chances are, you will receive several suggestions like 'cool dresses', 'cool toys' or 'cool math games'.
The availability of suggestions depends upon an immense variety of factors. So, this is how Google Autocomplete works in the common scenario. If you are searching for something long like 'who is the first president of US', you won't have to type the whole text. As soon as you type 'who is the', Google can give you meaningful suggestions you can pick. In short, autocomplete is an awesome feature people love in Google.
How Autocomplete Suggestions are Made
Before that, we need to understand that there are different kinds of suggestions. Instead of keyword suggestions, Google can also show you suggestions based on spelling too. For instance, if you type 'uintedsatest, Google would understand that you misspelled 'United States' by mistake.
Since there are different kinds of autocomplete suggestions, different algorithms are used to make them. There's no touch of a human mind in the creation or ranking of autocomplete suggestions you receive. On the other hand, they are computed based on several factors. We shall talk about those factors in the later part of our article.
Despite all these, there are times when you cannot see autocomplete suggestions during a search. For instance, if you are searching for something that isn't popular, there may not be any suggestion. In the same way, if it's a newly-coined term, Google algorithm may not be aware of the possible suggestions. This is one of the reasons why some suggestions are becoming quite funny in the long run.
Factors that Affect Suggestions
Some of the major determinants of autocomplete suggestions are as follows.
1. What You Type
First of all, the typed term is an important thing. For instance, if you are typing about something related to politics, Google can show you the popular suggestions related to politics. Similarly, as we said, Google Search has an inbuilt feature that cleans spelling errors from what's being typed.
2. What Others Search for
Popular searches in your area is also an important factor of consideration. Suppose it's Independence Day in your country and people are searching for wallpapers and stuff. So, quite naturally, when you type 'Independence Day', in Google, you may see suggestions like 'wallpapers', 'songs' etc. What others search for is an important factor that decides the list of autocomplete suggestions. So, people around you do matter.
3. Your Previous Searches
Your previous searches are another factor of impact. This works better if you have logged into Google Account and have enabled Search History. In such a scenario, you can see suggestions based on previous searches. When you are searching for the same thing again, you get a suggestion in no time.
4. Where you're From
The region you are from is an important factor too. Suggestions are also shown on the basis of regional statistics of searches performed. That's why you don't see the same suggestions when you are searching from two different places. It's because Google is passionate about bringing suggestions that people would relate to.
So, these are the major factors that create and affect Google's autocomplete suggestions as a whole. Of course, there are minor factors out there.
Wrapping Up
We've seen the different aspects of Google Autocomplete Works. Although it can be funny at times, it's a way to find what people are searching and to type less. For instance, as a marketer, you may want to study what people in your area are searching for. Also, it needs to be noted that Google has methods to remove 'not-so-good' suggestions. If you look close, you will find that Google does not suggest anything related to hate speech, violence, pornography, adult content, legally harmful words etc. In short, Google is trying its best to give better suggestions that make sense.