The UN building in New York recently defied conventional interior design trends by tiling an entire wall with e-Paper to produce an interactive, organic display that could be changed at will. Not only was this a bold move by the designers, but it demonstrated just how far we've come from the standard, glass-screen format for visual display that we have become so used to. Whilst there are still some drawbacks to e-Paper, it could be that the UN's e-wall represents how we could all be viewing video content in the future in our own homes.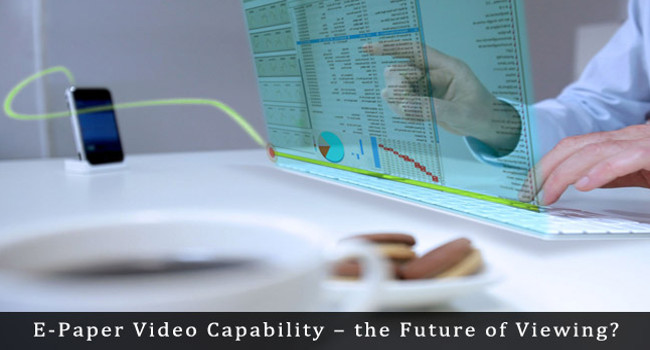 Indeed, 'wrap-around' viewing using a system of tiles to cover a large space has been in place for some time, and now it's being interlinked to our laptops, tablets and even our smartphones so that we can effectively use our living room walls as a big-screen TV or monitor. But current technology is prohibitively expensive, so most of us make do with the usual flat-screen TV with a glass screen.
But companies such as Plastic Logic, who represent the cutting edge of flexible electronic display technology, believe all that could be about to change. The UN's e-wall demonstrated just how easy it is to use a technology we're probably more used to seeing incorporated into our Kindle e-readers rather than as a large-scale viewing platform.
The Current Challenges
However, there are two current challenges that need to be addressed before this technology can really propel itself forward as the new 'viewing experience' for moving images. Firstly, there is the problem of color. At the moment, the vast majority of e-Paper technology is monochrome, with a relatively muted selection of colours being produced by using a series of filters overlaid on top of the primary image. This does not give the vibrancy and variety of colours that video requires.
However, Plastic Logic has been tackling this challenge head on, and believes that they are making considerable progress. It could also mean a compatibility with other technology that could essentially 'tick all the boxes' for moving image e-Paper. Plastic Logic's CEO Indro Mukerjee has recently commented on this very issue: "Plastic Logic's development of a colour flexible plastic display is particularly significant, since the same process could enable unbreakable, flexible display solutions with other media such as LCD and OLED."
The other challenge is frame speed. Currently, e-paper does not have the frame rate to cope adequately with moving images. But so far Plastic Logic has developed a flexible panel that can support colour video playback at up to 12fps, which is sufficient for animation and flash. But to truly achieve a watchable moving image, a frame rate of between 25 to 30fps is required. But this is not an impossible target, and developers including Plastic Logic believe that it won't be long before these types of frame rates are easily achievable for e-Paper and e-Ink devices.
Once the twin issues of an adequate colour palette and a faster frame rate have been addressed, we could start to see the use of e-paper in creating the ultimate 'flat screen' viewing experiences. Theoretically, you could transform an entire wall over to a screen that maintains a neutral base colour when not in use, but can, at the touch of a screen, transform into a full-sized screen for viewing everything from films and slide shows. E-paper and e-walls have the potential to change our homes forever.
Verena blogs about gadgets and technology, covering everything from the latest mobile advancements to display technology. When she's not online Verena enjoys swimming, cycling and travelling the world.