At TechLila, we frequently talk about domain names and management. For instance, recently, we discussed how to pick the right domain registrar. However, if you are just starting your career as a digital space owner, digital marketer, or web designer, you may not understand what these 'domains' are. Or, you may know that domain names are like addresses on the internet, but you may not know how domain names work. You don't have to worry, anyhow. In this article, we shall cover the basics of domain names and how they work.
What Are Domain Names?
As we said, domain names are indeed addresses on the internet. Like addresses point you towards a physical space, a domain name will take you to a virtual space on the internet. Technically speaking, though, a domain name is a piece of text (alphanumeric) that is mapped to a numeric IP address. This Internet Protocol address is the actual address of a device connected to the internet. Each domain name can be linked to an IP address, which may contain something digital.
Domain names are an important pillar that makes the internet work. Remembering the websites you want to visit will become problematic without domain names. Imagine writing down a confusing string of numbers in order to access YouTube. Or imagine sharing these strings with your friends. Right now, thanks to domain names and DNS lookup services, you don't have to do it. On the other hand, you can keep in mind a unique domain name and use it to access your favorite websites.
It is not like you can get a domain name from random spaces, though. Everything related to domain names and their management is under the purview of the Internet Corporation for Assigned Names and Numbers, better known as ICANN. This nonprofit organization will approve and oversee the functions of many domain name registrars across the web. Depending on where you are, you can find domain registrars that cater to your domain name needs.
Are Domain Names Free?
Even though access to the internet is often free, buying a domain name is a different scenario. Unless you're using an offer like the Zyro free domain package, you have to pay a yearly fee for domain names. If you cease to pay the yearly fee, your domain name will be lost.
Therefore, if you plan to buy a domain name, we advise you to set up an auto-payment system. Trust us; you do not want the trouble of losing an important domain name over forgetfulness.
How Do Domain Names Mean?
Before we explore how domain names work, we should understand what makes up a domain name. We will consider the most popular domain name as the example:
Now, everyone knows that www.google.com will lead you to the Google Search Engine. However, the www means that the website is part of the World Wide Web. So, as long as we are purely technical, the domain name is:
google.com
This domain name can be split into two parts: the actual domain name and the Top-level Domain name. In this case, google is the actual domain name, and .com is the TLD. As you can guess, TLDs are designed to tell you what kind of website you are visiting.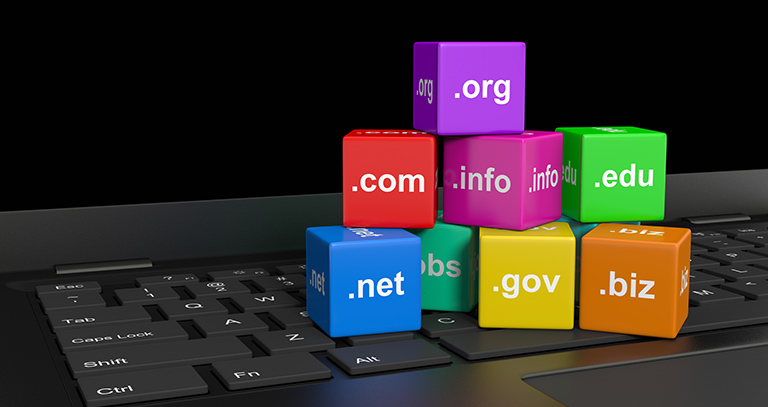 For instance, .com is made for commercial websites, whereas .org is often used by organizations (nonprofit ones.) ICANN is also responsible for which TLDs are available on the web. In the recent decade, we have seen the rise of different TLDs in addition to country-specific TLDs. For instance, we now have TLDs like .website, .pizza, .digital, etc. So, you can technically have a website with the domain name www.newyork.pizza.
How Do Domain Names Work?
Now that you know what domain names mean, we will address the elephant in the room: DNS.
Domain Name Service, better known as DNS, is another important part of the internet. As we said earlier, a domain name is used to connect the internet device to the corresponding IP address. This step is taken care of by a DNS service. On a related note, you can keep using a DNS from your Internet Service Provider or shift to a third-party DNS service like Google Public DNS.
Here is what happens when you try to visit a website from your computer or mobile device.
You enter the domain name on the browser window
Your device is connected to the DNS Server
The browser will find the corresponding IP address
The IP address information is passed down to the device
The device will now open the website using the IP address
Even though the process involves a few steps, it mostly happens lightning fast. Therefore, unless you use one of the worst DNS servers in the world, you will not have to think about it. A few things need to be set up for this process to work fine. For instance, the domain nameservers should point to the right space. Only then the web hosting server can pick up the requests and carry them forward.
We believe you now understand how domain names work in real life. We understand it's a simplified version.
Some Concepts Related to Domain Names
Here are a few words and concepts that you may come across while dealing with domain names.
Domain Registrar: A domain registrar is an agency from which you can buy domain names. Of course, you may have to pay a yearly fee to keep and manage the domain name.
Subdomain: A subdomain is a child domain that is nested under the main domain. For instance, the domain blog.google.com is a subdomain, nested under google.com.
Nameservers: Domain name servers are where you keep information about the IP address of target websites. In the case of Google DNS servers, they would point to the IP address of google.com.
Domain Propagation: It is the process in which domain nameservers are updated. The process might take anywhere between 2hrs and 24hrs based on the type of the change.
Web Host: While a domain name is an address, a web hosting server is where you keep the actual website. It is also home to other things you want to share through the website, such as images.
FAQs about Domain Names
Who assigns domain names?
The International Corporation for Assigned Names and Numbers is responsible for assigning domain names. It is a nonprofit entity that is crucial to the functioning of the internet.
How to buy a domain name?
You can choose one of the most popular domain registrars to get your domain names. In some cases, an website building service may offer you free domains.
How much do domain names cost?
The typical cost of a domain name is $5 to 15, but you may have to pay more for exclusive domains and new TLDs. Domain registrars will have a list of highly-priced exclusive domain names at all times.
Can I resell a domain name?
If there is a demand for your domain name, you can consider reselling it as well. Domain flipping is a lucrative industry out there, in case you are wondering.
How many domain names can I buy?
You can buy as many domain names as you want. Even if your domain registrar has a per-account limit, you can use another account to get the job done.
The Bottom Line
We believe you have a clearer idea about domain names and how they work. As you can see, dealing with domain names is no Rocket Science. With the right training and tutorials, you can use them to set up your website or make money by reselling them.