The design of a website is far more important for its success, than many of us think. You can deploy even the best online advertising tactics, but, if your website does not looks stunning and is not capable of offering engaging user experience, you will not be able to achieve the online success that you have been aspiring for. Thus, to ensure that your online advertising efforts bring measurable results, it's significant to design and develop engrossing websites.
Here are the 6 best practices for designing engaging websites.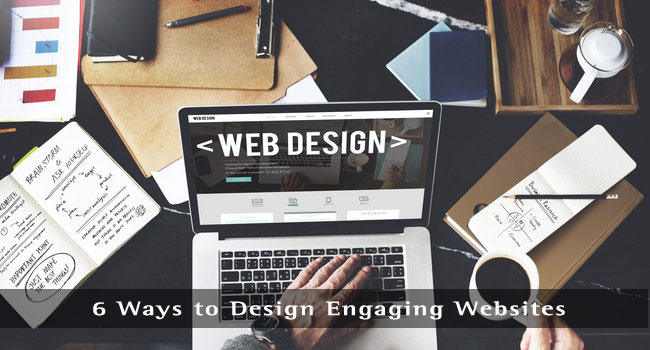 1. Visual Hierarchy
Visually stunning designs are, undoubtedly, one of the most imperative components of a website but, at the same time, you need to indulge in the visual hierarchy to create an engaging design. Certain elements of the website are more important than others, and thus they should be able to easily grab the attention of the visitor. For instance, the "Add to Cart" button when highlighted with a background colour becomes more prominent and immediately catches one's attention, helping users to easily add the items to their cart. Had it not been highlighted and the users had to search for it, there would be higher chances that several users would have dropped the idea to buy the items.
2. Eliminate the Choices
In order to engage the users, it's important to limit the number of choices that you present to them. The higher the number of choices you give to people, the easier it becomes to choose nothing. Thus, it is vital to eliminate the distracting options and shorten the web site menus. Also, if you offer an array of products, offer your visitors better filters to make it easier for them to browse their favourite categories.
3. Clean Designing
It's important to make your web design appear lucid and avoid any clutter or overloading of the content. White space or the negative space is the empty space between the gutters, margins, columns or visuals. A page crammed completely with graphics or content and with no white space poses the risk of appearing cluttered or busy, while the apt white space makes it look tidy, clean and engaging. Thus, always focus on leaving some white space on the web page.
4. Animations and Visual Appeal
Visually stunning designs are always among the most appreciated and visited ones. People always prefer to visit the website where the required information is presented in an interesting and eye-pleasing manner, and the use of graphics with apt colours serve this purpose perfectly. On the flip side, too complex animations, and use of too bright or too light colours may ruin your efforts to engage your visitors.
5. User Control
The web users seek to control their browsers and the websites. They don't want a new window to popup every time they open a menu item on the web page. Thus, ensure that your website does give use the control on how they can view the content.
6. Easy Navigation
Navigation is another significant aspect of a website which helps webmasters to engage their users. Therefore, always ensure that your website navigation is simple, its way to find the different pages and the overall browsing experience is user-friendly.
Using these web designing principles and best practices, you will certainly be able to engross your website visitors and turn them into valuable leads.