Chrome Extensions – What They Can Do and Why You Need to Start Using Them
In case you didn't know, Google Chrome extensions have evolved heaps in the past years and can perform a bunch of amazing features. They can prove to be essential tools that should be within reach. There are some very interesting ones that guarantee amazing results when it comes to contact information.
If you are working in the recruitment or sales fields, then you probably know that the most important aspects are accuracy, having reliable information, and the speed at which you acquire the data. It does not take much effort to improve your browsing capabilities by using the new available extensions. The whole purpose of these extensions is to offer recruiters and people in sales the most accurate background details and the full contact information of the prospect they are trying to target.
Do not overdo it
We just mentioned that these extensions could offer tons of value, so why not to install all of them in your browser? Take it from personal experience – having too many extensions will actually slow down your searches and become way too confusing to operate.
Experts in the extension field will recommend sticking to one or two amazing extensions because that is all that you will ever need. Most extensions tend to have the same functionality and generally overlap. That is a very good reason to do your research and figure out what's the best extension on the market that will be able to provide you with the requested information.
 Educating yourself is the proper path because if you were to install too many extensions, it  would only result in unwanted distraction while also slowing down your PC. The purpose of these extensions is to ease your work and make it far more intuitive.
Aren't Social Networks Enough?
How about using InMail over on LinkedIn as your main field of operations? From the feedback we have gathered, most users are not exactly satisfied with the results that LinkedIn yields. A recent study has shown that the response rates on LinkedIn are quite abysmal – under 15 percent. Most users are not very fond of InMail because the cost of credits adds up really fast, making the whole system restrictive and frustrating. You would require a much better response rate over InMail to justify the cost.
While social networks aren't to be dismissed fully, you should expect poor results if you are trying to outreach. Extensions can prove to be a superior tool compared to social networks in the results they yield. Extensions will improve your communication on a much better level than social media can do.
Chrome extensions are a vital tool for remote workers. They boost productivity and make it so that your sales agents do not have to spend time generating their own leads. All they need to do is pick up the phone and get in contact with exactly the person you have been targeting.
SignalHire Email Finder
SignalHire email finder is an amazing tool that will enable you to encounter contacts just with a few clicks. It will yield updated business contacts and output contact profiles directly to your sales team within one Google extension.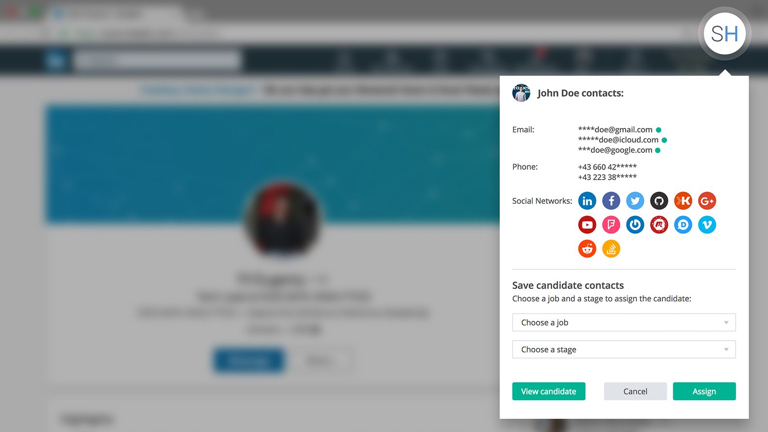 Email finder enables you to scrap email addressed directly from LinkedIn profiles. The phone number finder will crosscheck the information within various platforms. The phone numbers are verified prior to their listing so that you don't have any downtime in your sales team. Another available feature is the bulk finder that can fetch the contact details from very large batches. It is capable of providing contact details from 1000 profiles at a time.
Compile an Outreach List with One Mouse Click
Email outreach is not such a clear-cut operation as most would think. It takes a lot of patience, time, and tuning to find the matching contact and create the perfect message. Take your average business persons, for example – they probably receive around 100 emails in a single day. If your message does not stand out, then it was a waste to have even obtained the contact.
Extensions for Google Chrome will dramatically improve your email outreach. Combining Chrome and Gmail will be great for successful campaigns that have great efficiency.
It's no secret that list building is tedious and takes a lot of time. Chrome extension email hunter can list all email addresses that are available within any website without even having to check the entire page. It will also provide you with the pattern that is used on the given website.
However, Hunter truly shines when it is put against searches over on LinkedIn. For example, you can simply search for people that work at Facebook. You won't even have to click on the extension because you will have a drop-down box that enables you to directly save the contact information. Once you are satisfied with the results, you can simply click on "Find Email Addresses and Save Leads". This will import all the selected email addresses into a list over on Hunter's website. Once on the website, you can fully manage the lead list, crosscheck the email addresses, and export everything in a CSV file.
Save Time and Minimize Effort
Both SignalHire and Hunter are amazing tools that any self-respecting business should already be using. The time saved by using these extensions is truly invaluable and will make all your marketing campaigns effortless. Have you been using any useful Chrome extensions before? If so, please let us know in the comments so that our readers could also benefit from them.