Asus unveiled the Zenfone 3 to the world back in Computex 2016, to release it later in August, at Z3NVOLUTION India, New Delhi. The Zenfone 3 is probably the biggest departure from the original Zenfone philosophy. It showcases a brand new design, revamped cameras, updated hardware, the full package you might say. So what's the deal with the Zenfone 3?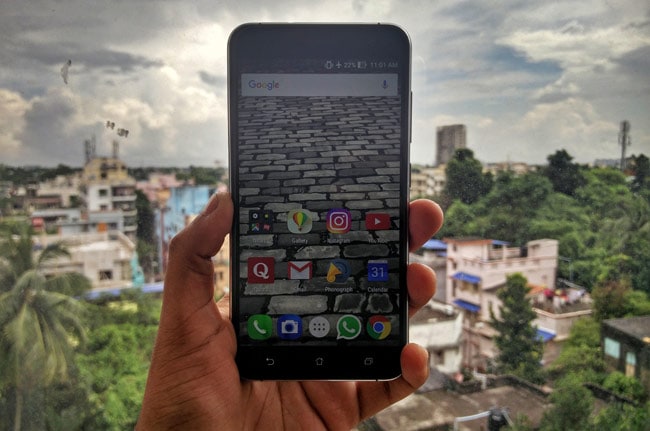 Let's unbox the #Z3nvolution.
Box and Contents
Asus has gone with a fairly standard route this time, with a simple black box. Looks classy yet simple, it's admirable at the first glance. Cracking open the box, the packaging is very typical, we get the phone itself, a wall adapter (rated at 5V 2A), a USB type C cable and some standard earbuds.
While the box contents are adequate and the phone is extremely pretty, we must admit that Asus has really cut corners with the 10W charger, considering that the Zenfone 3 supports Quick Charge 3.0.
Hardware Overview
Taking a look around the phone itself, the new Zenfone3 is virtually like no Zenfone you have ever seen. It's a radical design change, and it reminds us very much of the Samsung Galaxy S6, with two layers of glass sandwiching a metal frame.
The front is dominated by a 5.5 inch IPS LCD Display of 1080p resolution. It is flanked by the earpiece, sensors and front camera on one side, and by capacitive soft keys on the other side. Asus has done away with the typical chin design this time, and minimized the bezels heavily.
The front and back are both Corning Gorilla Glass 3, giving the device a really premium feel. There is a slight texture under the rear glass panel, which looks killer when put under a light source. The design seems inspired from some other phones, but Asus has nicely added their own uniqueness to the mix. We must admit that the Zenfone 3 has to be one of the prettier devices this year.
The rear of the device holds the new 16MP Sony camera with laser autofocus, LED flash and a fingerprint sensor resting below it.
The build quality is really good. There is absolutely no flex, no bending, and it feels every bit a premium flagship. It is a bit slippery, due to the glass backing, so we suggest you use a case or slap a skin on it.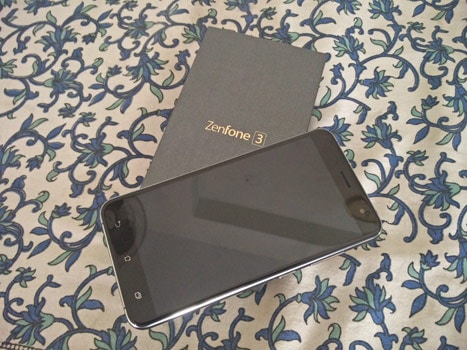 On the hardware side of things, this year's model does away with the Intel SOCs, instead opting for the Qualcomm Snapdragon 625 chipset. It is accompanied with 3 or 4GB RAM and either 32GB or 64GB of internal storage. There are dual SIM slots with VoLTE support. Everything is juiced up with a 3000mAh battery with support for Qualcomm Quick Charge 3.0. The phone runs on Android 6.0.1 Marshmallow with Asus's ZenUI on top.
Full Specifications
Screen: 5.5" IPS-LCD at 1920×1080, Corning Gorilla Glass 3.
Chipset: Qualcomm Snapdragon 625 MSM8953, Octa Core A53 at 2.0Ghz, Qualcomm Adreno 506 GPU.
RAM: 3 or 4GB LP-DDR3 RAM.
Storage: 32/64GB internal + microSD card slot.
Cameras: 16MP rear camera, f/2.0 lens with Phase Detection and Laser Autofocus, 4-axis OIS, Dual Tone LED Flash and 8MP front camera, f/2.0 lens with wide angle lens.
Battery: 3000 mAh Lithium Ion Battery, supports Qualcomm Quick Charge 3.0.
Software: Android 6.0.1 Marshmallow with Asus ZenUI.
Network: Dual SIM slots, with 4G Cat 6 (300Mbps) and VoLTE support.
Display, Sound and Call Quality
Asus has packed the Zenfone 3 with a 5.5 inch IPS LCD panel, sporting a 1080p resolution. One might wonder why Asus chose not to go with a 1440p panel, but we are perfectly okay with it. For one, 1080p is sharp enough for everything, and second, we rather have more battery life than placebo sharpness.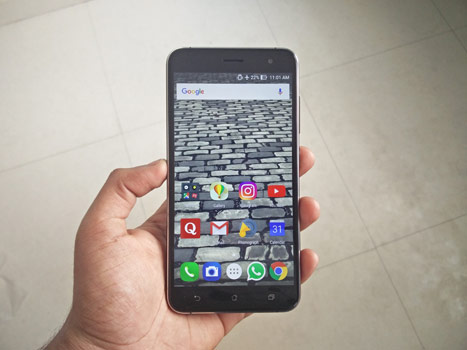 The Display itself is really good, with excellent viewing angles and color reproduction. There is no color shifting or ghosting even at extreme viewing angles. Colors are punchy, without being oversaturated. The display gets remarkably bright outdoors as well. Overall, full marks for the display, no complains.
Asus has included an app called Splendid, which allows users to fine tune their display's Saturation, Hue and Color Tone. It really allows us to get that spot on look, that we might prefer. The app also includes a Blue Light Filter mode, which is useful for using device in night time.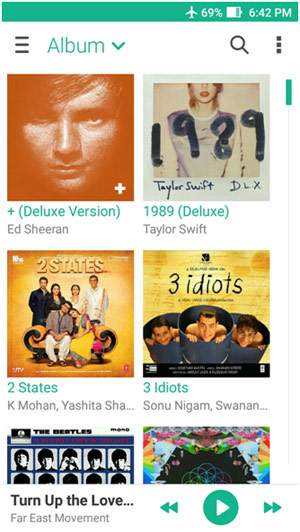 Coming to Sound, the device comes with a single mono speaker on the bottom of the phone, just beside the USB-C port. Audio via the speaker is actually excellent. Volume levels are loud, there is enough dynamic range, and you can even notice a thumpy bass there.
Headphone output via the 3.5mm jack is excellent as well. The amp in the phone does a good job of driving high end headphones, with a rich clear output. The phone also supports full range 24 bit audio output for them purists.
Asus includes their AudioWizard app to fine tune your audio experience. It comes with presets for Music, Movie and so on, and a full 5 band Equalizer for all our tweaking needs. For our testing, we didn't even need to tweak anything. Just leaving everything on auto should be enough for most people.
Call Quality was good. We tested it over Airtel and Jio 4G network in Kolkata, and we could clearly hear others in the built in earpiece. Callers reported crisp audio as well. On top, it is certified for VoLTE too, and works with Jio 4G out of the box. The Zenfone is definitely a great "fone".
Software and Performance
The Zenfone3 runs on Android 6.0.1 Marshmallow with Asus's ZenUI. ZenUI is quite intrusive, changing a lot about stock android, and adding unnecessary stuff here and there. It comes with a lot of bloatware, but luckily, this time, most of them are easily uninstalled. Asus has toned down ZenUI in Android 6.0, but we still prefer Stock Android anyday.
ZenUI brings a lot of useful features to the table, including a One-Handed Mode, Double Tap to Wake and Sleep, Camera Quick Launch, an inbuilt Mobile Manager application and a full-fledged Themes store. The amazing part is, it does all of it without affecting the speed or responsive of the device.
This time round, Asus has included a rear-mounted fingerprint scanner. Its fast, like really fast. It never keeps you waiting. Just one light tap, and you're in. It uses the standard Marshmallow API, so all 3rd party apps can utilize the sensor as well.
The Zenfone3 runs absolutely buttery. App loading times are quick, multitasking is a breeze on the 4GB RAM model, and heating was nominal. During heavy gaming, it does tend to heat up a little, around 43-44 C, but it's still comfortable to use.
Considering the fact that the Snapdragon 625 is essentially a mid range chipset, not comparable to the likes of the Snapdragon 820 or even the last gen 810, Asus has done a remarkable job of optimizing their UI to make the best of what is available.
The battery life on the other hand, is nothing to speak home about. With a 3000 mAh battery, in our testing, an average user could get around 1 day of usage. That's it, 1 day, no more. Every day in our 10 days of testing, we could end the day roughly at 15-18% left.We were getting around 3 to 3.5 hours of Screen On Time, which is fairly average. However, what's interesting is the standby times. The Zenfone barely eats any battery in standby. Overnight it would drain as low as 3-4%, and that's with two Sims inserted. We also get a plethora of Power Saving modes.What we'd say about the battery life is, workable.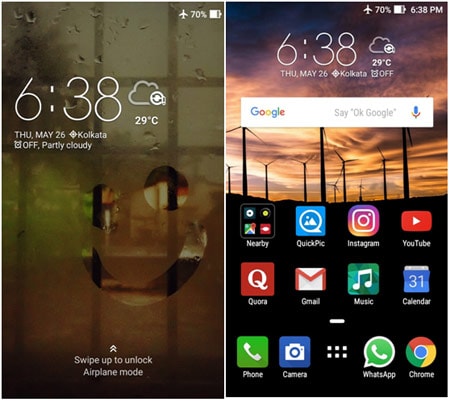 The Zenfone 3 does support Quick Charge 3.0, allowing for super fast top ups, upto 75% in 30 mins of charge. However, Asus has chosen not to bundle a fast charger, instead, we are left with a 5V 2A unit.
With the included unit, we were getting around 25% charge in 30 mins, with a full charge taking around 2 hours. With a Qualcomm Quick Charge 2.0 (9V 1.67A) unit, a full charge was roughly 1.5 hours, and gave us nearly 45% charge in 30 mins.
Camera
The Zenfone3 is equipped with a PixelMaster branded 16MP rear shooter, with f/2.0 lens. It is accompanied by a TriTech Hybrid Autofocus (Laser Autofocus + Phase Detection + Contrast Detection), and dual tone LED flash. The sensor is among the latest from Sony's stable, the IMX298.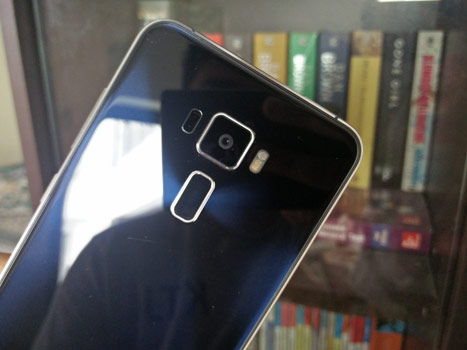 On the front of the device, we have an 8MP selfie camera, with f/2.0 wide angle lens and various beauty profiles.
Asus's camera app has a boatload of features, starting from a full-fledged Manual Mode, to Super Resolution (where it stitches 4 photos into a 60MP shot), to Low Light, Panorama, right down to tacky modes like All Smiles, Object Remover and so on.
While we personally prefer a simplified user experience, some users might like having a lot of features for them to tinker with. We get it, and Asus is aiming to please the general audience with its feature-packed camera app.
Coming to the camera quality, daylight shots are rich and vibrant, with a lot of details. Dynamic range was acceptable, and shot to shot times are very fast.
In lower light, the camera falters a little, but still manages to turn out some nice results. Asus is processing low light shots very heavily, with lots of noise reduction being applied. This in turn, makes the images a little soft and cartoony at times, blurring out some rich details. The flash helps in extreme low light, but otherwise, we suggest you keep it off, as the camera itself manages quite well.
Video recording is a treat, especially since the stabilization is just so good. Sometimes we would be surprised at the footage, it looks more natural to a Gimbal shot than a phone camera. It records 4K at 30fps, pretty standard for today's flagships.
The front facing camera is good. It's a really wide angle camera, which is great news for group selfies. There are several modes including a Selfie Panorama, which work good enough for the occasional shot.
Verdict
So, who is the Asus Zenfone3 for?
Do you want an excellent camera, classy looks and overall a competent phone? Then go for it. For everyone else, there's the OnePlus 3.
Asus has priced the Zenfone3quite absurdly, at Rs. 28,999 for the 4GB/64GB. It invariably competes with devices like the OnePlus 3, Xiaomi Mi5, Galaxy S6 and Note 5, all of which have better specs, and are great devices by themselves.
It's not like the Zenfone is a bad product. It isn't. It has a drool worthy design, excellent camera, but what lets it down is the mid pack Snapdragon 625. Sure, it performs well, but is that enough. At nearly 30,000 INR, you expect all round flagship qualities, which other models like the OnePlus 3 provides.
The Asus Zenfone3 excellent build quality, performs very well, has great cameras, and is aimed towards professionals who prefer style over everything else. It's for those who want to stand out from the pack. That exactly is whom Asus is aiming this phone towards.
Overall Score: 7.5 / 10.