In 2020, Apple released their latest iPhone model series at that time: the iPhone 12. Apple enthusiasts had high hopes for its camera — and it did not disappoint. Used by everyone from content creators to grandparents, the iPhone 12 offers a user-friendly device to capture images, videos and much, much more.
While the iPhone 13 offers the most advanced phone camera yet, the iPhone 12 is still a top contender. For example, Apple's iPhone 12 series is still applauded by short filmmakers and used by J.B. Braud's short film The Painter. Why? Let's dive into some of the features that make the iPhone 12 perfect for capturing footage.
Here are eight reasons why short filmmakers love the iPhone 12 over countless other phones.
#1 Tough Ceramic Shield Corning Glass Offers Ultimate Protection
Short filmmakers need a durable phone, period. And the iPhone 12 offers just that. Each of the iPhone 12 models features the ceramic shield; however, the iPhone Pro and Pro Max are the only two that have the stainless steel upgrade (versus aluminum like the others). Regardless, since both aluminum and stainless steel frames are not as durable as the ceramic shield screen and backing, it's worth adding some extra protection with a phone case. Shop for an iPhone 12 Pro phone case or an iPhone 12 Pro Max case that is sustainable and plastic-free to reduce electronic waste, too.
#2 The Dolby Vision 10-bit HDR Recording
HDR, or high-dynamic range, is a video format that outperforms SDR, standard-dynamic range. But why is this important for short filmmakers? Well, this means that videographers and filmmakers will have content that presents itself to viewers with strong contrasting imagery and accurate color. In short: The iPhone 12 offers short filmmakers an affordable HDR recording device that can take the footage to the next level without having to spend their entire savings for a pro-level camera.
#3 Phenomenal Autofocus and Rapid-Fast Shutter Speed
Another reason why short filmmakers love the iPhone 12 is its phenomenal autofocus. Never again will you need to adjust the lens focus in both glaringly bright conditions and low-light conditions. The iPhone focus also holds its own in terms of shutter speed, capturing an auto-focused image within mere milliseconds. Combined, this grants short filmmakers the ability to shoot in-focus images as accurately as possible.  
#4 The Low-Light Night Mode for Dark Scenes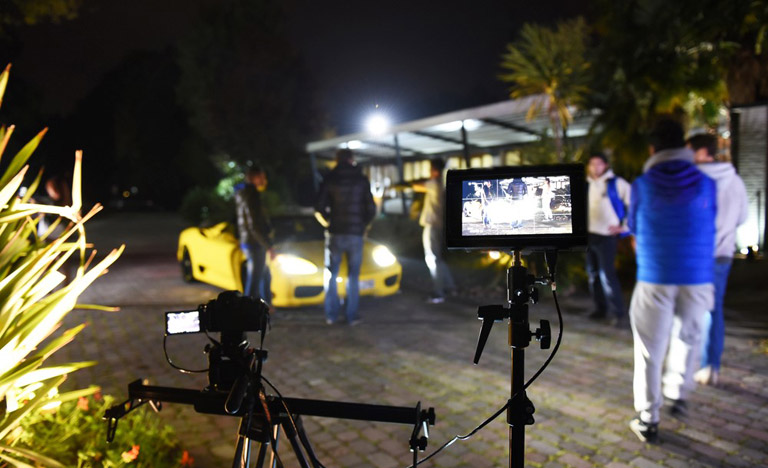 When short filmmakers need to capture scenes set at night, the iPhone 12's low-light Night Mode saves the day. Offered in both the wide and ultra-wide lenses of the iPhone 12 Pro, the Night Mode auto-activates and has an exposure time that can be manually adjusted. All you have to do is tap the icon and move the slider. Have a really dark scene to shoot? Slide it all the way to the maximum 30-second duration. One useful tip: While the Night Mode is a pretty impressive piece of software, it is better if the camera is positioned on a tripod or stabilized to some degree. 
#5 Pro-Level Cinematic Video Stabilization
Speaking of keeping the iPhone 12 stabilized, there's another useful feature that short filmmakers are going to love. When shooting scenes in 4K, 1080p and 720p, the iPhone offers complete cinematic video stabilization. This is due in part to the newly improved X/Y shift sensor. While it's always helpful to use a stabilizer or gimbal to keep videos from going blurry, this iPhone 12's feature steps up a filmmaker's game. 
#6 A High-Performance A14 Bionic Chip
The iPhone 12 features an A14 Bionic chip that is super impressive. The A14 Bionic is capable of powering the camera and video, which includes 3D Augmented Reality. With its 6-core CPU power — two performance cores and four efficiency cores —the iPhone 12 provides a long battery life while still lending the same amount of power it takes to create videos and more.
#7 Dramatic and Elegant Slo‑Mo Video Support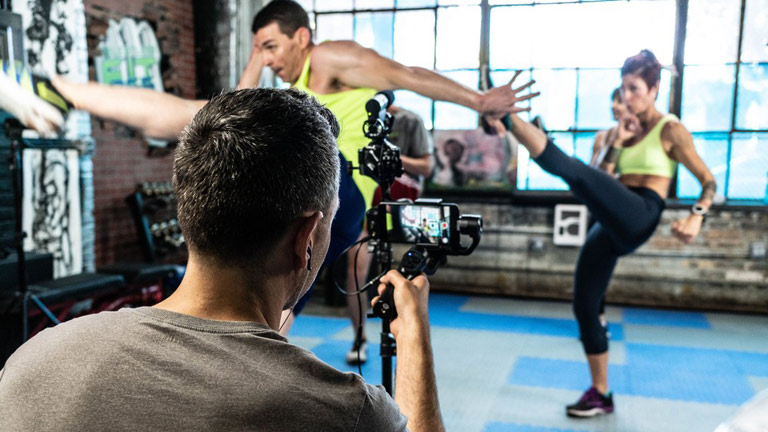 The iPhone 12 also features Slo-mo video support for capturing those dramatic scenes in short films. Speeding up the frame rate from the normal speed of 60 frames per second (FPS), it can reach 120 FPS to capture a slow-motion video. Then, you can slow down the 120 FPS video to give the illusion that it's slower. Using this Slo-Mo video support adds some extra flair and production quality to short films and even TikTok videos. Many use the Slo-Mo feature for edge-of-your-seat suspense for sports games and awe-inspiring nature footage. 
#8 LiDAR and AR Combine Forces
The iPhone 12 combines augmented reality and LiDAR to help short filmmakers get creative. For instance, these two features not only help to frame and compose a shot but to replace backgrounds. Filmmakers can shoot a scene with an actor and replace the background to something more desirable. How does the iPhone do this? The LiDAR tracks the background and uses AR to frame the image. Oh, and here's an extra bonus: The 5G that comes with all iPhone 12 models can keep up with the LiDAR and AR shots, allowing filmmakers to edit on the spot without getting raked with expensive data dumps on your cloud backup. 
Shoot Your Next Short Film with the iPhone 12
As you can see, the iPhone 12 has tons of features going for it, from its exceptional durability to its low-light Night Mode and its Slo-mo video support. The question is whether this is the right phone for your content creation. Or will you choose from the latest iPhone 13 series? Compare the two and you'll see what makes the iPhone 12 so special to short filmmakers. What are you waiting for? Create your next short film with the iPhone 12 to share with the world.
Featured Image Credit: epic_pic/Shutterstock.com