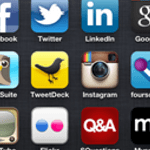 With so many businesses trying to get on page one of Google, it's easy to miss out on large numbers of potential customers if you're not integrating your marketing efforts. For instance, using only online tools such as Sales force and forgetting about email newsletters and blogging may result in lower revenue and fewer clients.
Internet marketing experts recommend using online tools and integration to stream your marketing efforts in the right direction. It doesn't mean using every online tool possible but integrating several channels with one another is very important. Use the following tips to benefit from integration.
Go for prebuilt integration: Prebuilt integrations such as Salesforce, Magento, Facebook and WordPress can help you create targeted, effective email campaigns and workflows.
Test and track: Remember that it's important to test and track the results of using various online tools to see what's more effective in getting your marketing message across. Then, put your energy in integrations and tools that work best for your business.
Stay in touch with visitors: Don't let clicks-through go to waste. Engage with visitors using email sign-up forms and prominent social platform icons. Include a sign-up form for your blog too if it's separate from the site.
Use paid search: Getting to page one of Google can take months. If you don't want to wait for customers that long, use Google's paid search to build up a vast email marketing list quickly.
Use social media that rank quickly: Such social networking sites as Facebook, LinkedIn, and Twitter rank very quickly so creating a fan page around a target keyword or your business name can help you get indexed in Google within 24 hours.
Tag targeted people: If you know your audience, tag those targeted people when creating a note about new offers on Facebook. Be careful to let people know about it just once to avoid the reputation of a spammer.
Opt for easy optimisation: Fresh content on your blog may be of interest to surfers. As search engines love the structure of blogs, it's advisable to use a blogging platform like WordPress to manage content, which may have good results on the search engine. You can also try experimenting with PPC ads for blog posts.
Be consistent: When integrating such channels as social, SEO and PPC, make sure the goals and messages are coherent throughout all Internet marketing campaigns.
Promote wisely: For maximum exposure, use social media, SEO and PPC to promote products and offers. For instance, paid Facebook ads and sponsored tweets can be particularly effective in getting the customer on the hook.
Gone are the days when one or two marketing channels were enough. Today, it's important to avoid taking different channels as standalone tools because integrated strategies bring better results.